Chances are that you are doing it wrong, and I'm going to show you a better way to manage and toggle between multiple Google accounts.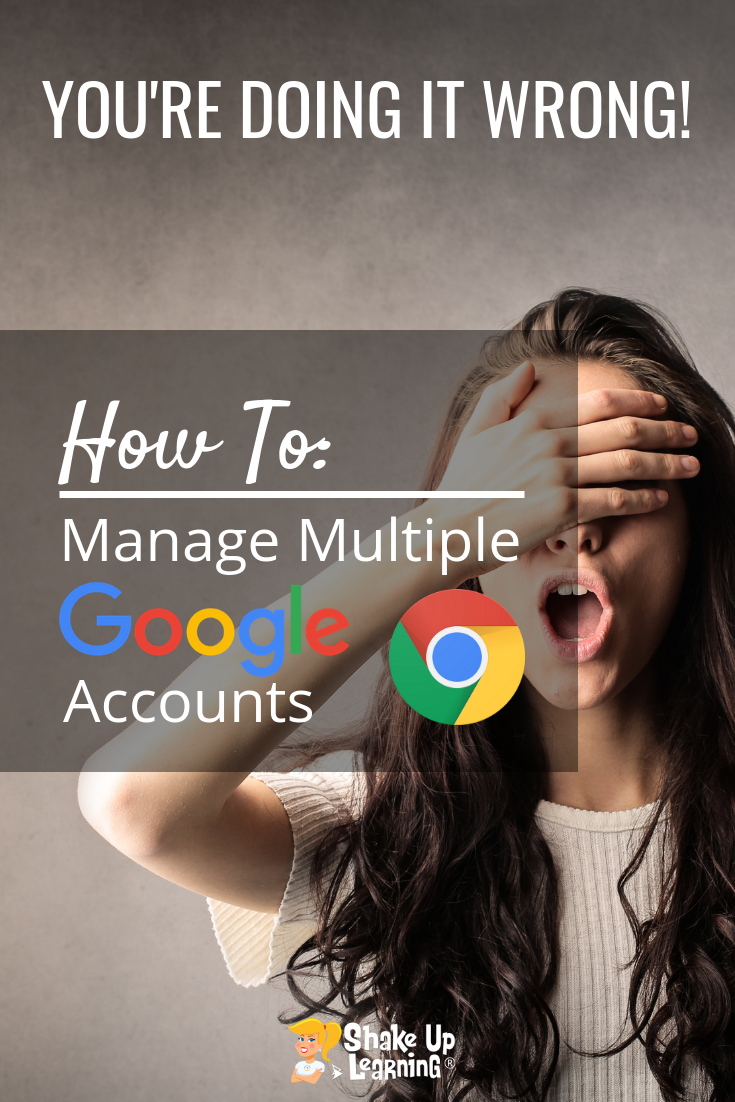 This is one of my favorite Google tips and has made my life so much easier!
A lot of Google users have more than one Google account, often a school/work account and a personal account.
If you are like me, you may have fifteen accounts!
Logging in and out can be an absolute pain! But I am here to show you a better way!
I find that a lot of users have not discovered this method for managing multiple accounts so I decided to create this tutorial.
In this tutorial, I will show you how to fix common issues with multiple accounts, and how to toggle between your Google accounts the right way–using Google Chrome profiles.
[Tweet "You're Doing it Wrong! How to Manage and Toggle Between Multiple Google Accounts #gsuiteedu #edtech"]
You're Doing it Wrong! How to Manage Multiple Google Accounts
Below is a step-by-step tutorial video because this can get confusing very quickly. I've also detailed the steps below the video if you prefer to read.
Like this video tutorial? Be sure to subscribe to the Shake Up Learning YouTube Channel!
The Wrong Way to Toggle Between Google Accounts
The "Add Account" Method
(Please note, this tutorial is for Mac and PC users. Account switching on Chromebooks is slightly different.)
Like many Google other users, when I first started managing multiple Google accounts, I would use the "add account," option in the top-right corner of the application.
When you do this, the other account opens in a new tab in the same window.
Most likely, if you have been doing this, you have run into problems.
For instance, you click on a shared link and it says you don't have permission because it's trying to open with the wrong account.
Today, you will stop using this old method and begin using Chrome profiles to manage your accounts.

---
The Best Way to Manage Multiple Google Accounts
The Chrome Profile Method
Chrome profiles allow you to set up different profiles for each account that you use on that particular device (Mac or PC for the purposes of this tutorial).
All of your Chrome settings, bookmarks, passwords, themes, extensions, and apps can sync to that device. This makes it easy to move from your work computer to your home computer. It also makes it easy to share a device with someone at home, like your spouse or your child who have their own Google account and preferences.
(*Note: Chrome profiles must be set up for each device individually.)
---
STEP 1: Clean Up Your Accounts First!
Before you set up the new method using Chrome profiles, I want you to clean up the problem.
1. Sign out of your Google Account
2. At the bottom of the sign-in prompt, click "Remove Account."
3. Click on the X to remove each account (Repeat steps as necessary to remove all of the accounts listed.)
---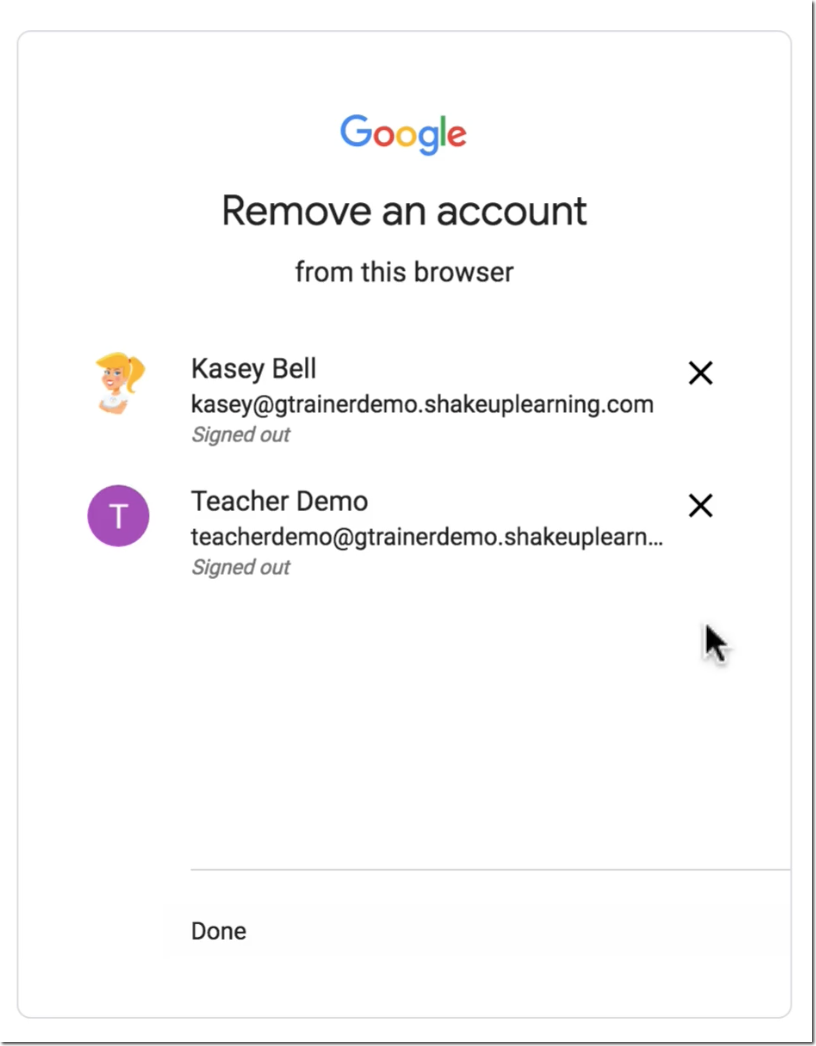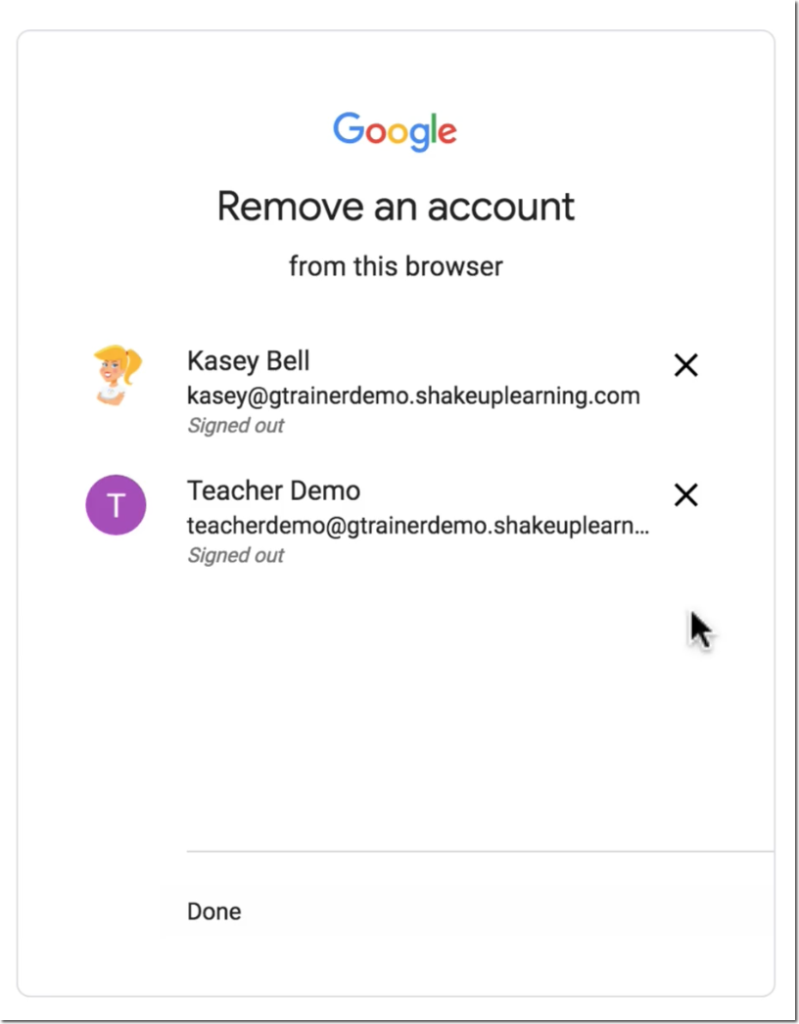 ---
STEP 2: Log into Chrome with Your Primary Account
I would start with the account you use the most, what I like to call your primary account.
1. Go to your Chrome settings (3 dots near the top-right)
---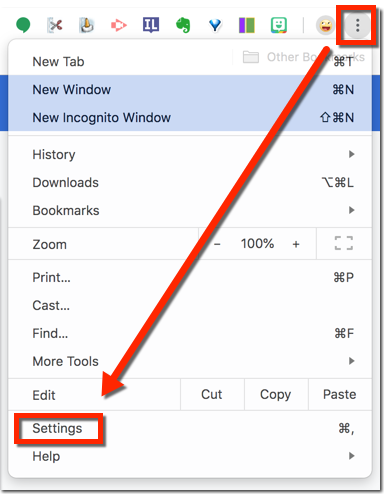 ---
2. Check to see if you are already signed into Chrome.
If you are, make sure it is the correct account. If not, log in with the primary account.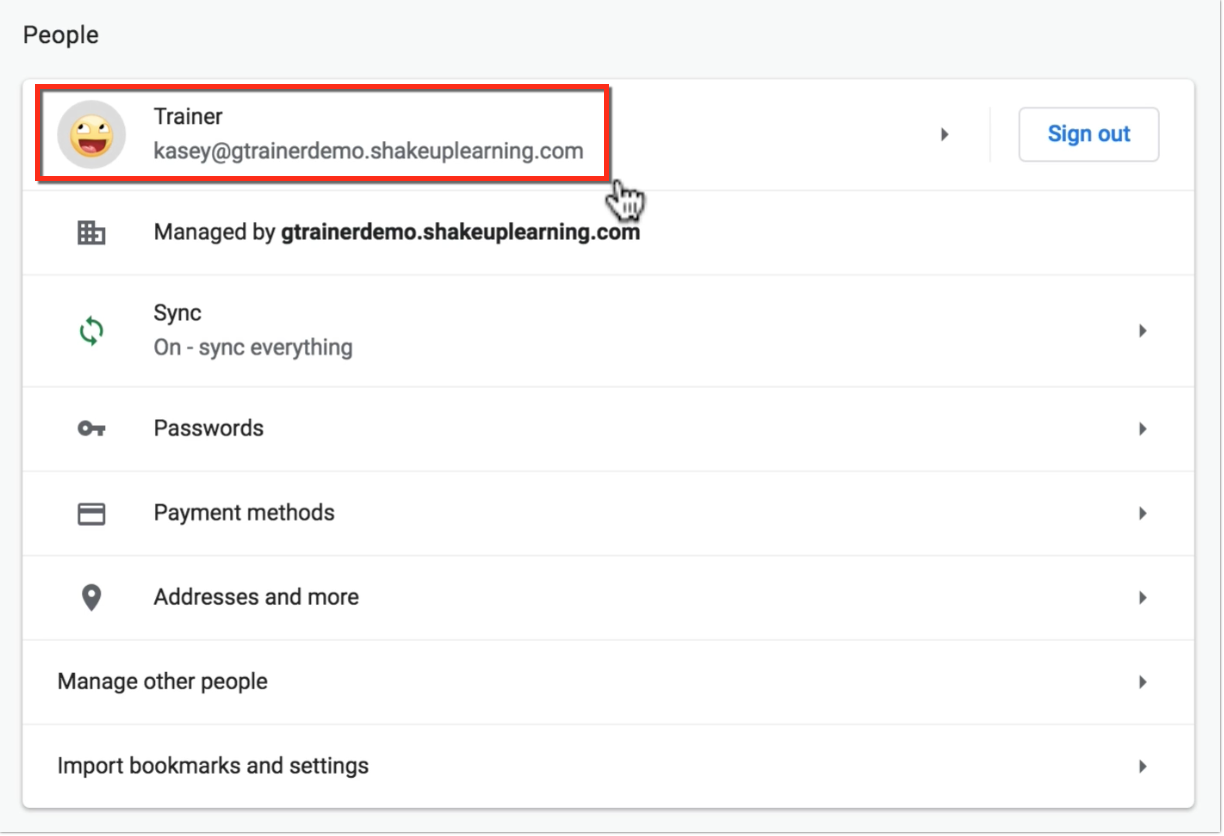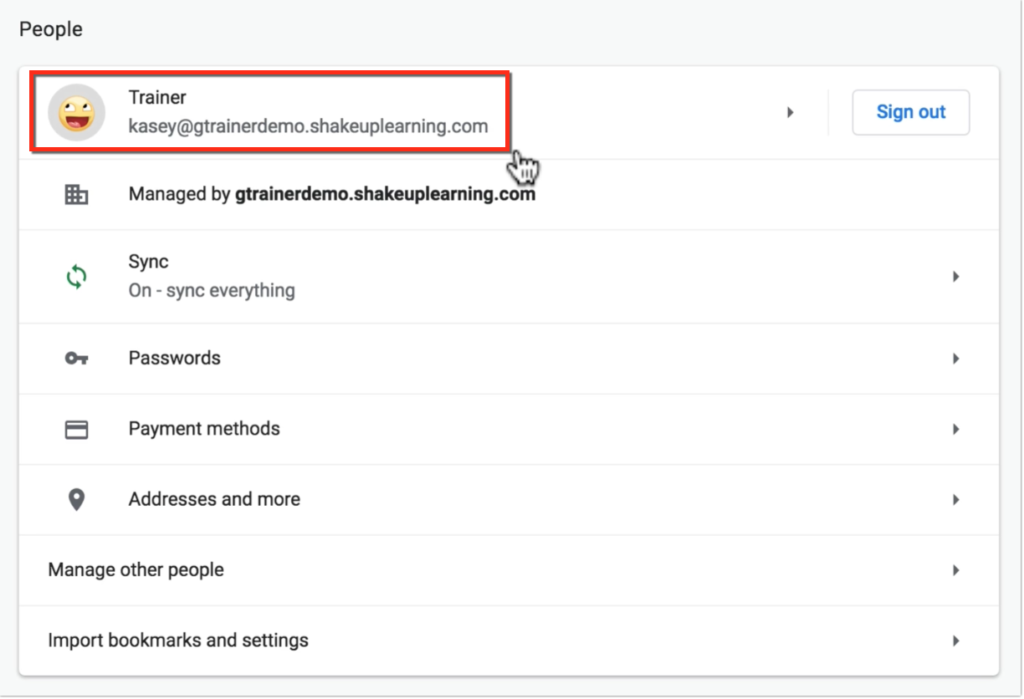 ---
STEP 3: Sign into Google with Your Primary Account
You want to make sure you are logged into Chrome and Google with the same account.
1. Go back to the window where you logged out and log back into your Google account with your primary account credentials.
---
STEP 4: Create a Chrome Profile for Your Secondary Account
1. Click on the Chrome Profile icon next to the three dots in the top-right of the Chrome browser.
2. Go to "Manage People"
3. Click "Add Person"
4. Name your profile something that will help you identify that account and add an icon if you wish.
5. Click "Add"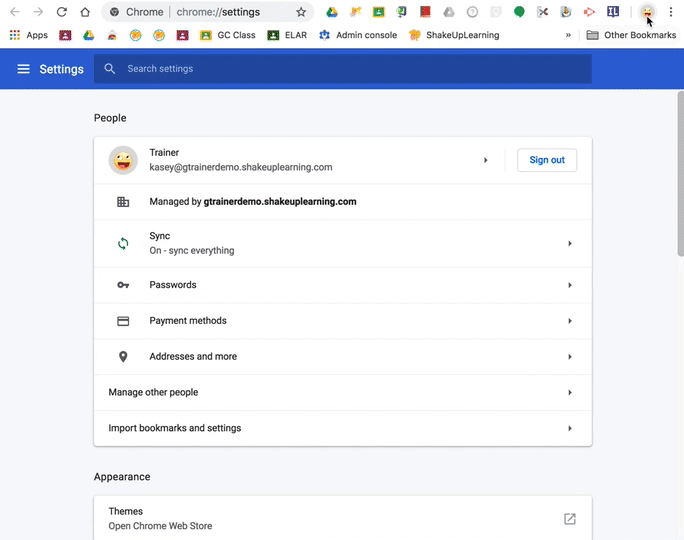 6. A new window will open and prompt you to log in with your account.
7. Log in with your secondary account and choose your sync preferences.
---
STEP 5: Login to Your Secondary Google Account Using the Secondary Profile Window
Remember, the idea is to only log into ONE Google account in each profile so this works seamlessly. If you mix and match, you will have a hot mess!
1. In the new window for your secondary profile, go to one of your most frequently used Google applications, like Drive or Gmail.
2. Login to your secondary Google Account.
---
If you have followed all of these directions, you will have two windows open and each window is logged into a different Chrome profile and Google account.
How to Switch Accounts
Now, when you want to switch accounts, just click on the Chrome profile icon and select the profile from the list to open the window for your other account.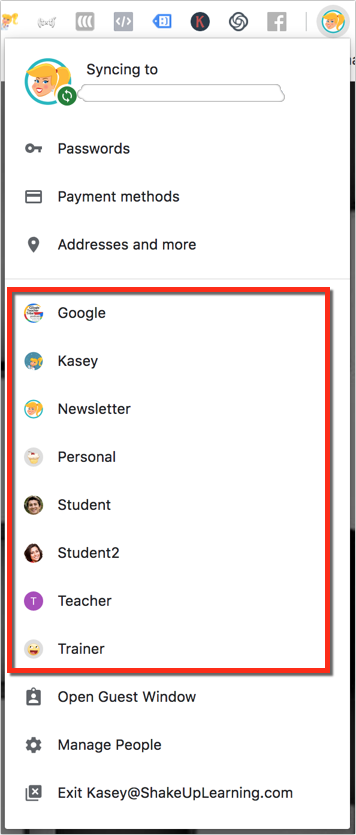 ---
Customize Your Chrome Profiles
Since each Chrome profile is syncing to its own account, you may have to spend some time adding your bookmarks, passwords, extensions, etc. to the new profile.
Sorry! There is no way to transfer or sync this across different accounts.
But I promise once this is all set up it will be worth it!
To make it easier to identify your window and the associated account, you can install different Chrome themes so the windows look different.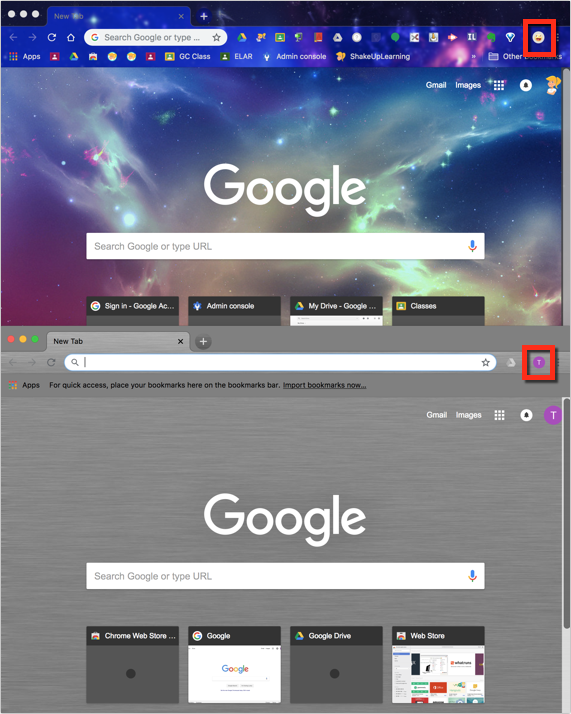 >>> Check out the Chrome App and Extension Database for more ways to customize Chrome to fit your needs and the need of your students!
---
Clear as mud? This really is quite easy once you get it set up. There are so many steps involved and variables for different users, but I hope the video and step sets will help you better manage all of your Google accounts.
---
© Shake Up Learning 2023. Unauthorized use and/or duplication of this material without express and written permission from this blog's author and/or owner is strictly prohibited. Excerpts and links may be used, provided that full and clear credit is given to Kasey Bell and Shake Up Learning with appropriate and specific direction to the original content on ShakeUpLearning.com. See: Copyright Policy.