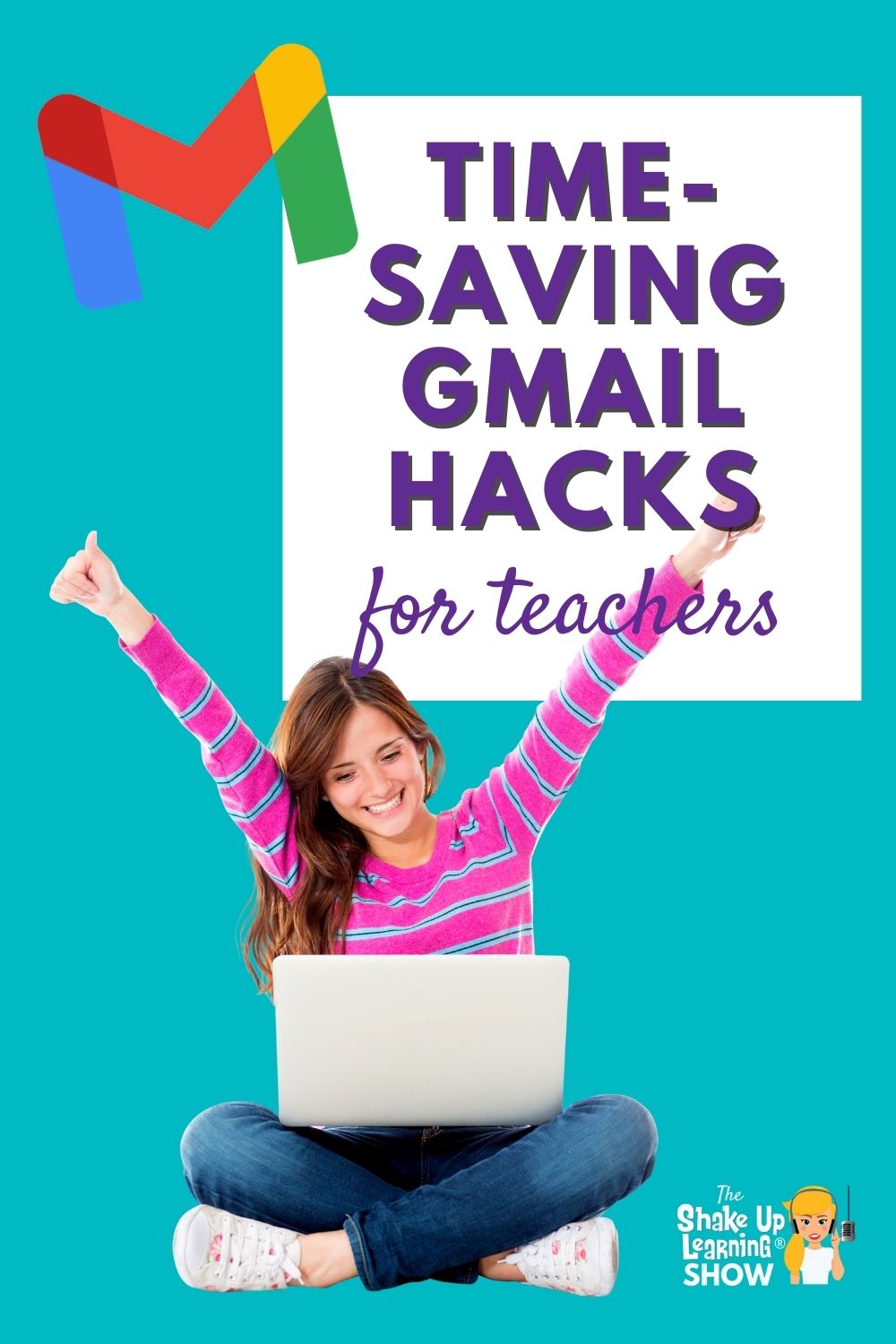 In this episode, Kasey shares her favorite Gmail hacks and features to help teachers save time and make the most of this robust tool.
Let's get organized, save time and frustration, manage annoying emails, and get to what's important.
For every Gmail user, this episode is bound to give you some great ways to clean up your email and enjoy a much better experience.
Learn a few hidden gems about Gmail for your school or personal email.
Listen to this article.
This episode is sponsored by Hāpara We provide teachers with tools to build flexible, personalized digital learning environments so they can power awesome learning. 
1. Undo Send
Whoops! It's happened a time or two to everyone. Perhaps the attachment didn't actually get attached or you realized there was something or someone that needs to be added. In the settings, you can enable an Undo Send pop-up that gives you 30 seconds to change your mind about hitting that send button. 
To find your settings, click on the cogwheel in the top right corner. In the general section, you'll find a place to choose how many seconds you'd like to have to change your mind. Thirty seconds is the maximum option. Be sure to click "Save Changes" found at the bottom of the page.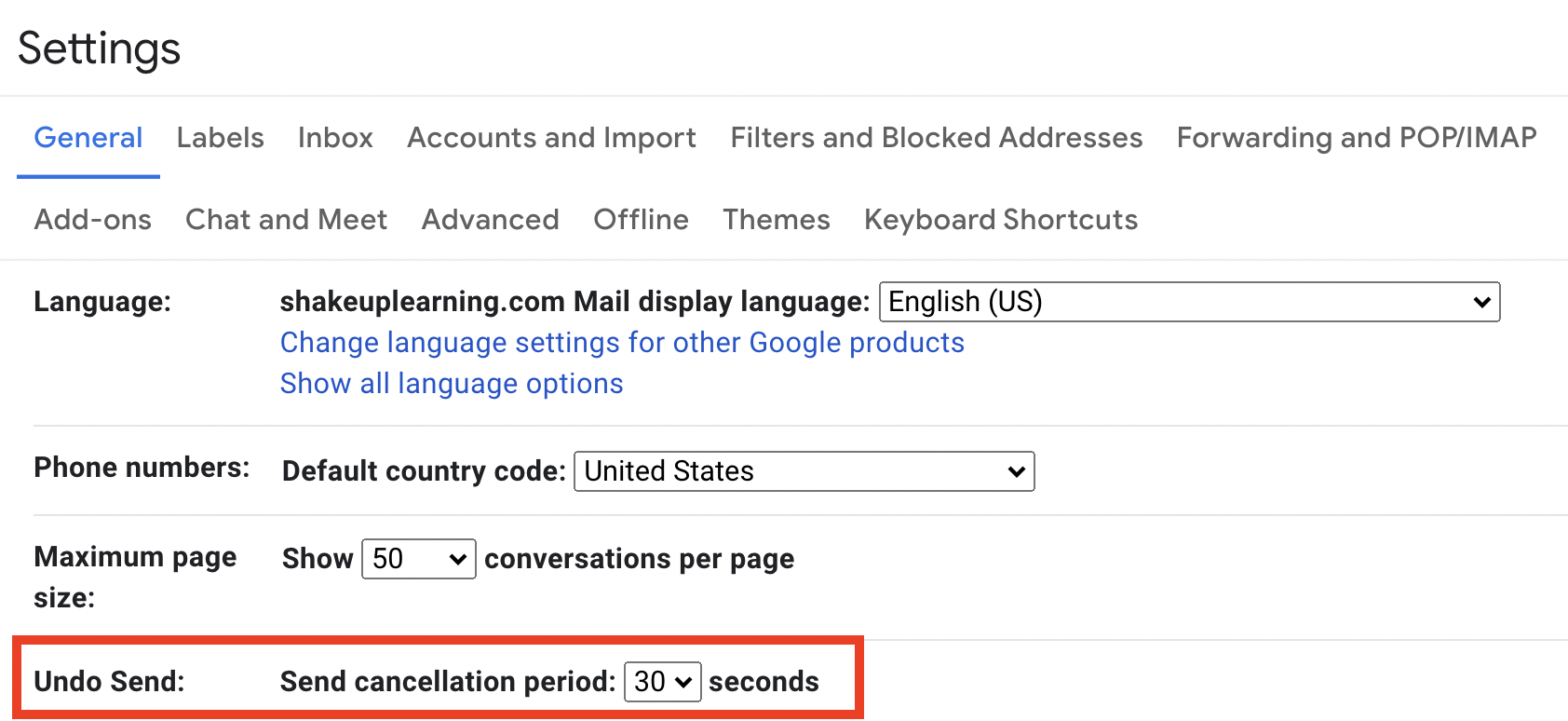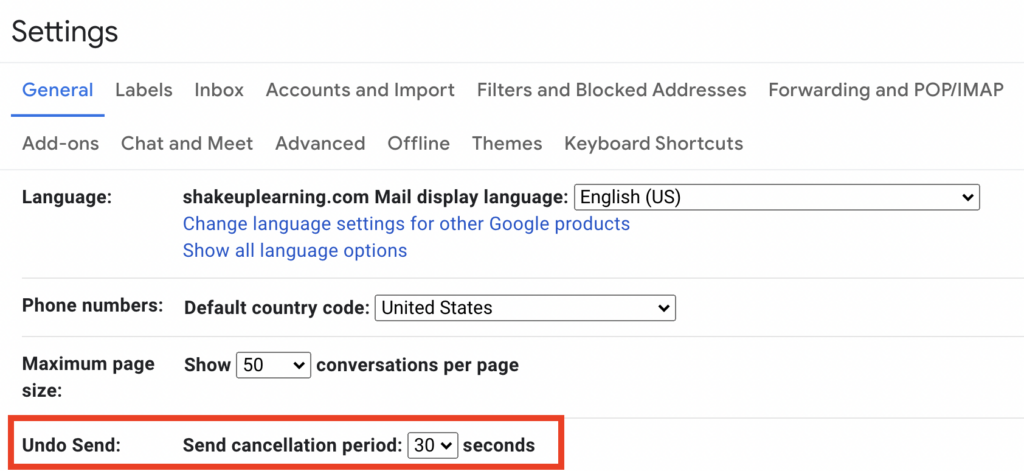 2. Schedule an Email
This feature can be super helpful for emailing parents newsletters or reminders. This is a great way for teachers to save time. You might sit down to plan a unit with several due dates or know that events are happening that you want to get reminders out for. Save time, and don't get caught forgetting, by scheduling those emails. 
To use this function start by composing the email. Rather than hitting the send button, click on the dropdown arrow and choose Schedule Send. A new box will pop up with the option to send the next day, morning and then afternoon, or Monday morning. If these don't work for you click on Date and Time to choose the one you need. 


3. Email Signature with Important Information & Links
Be sure to check out today's quick tip for quickly creating a signature! Think about how you might leverage the email signature as a time saver for you. This is a great place to include links to essential places for information; that might include a Google Calendar, teacher website, or webpage. Any district website links or calendars that are frequently requested make a perfect addition to your email signature.
This can save you time answering the same questions over and over from parents. Refer them to the link in your signature! I used this a lot with helicopter parents who emailed every day and asked "what did you do today?" That information was always saved in my online calendar and I added that link to my email signature.
Here's how to create a professional signature in Google Docs:
4. Labels
Some might be more familiar with the term Folders, however, Gmail calls these Labels. On the left side, labels are displayed, after Drafts, and have the option to be color-coded. Kasey shares a great organizational tip for utilizing labels by creating one called "1Respond." 
The beauty of Labels versus Folders is the option to choose multiple labels. If the email fits multiple topics give it the appropriate label and it will show up in both places. For example, the email has a lesson plan with a graphic organizer attached. You might want to give it both the label of "lesson plan" and "graphic organizers."
Creating a label is simple. Scroll to the bottom of the list on the left sidebar. The last option likely has a plus sign and says Create New Label.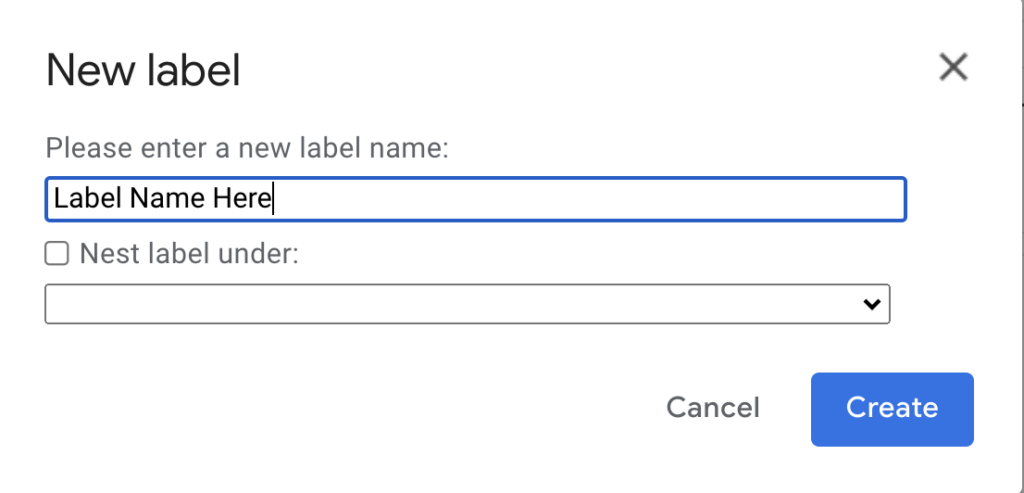 This will then be added to the left sidebar menu of label lists. When hovering over the name the stacked three dots will appear. By clicking on the three dots you'll have the option to color-code the label and add sub-labels. 
5. Filters
Tell your email how you want it to behave. Applying filters to emails as they arrive can help keep your inbox a little more organized. To add filters, locate the search bar at the top and click on the icon to add search options. From here you can search based on the criteria options, consider commonalities that consistently come through your inbox. Once you input search criteria the option to create a filter becomes available.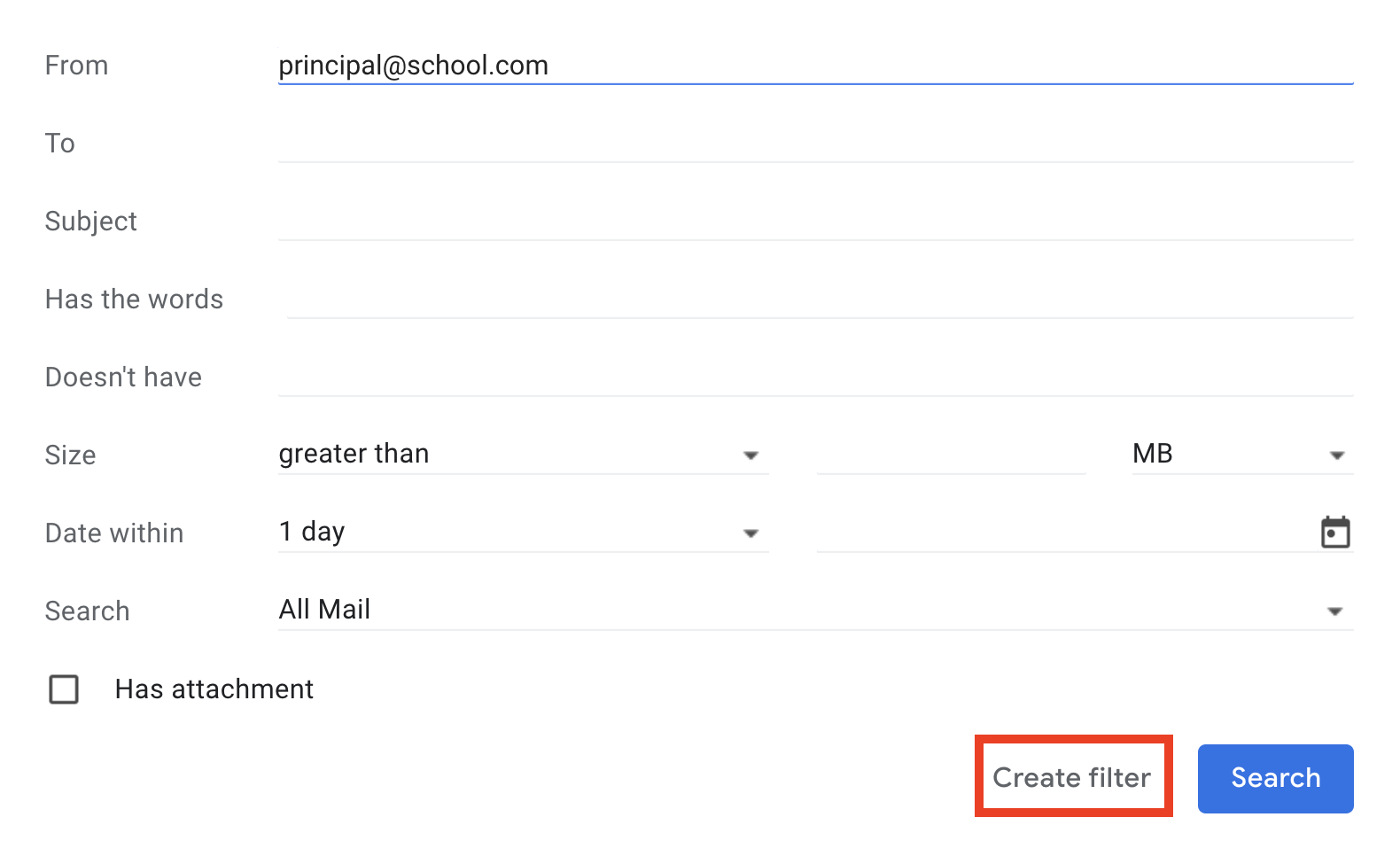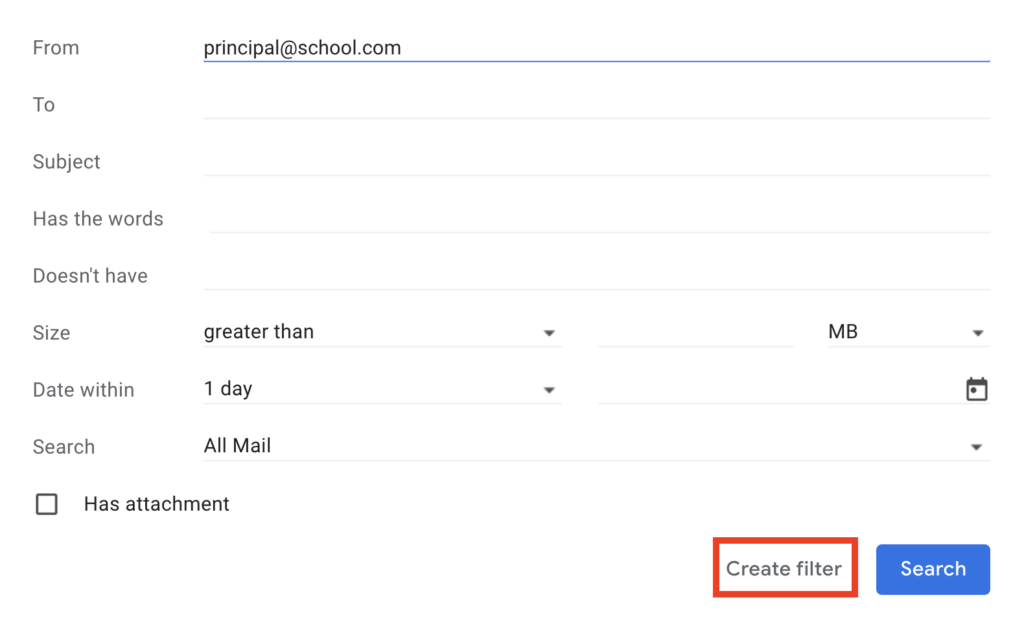 Perhaps you'd like every email from your team of teaching colleagues to be labeled "team." Or you'd like to star every email that comes from your principal. Select one or more options to automate your inbox by starring, mark as read, apply a label, delete, and more.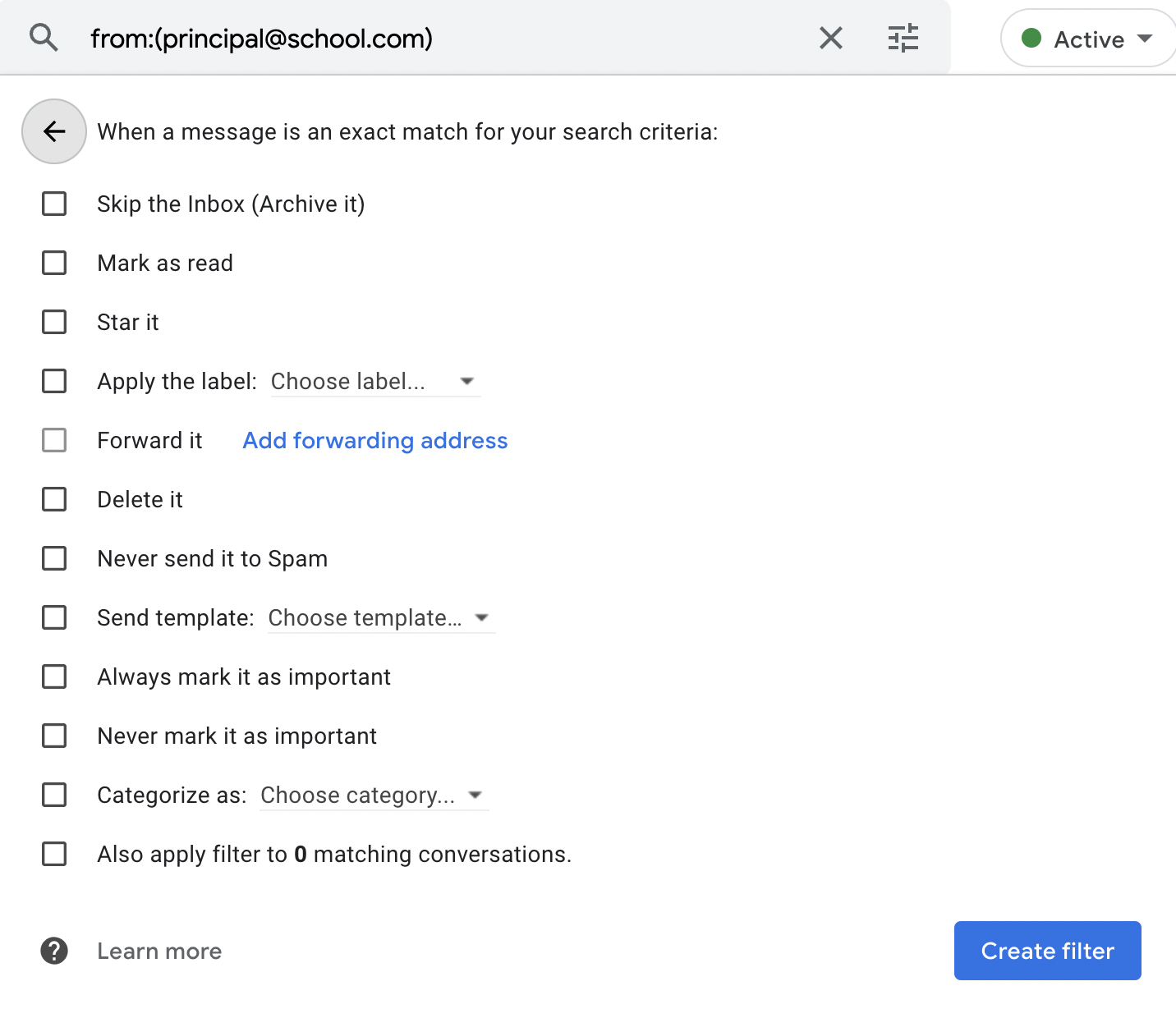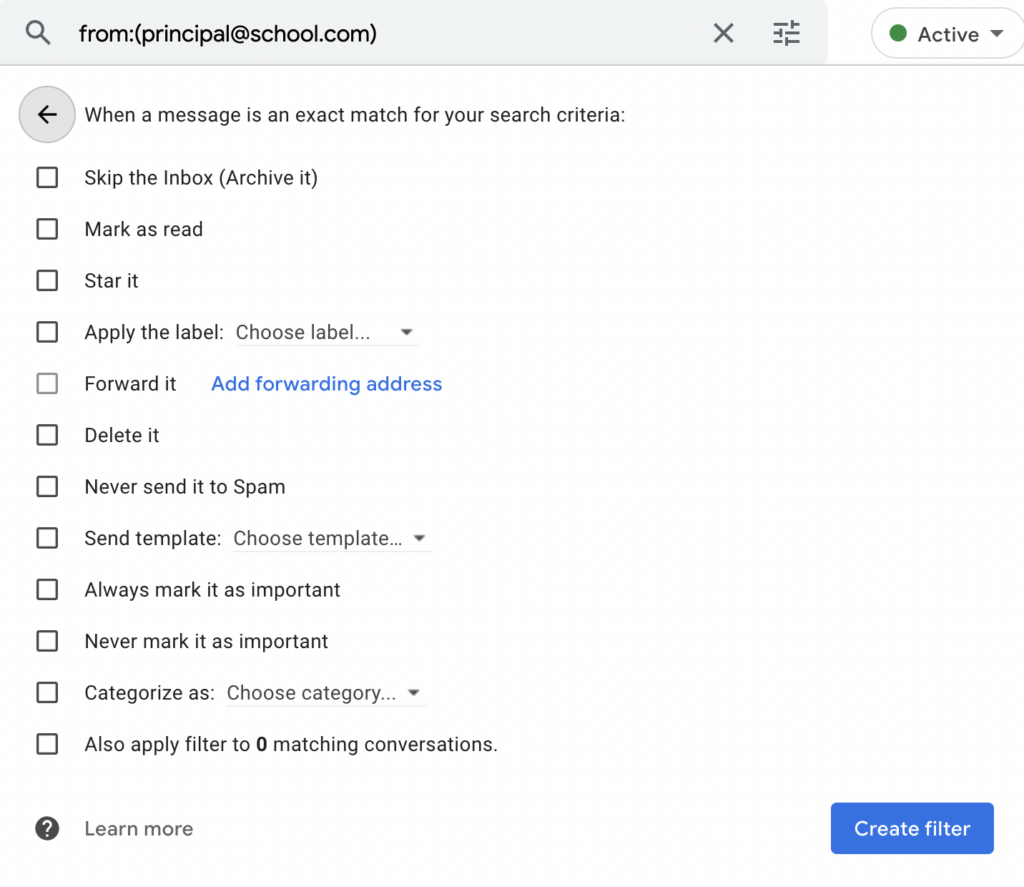 6. Email Templates
Once you've been teaching longer than a year, it becomes clear how much time you spend repeating yourself. To save some time create an email template for those repeat requests or needs for communication. Perhaps you have a procedure in place where parents get an email if a student has missing assignments at the end of the week. Streamline this process with a template. 
Start by composing an email. Type a typical message using brackets for information that will need to be personalized.
Once it's typed click on the three dots in the bottom right corner,

then choose template.

It's possible to save a new template or replace it with an updated template.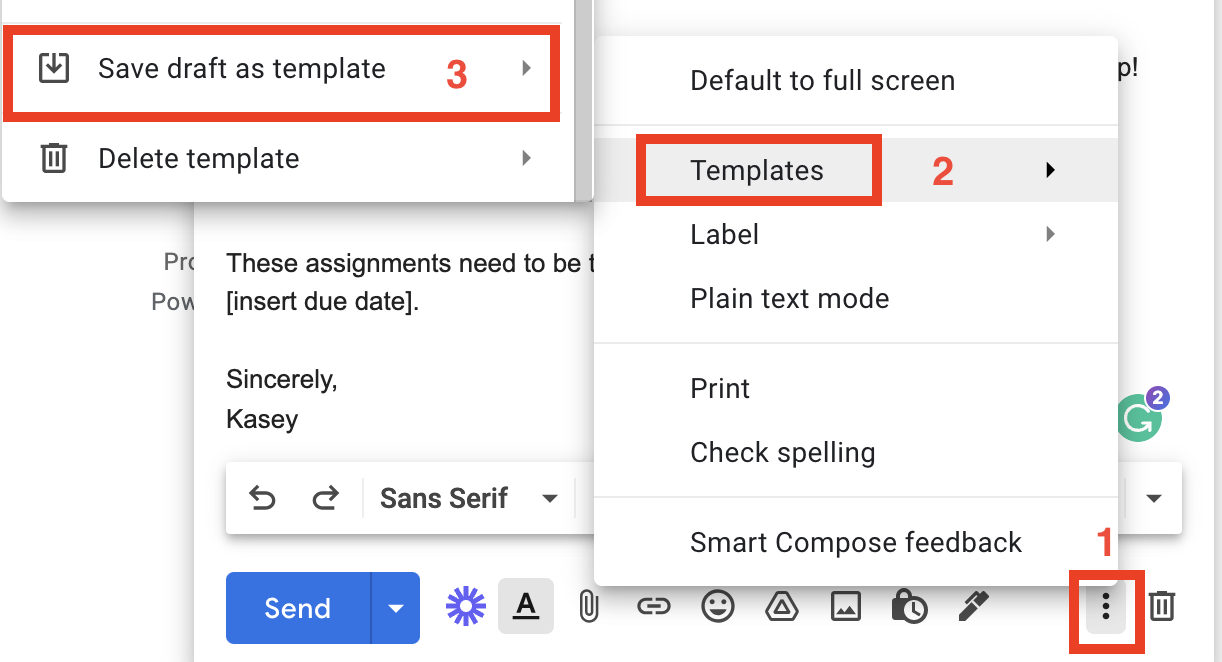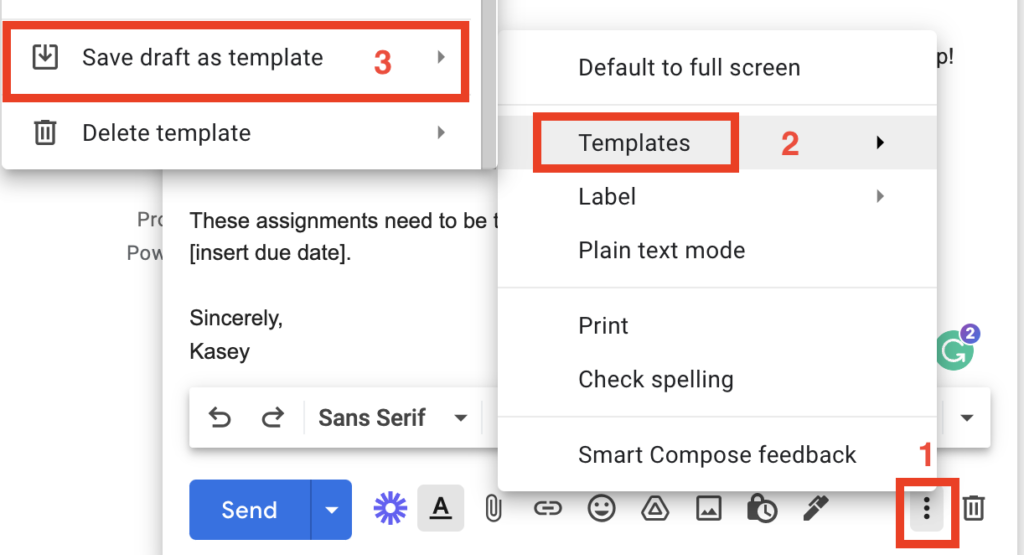 In case you don't see the template option be sure to check your advanced general settings for the template option to be enabled. 
7. Archive vs. Delete
One of the benefits of Gmail is the search option. When searching it's possible to find emails as long as they have been archived. If an email is set to delete then Google will remove it after 30 days. Once it's removed it's gone forever. I prefer to archive so I can always go back and locate information.
To archive a message there are three icons when hovering over the message. The first icon of a folder and arrow is to archive.

This will place the email out of the inbox but not gone forever. Choosing to see all mail will display any archived messages as well as current inbox messages. 
Gmail Rocks!
Gmail is a robust email tool that can help save teachers time–save anyone time. Take advantage of these awesome features to make the most of your inbox!
What time-saving tip would you add to this list? Leave us a comment below.

© Shake Up Learning 2023. Unauthorized use and/or duplication of this material without express and written permission from this blog's author and/or owner is strictly prohibited. Excerpts and links may be used, provided that full and clear credit is given to Kasey Bell and Shake Up Learning with appropriate and specific direction to the original content on ShakeUpLearning.com. See: Copyright Policy.