In this episode, Kasey interviews Holly Clark about her new book, The Chromebook Infused Classroom.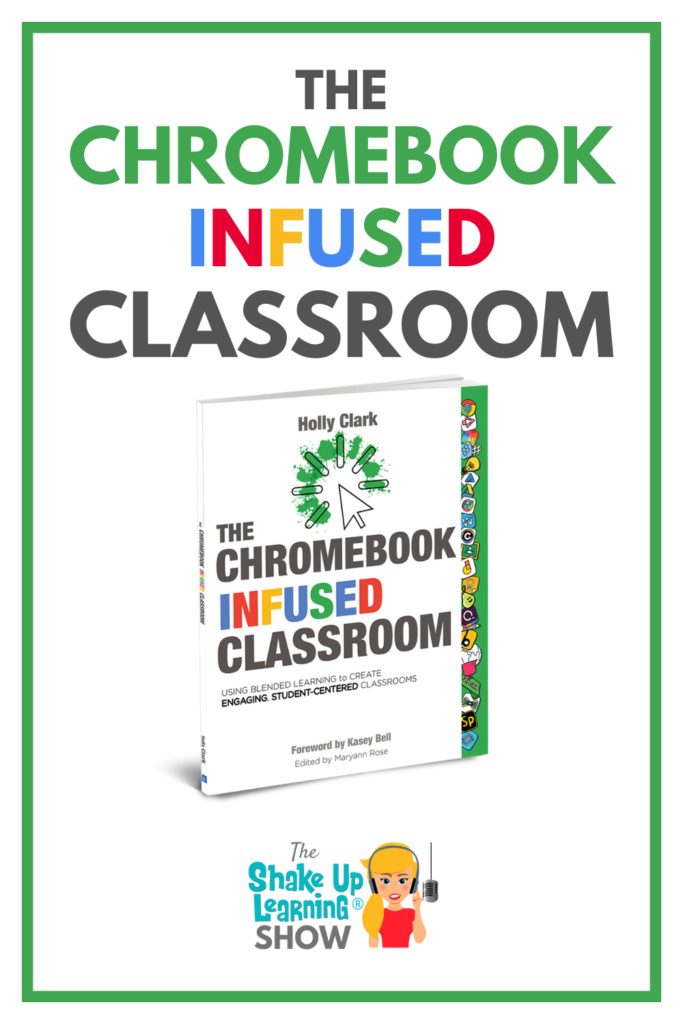 Learn all about the Infused Classroom model, using Hyperdocs for remote learning, and practical ways to go from analog to digital!
Do you have Chromebooks in the classroom? Then you don't want to miss this episode!
Conquer remote learning and digital learning experiences like a pro!
Whether Chromebooks are a new addition to your school, you've recently gone 1:1 in the classroom, or you've been using them for years and you want to make the most of technology for your learners…
The Chromebook Infused Classroom is a resource you will want to refer to again and again.
You'll learn how to:
Amplify student voice in the classroom
Create opportunities to promote a global perspective and cultural empathy
Use technology to assess understanding and craft personalized learning experiences
Help students develop critical skills for success in school, work, and life
Shoutout
Shout out to Angela Draper on Instagram (@thevirtualprincipal) for sharing her excitement about joining the Google Certified Educator Level 1 Academy!
Learn more about all of the Google Certification academies by going to GetGoogleCertified.com.
Quick Tip – Gmail Undo Send
Have you ever clicked send on an email too quickly? Gmail has this awesome built-in feature that gives you up to 30 seconds to undo sending an email.
Here's a 2-minute video to learn how!
The Chromebook Infused Classroom
Holly is the first repeat guest on the Shake Up Learning Show. Holly was featured in episode 17, where Kasey and Holly shared their ISTE presentation, The Learning Mixologist, a combination of Holly's Infused Classroom Framework and Kasey's Dynamic Learning Framework.
Holly is the author of The Google Infused Classroom, The Microsoft Infused Classroom, and now her new book, The Chromebook Infused Classroom. (I wrote the forward for this awesome new book!)

Going From Analog to Digital
Who is the audience for this book?
This book is for all levels of educators. There are practical ideas for teachers who are new to tech and ways to go deeper for those that are more tech-savvy.
What's the difference between The Google Infused Classroom and The Chromebook Infused Classroom?
They are entirely different books. The Google Infused Classroom is focused on making thinking visible, and The Chromebook Infused Classroom is focused on the student-centered classroom and things like activating student curiosity. The new book takes you through a series of how to go from great analog activities to powerful digital activities.

Are Chromebooks required for this book?
No. This book is great for any kind of devices–tablets, laptops, Chromebooks, anything!
How will this book help with remote learning?
Holly shares 20 super tools in this book that will help teachers and students with remote teaching and learning. It is broken down, so you have ideas for how teachers can use each tool and how students can use each tool. She also shares practical lesson ideas and the power of student voice. Just hit record! (Also check out this great episode with Chris Nesi, How to Podcast with Students.)
Did you include Hyperdocs in this book?
Yes! Hyperdocs are great supporting all learners and a fantastic strategy for remote learning. Remember, Hyperdocs are more than simply a doc with links. Hyperdocs are a student-facing blended learning lesson that incorporates the 4 C's, explore, explain, and apply lesson design that allows students to move at their own pace–a blended learning SUPERDOC!
Check out the FREE Hyperdocs Academy!
FREE BONUS Package with Book Purchase:
Private Facebook Group
VIP Webinars
Special Access Chapter
Private Book Study
Infographic Package
To get in on this:
✅  Take a screenshot of receipt – and fill out this FORM
Look for your bonus package in your email!
At the time of publishing, this course is 50%! Details in the link below.
This course helps teachers integrate technology in meaningful ways and is taught by leading experts in the field. Beyond learning from global expert Holly Clark, teachers will learn:
HyperDocs from Lisa Highfill
Interactive Classroom for Primary with The Merrill's
Inquiry from Trevor MacKenzie
Adobe Spark from Tanya Avrith
Sketchnoting with Sylvia Duckworth
Google Certifications overview with Kasey Bell.
About Holly Clark
Holly is an education thought-leader, international speaker, best selling author, and an advocate for students. She is a twenty-plus year educator who has spent over 15 years teaching in a 1:1 classroom and over five years as an administrator in both public and private schools. She holds a master's degree in Instructional Design and Educational Technology from Columbia University in New York City. Her passion is for helping teachers create classrooms where students want to learn and can become the agents of their own thinking and understanding.
She is a National Board Certified Teacher, Google Certified Innovator, and is now the Chief Learning Officer at The Infused Classroom, Inc.  She still spends time co-teaching in classrooms where she can better help teachers and schools begin the process of putting students at the center of the learning. Holly consults with schools globally on blended learning environments where meaningful pedagogy is infused with the strategic use of technology.   She authors a popular education blog: hollyclark.org and gives keynotes to audiences worldwide. You can follow her on twitter and Instagram @HollyClarkEdu.
---
G Suite Training for Schools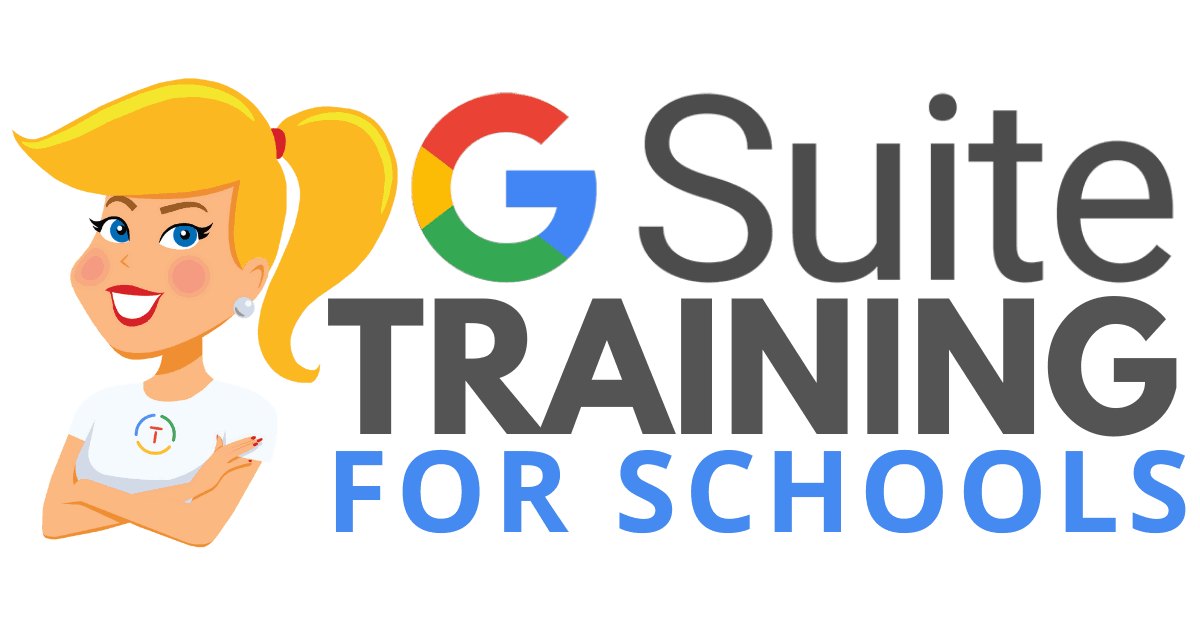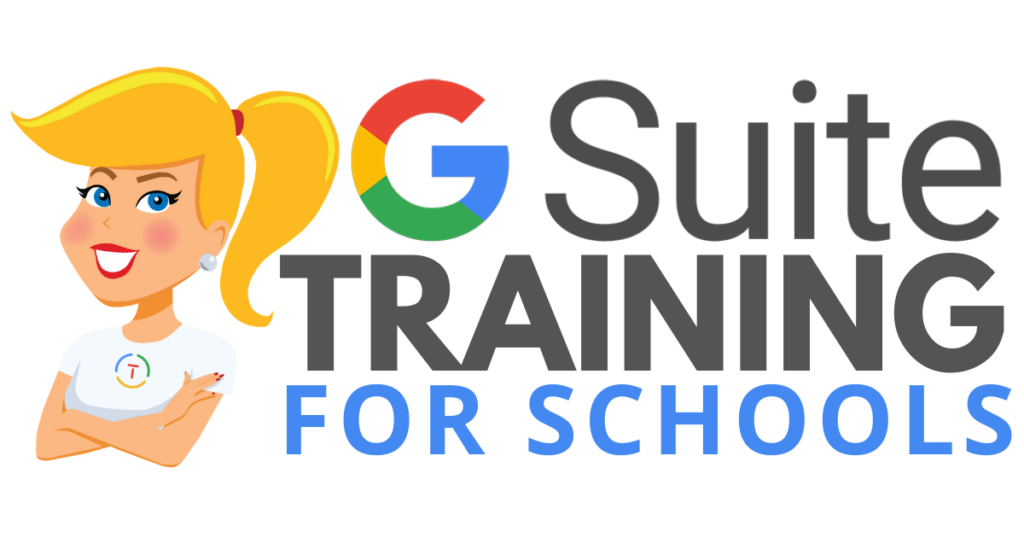 We have many programs to help your teachers learn how to meaningfully integrate Google tools and the entire G Suite in the classroom. From online courses to books, to face-to-face training, we got you covered!
COVID-19 forced many teachers and schools to scramble to find tools to deliver online assignments, design digital learning experiences, and G Suite was the number one suite of tools to help make this a reality.
Just in time resources and learning will help teachers, students, and parents survive the crisis. When we return to the new normal, G Suite skills will help set the foundation for more dynamic and meaningful learning in the classroom.
Get your entire campus or district on board with G Suite! Help your teachers learn more about G Suite tools, Google Classroom, and meaningful technology integration strategies. You can even help all your teachers become Google Certified Educators!
© Shake Up Learning 2023. Unauthorized use and/or duplication of this material without express and written permission from this blog's author and/or owner is strictly prohibited. Excerpts and links may be used, provided that full and clear credit is given to Kasey Bell and Shake Up Learning with appropriate and specific direction to the original content on ShakeUpLearning.com. See: Copyright Policy.