Let's face it, not every topic or subject is something intrinsically interesting to young learners. This is why I have a special on-air coaching episode for you with Debra Copeland and Rebekah Munoz.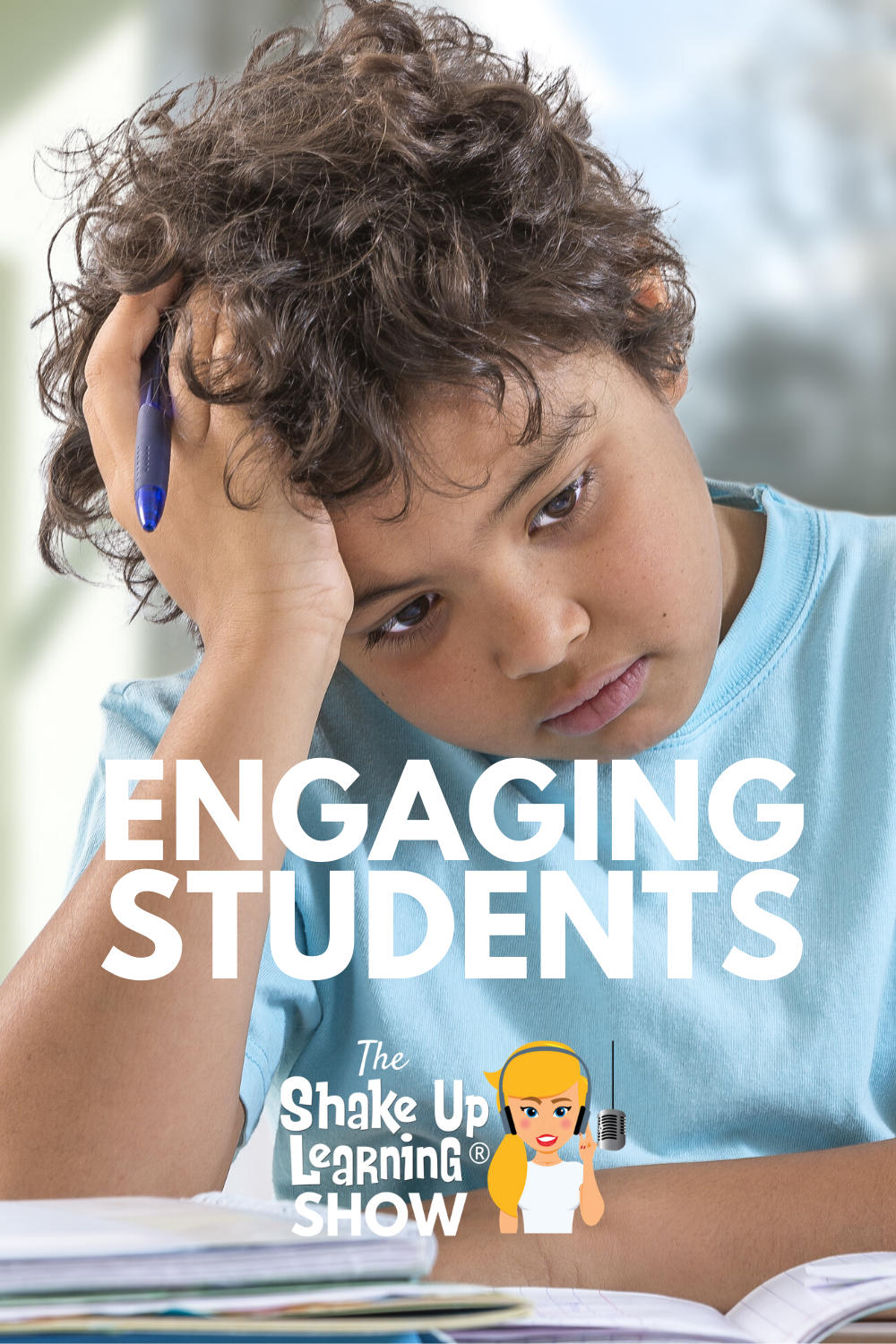 Get ready to learn how you can start engaging students who aren't interested in the content you're presenting to them. 
I wish students would love our content as much as their teachers, but it's just not gonna happen.
There will always be topics that interest different students, and there will always be struggles with skills that are challenging.
Writing is one of those challenges.
As a former language arts teacher, I'll admit, I struggled with teaching writing. It's not easy to teach, and it's definitely not easy for our young students to master, let alone enjoy.
Let's dive into this on-air coaching episode with two teachers who are always striving to improve and engage students in new ways.
But first…
Shoutout
Ryan Read called in on the SpeakPipe line to share ways he uses sketchnoting with his students. This goes back to Episode 48 with Carrie Baughcum as we discussed creative ways to use sketchnoting in the classroom.
Quick Tip of the Week: 
Check out this blog post from Jake Miller about a slides timer extension. Clay Smith is an educator in New York City, and he created a Chrome extension that allows you to put a live timer on your slides!
Engaging Students Who Aren't Interested in the Content
For Debra Copeland and Rebekah Munoz of Rudder MS, this is especially true. Their school is primarily filled with economically disadvantaged students who speak over 30 different languages. 
They are both extremely busy heading different teams within their school to help bring in and train new teachers, build leaders, coaching sports, and helping with incorporating technology. If that weren't enough, they teach ELA in a grade that is tested for STAAR. 
The Biggest Struggle 
When you teach in a school with students of such varied backgrounds and languages, it's hard to help them hone their writing schools. For Debra and Rebekah, it's especially hard because they are teaching their students to pass the state tests. 
Rebekah shares that one of her biggest struggles is helping her students understand that the first draft is not the final draft. They aren't motivated to learn how to make their writing better in many cases, because they don't fully understand the language, or just aren't engaged. 
We dive deep in this call to see which tactics have worked best in Rebekah's classroom. She shares that having the process displayed and represented in stages on her wall has helped her students visualize the process better. 
As they finish each section, they get to move their name down the line on the wall, and this has helped motivate more of her students, but there is still work to be done. While this process is improving, she wants more of her students to engage and understand the purpose.

Ways to Increase Engagement
Rebekah is already doing some amazing things with her students, but Debra and I help point out ways she could revise the lessons to make them more engaging. Rather than having to rely solely on self-revisions, she could allow peers to use suggesting edits in Google Docs.
In this same way, to promote reading work out loud to hear the errors, she could be using Flipgrid to allow another student to read the work out loud and give meaningful feedback. 
Debra has implemented both of these strategies, and they've helped both the writer and reviewer to level up their writing skills. 
Why Reflection is Important to the Writing Process
Whether a student is reviewing and reflecting on their own writing or someone else's, their understanding of the writing process will improve. Going forward, Rebekah plans to use bits and pieces of Debra's process and her own to help her students better understand the writing process. 
She's going to give her students a rubric to fill out as the writer reads their work and records on Flipgrid. The reviewers will fill out the rubric, and after everything is done, they can then make comments on the work. 
This will all take place after they've done their mini-lessons on self-revision, and this will show them everything they missed. This will further show why revisions are so important to writing.
How Could These Changes be Measured? 
Rebekah would likely use modeling to reveal additional ways that students could reflect on their work. She wrote her own essay for this project, and in the future, would give the students the rubric to grade her work as well. 
Debra mentions that Rebekah is really good at using Screencastify. She could record the modeling lesson so that students would be able to review the lesson as often as needed, and any absent students would have access to the lesson.
Another way to use Screencastify would be to use the same draft and show the revision process over time. This way, Rebekah could point out why certain words were changed and why certain sections were re-written.
I also mentioned the Draftback Chrome extension could be handy for seeing the revision process come to life.
It would also help her better explain what she means by expecting their first drafts to "look" messy once revisions are done.
Why Publishing the Student's Work Changes Their Perspective
Because of Shake Up Learning, Rebekah has been digging into expanding the audience that sees the students' work. She's been using Google sites to publish the final drafts of her student's papers, and it has changed their willingness to perfect their work.
She shares a recent project that they did regarding writing an email. The students got to email another student or teacher in the district to share different subjects. One of those subjects was how the student felt they'd changed from the prior year to this year. 
The things the student's shared really touched her. Students were proud to learn how to build their sites, and sharing how much their writing had improved. 
What Are Their Next Steps? 
Debra wants to offer more opportunities to allow students more creative ways to present their ideas. The district is moving toward using Choice Boards. She is working to make the writing more authentic and real world.
Rebekah completely agrees. She is trying to teach her students how to be engaged authentically and to take away the fact that this is not for a grade but for life. She wants to build life-long learners. 
About Debra Copeland
36 years teaching preschool, elementary, and middle school

Teaching Fellowship for 3 years with pre-service teachers at University of Texas San Antonio

Published Author in Curriculum Theory – De-Mythologizing Educational Reform (ROOT)

Second year at Rudder Middle School as an Instructional Coach for ELA

Debra

on Twitter
About Rebekah Munoz
10 years of teaching experience- ELA grades 6-7

Taught my first 5 years in South Texas- the majority of my students were ESLs/At Risk/Eco Dis from Mexico

Have been at Rudder MS for 5 years- similar demographics 

All my teaching experience has been at Title 1 campuses

My passion is geared towards low performing and reluctant readers

My goal is to motivate students to fall in love with reading and become lifelong learners

I enjoy taking risks with technology and thinking outside the box with traditional lesson plans

Rebekah on Twitter
Podcast Question of the Week: 
---
Get Google Certified This Summer!
Become a Google Certified Educator Level 1, Level 2, or even a Google Certified Trainer.
Go to GetGoogleCertified.com to learn more!
© Shake Up Learning 2023. Unauthorized use and/or duplication of this material without express and written permission from this blog's author and/or owner is strictly prohibited. Excerpts and links may be used, provided that full and clear credit is given to Kasey Bell and Shake Up Learning with appropriate and specific direction to the original content on ShakeUpLearning.com. See: Copyright Policy.