It's the first interview episode of the year y'all, and I have an amazing guest to share with you.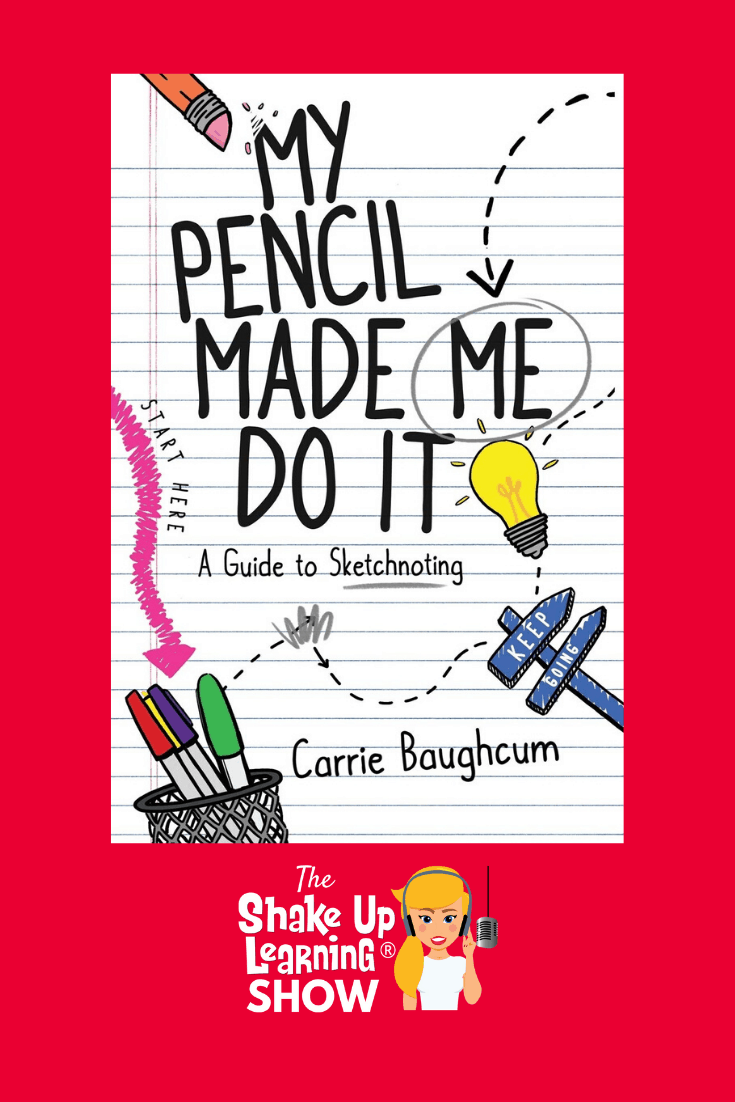 Meet Carrie Baughcum, a special education teacher and author with a creative teaching style. 
Carrie is one of the most creative teachers I know!
I would love to be in her classroom!
Learn how Carrie has used sketchnoting in her classroom, simple strategies for any teacher and teaching style, and how to spark creativity and originality in your students. 
Your students will stop saying their dog ate their homework and start saying, "My Pencil Made Me Do It!" 
Shoutout
But first, I'd like to give a Shout Out to Svitlata Hom for her super sweet and supportive email. She's one of our Google Certification students and has been learning so many tips, tricks, and ideas for her classroom. Learn more about the Google Certification courses here.
Do you have a question or idea to share on the podcast? Leave me a message here.
Quick Tip of the Week
In your browser, use Control + F (Command + F on a Mac) to find words and phrases on any webpage. This keyboard shortcut is unbelievably helpful when you're scrolling through really long pages of information, particularly in Google Classroom. ​
My Pencil Made Me Do It!
Carrie has been a special education teacher in Arlington Heights, IL, for over 20 years. She strives to integrate technology, creative thinking, a fearless attitude, the power of gamification, and endless doodles into her classroom. 
Each of her students has their own strengths, weaknesses, and styles of learning, and she's that through technology and gamification, she can engage her students in new ways. 
Her path to sketchnoting started with her own children. They used to sit in the kitchen, doodling on sketchpads while Carrie made dinner and cleaned dishes. She realized that if she wanted to spend more quality time with her kids, then she needed to start sketching.
She quickly found that sketching made her heart and brain happy and incorporated her sketches into her blog posts. 
Carrie also started incorporating sketching and sketchnoting into her curriculum with her students and noticed vast improvements in their behavior and retention. 
After doing a ton of research on cognitive science and visual learning, and it's relation to handwriting and drawing, she decided to put her findings and strategies into a book.
Carrie recently finished writing the book, My Pencil Made Me Do It: A Guide to Sketchnoting, which covers many of the ways teachers can and should incorporate sketchnoting into different areas of the curriculum. 

She gives actionable tips on how to ask questions that elicit visual responses from students that they can then doodle or draw on their sketchpads. By having students visualize responses and then draw those visualizations, we boost brain function and retention. 
Sketchnoting in the Classroom
Carrie says we should ask questions that challenge students to visualize information.
"Sketchnoting is NOT about creating something pretty and artistic. It's about tapping into the power of the mind and connecting the mind with our hand to draw and amplify learning!"
When we doodle our learning, we are connecting both sides of the brain, the visual side and the textual side, which improves retention and recall.
Drawing can also have a very calming effect–just an added bonus for teachers and students!
Carrie suggests that teachers think of their favorite lesson, and brainstorm one or two questions to add to that would help students visualize their thinking.
The first time Carrie had an Aha! moment in her classroom was when she did a visualization exercise with her students. At first, students were reluctant to create an original response. But after questioning a student about his response and encouraging him to share with the class, other students began to share too. 
She learned a valuable lesson at that moment about not underestimating her students. She shifted her mindset and gave them the opportunity to express themselves, and that shift allowed her students to bloom. 
When students and teachers learn how to take risks, be vulnerable with each other, and create imperfect sketches, it creates a new culture in our classrooms. It's this new, growth mindset that helped Carrie make a huge shift in her teaching.
Micro-Summarizing
Another concept Carrie shares in her book is an idea she calls micro-summarizing. The process of taking big concepts and having her students condense them into one or two sentences. 
Sketchnoting helps us break information into important concepts and big ideas.
Rather than having our students copy notes down word for word, she promotes summarization for concept retention. 
Try this: Take your traditional typed notes and cut them into strips (or write on post-it notes). Students can revise the notes and choose 1-2 sentences to create the summary.
Carrie suggests that you jump in with just one idea. Explain your understanding of sketchnoting and share with your students. 
Be sure you grab a copy of Carrie's book to learn all of her best ideas. 
Check out Carrie's YouTube channel for some great ideas on how to implement sketchnoting and micro-summarizing in your classroom. 
You don't have to have any fancy tools to start implementing sketchnoting in your classroom. A piece of paper or sketchpad and pencils, crayons, markers, any writing utensil is all you need to get your students sketching. If you have access to tablets or iPads, then there are several apps you can start your students on, but they aren't necessary. 
Carrie recommends Explain Everything and Procreate for digital sketchnotes.
Quick Note: Don't miss the AMAZING lesson that Carrie contributed to the Shake Up Learning book!

Check back for a guest post coming soon from Carrie about why she created a learning mascot, and how she has teachers implementing them in their classrooms. 
About Carrie Baughcum
Website: carriebaughcum.com
School: Arlington Heights School District #25
Bio: Carrie Baughcum is a mother, wife, mismatch sock wearer, a self-described inspiration junkie, learning enthusiast, and most of all a passionate believer that all children can learn, we just need to find out how. As a special education teacher of 20+ years, she integrates technology, creative thinking, a fearless attitude, the power of gamification and endless doodles into her classroom. She strives every day to enhance her students' learning while empowering them to achieve things they never knew they could do or be a part of. She is also the mother to two children, 12 and 14 years old. At home, she encourages her children to explore, learn, and try anything their imaginations can think up. Together they create and get involved in activities and experiences with exploration, creativity, problem-solving and making. Carrie shares her experiences from her classroom, her adventures, reflections on her time with her husband, children, and students by speaking and connecting with others at conferences and sharing on youtube.com/carriebaughcum and at carriebaughcum.com.
Podcast Question of the Week
What's one way you could try sketchnoting in your classroom or professional life?

Post your answers in the

Shake Up Learning community

or on your favorite social platform.
Join our FREE Shake Up Learning Facebook group.
Post your answer to your favorite social media platform using the hashtag #ShakeUpLearning, or share it in the Shake Up Learning Community on Facebook!
© Shake Up Learning 2023. Unauthorized use and/or duplication of this material without express and written permission from this blog's author and/or owner is strictly prohibited. Excerpts and links may be used, provided that full and clear credit is given to Kasey Bell and Shake Up Learning with appropriate and specific direction to the original content on ShakeUpLearning.com. See: Copyright Policy.