Christine Pinto and Jessica Twomey, two amazing kinder teachers, join me to discuss home learning strategies for primary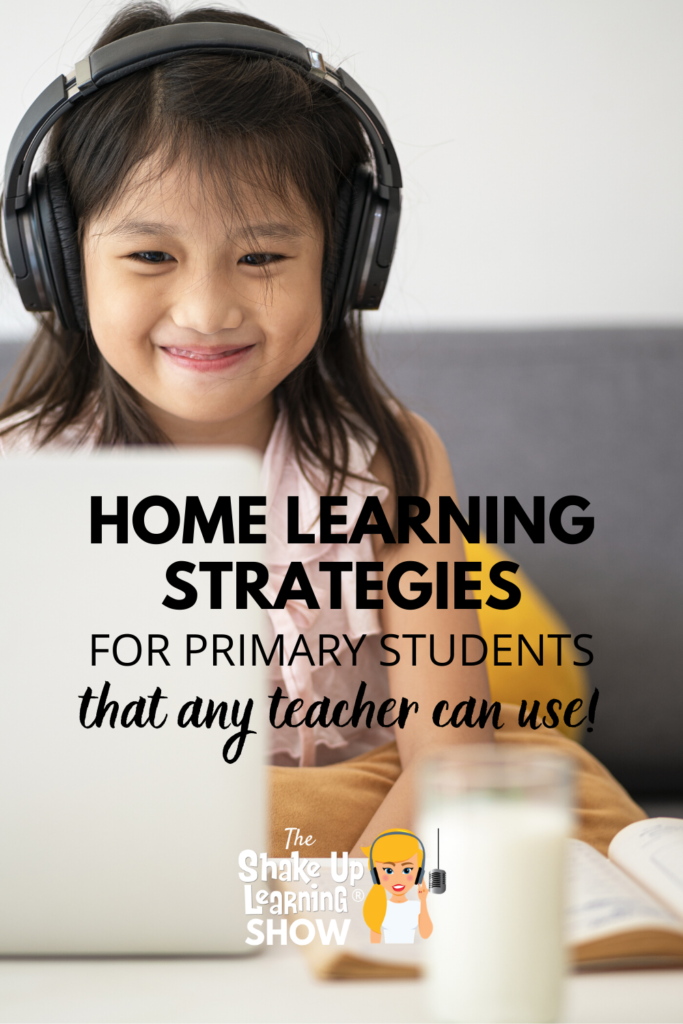 students that ALL teachers can use.
These awesome educators share amazing home learning strategies for primary students, and honestly, ANY teacher can learn from this episode. 
This is a MUST-LISTEN episode for all teachers.
Shoutout
Laura Steinbrink joined me on Episode 56 to chat about choice boards, but she's back with an update. She is revising her choice board based on feedback from her students. Some of them prefer a big project rather than small ones.

She shares how she has now updated her board to offer either one big project a week or several smaller ones. Keep shifting and changing to find what works for you and your students.
Listen to this article:
Quick Tip of the Week: Copy Direct Link to Google Classroom Assignment
Depending on how you are creating assignments in Google Classroom, this tip can help you quickly link to assignments elsewhere. Go to the 3 dots (more menu) on the assignment and select "copy link." You can now share that assignment wherever else you need. Watch this YouTube video to learn how!
Get all the weekly tips on this page.
Home Learning Strategies for Primary Students That All Teachers Can Use!
You are going to love the ideas from these two awesome kindergarten teachers. Together we will learn some home learning strategies for primary students that all teachers can use.
Jessica and Christine, both kindergarten teachers, have been collaborating for over three years with their classes. They've set up a number of rituals for their kids so that they stay connected all year long. From the "Wish You Well" hearts to their daily updates on the weather and happenings, their kids know that learning happens outside of the classroom.

These collaborations and technology integration during the regular class meetings have set these students up for success during the unexpected home learning that is now taking place.
Jessica says this cross-country collaboration helps students better understand that learning can live outside the four walls fo the classroom. Their students already have a growth mindset and a foundational understanding of how learning works–giving them an advantage to understanding the new home learning approach.
How Learning Has Changed on Opposite Ends of the Country
California hasn't fully stepped into a true digital classroom. Their spring break is coming up soon, so until then, they've been providing supplements and enrichment activities for families. After the break, Christine thinks they'll move to requiring the kids to turn in assignments and do more targeted activities.
New Jersey instead has stepped fully into focusing on ongoing learning versus just enrichment. They are working to keep grade-level consistency as well, which is extremely important. Jessica mentions that both districts are using similar technology; they're overall goals are just a bit different.
Why Supporting Families is Important Right Now
This change has been hugely impactful on parents, so giving them the tools and support that they need to help educate their children is necessary. Jessica shares how her district is using Seesaw and Flipgrid to help provide spaces for the parents and kids to learn and communicate. 
Also, the focus is on hands-on learning and experiences versus "book" learning. For the youngest students, we have to be careful with too much screen time. It's also important to note that for many families, school is happening in the evening. They need to have access to resources even though they aren't teaching during the regular school day.
These technology tools were already in place before schools closed. This is not the time for new tools, use the tools that have already been proven. 

What Has Been the Expectation for Time and Assignments?
The goal for both Jessica and Christine's districts has been to promote learning without expecting these kids to sit in front of a screen. They've put together the resources and materials that parents need to help their students learn through experience.
The districts have made it known that consistency is a priority, but that there should also be a healthy dose of flexibility. They know that while parents want the best for their kids, they are not always equipped to teach their youngsters.
Teaching Young Children From Home Framework
Christine and Jessica walk us through their framework for teaching and learning from home with young children. Learn more about this framework and their approach in this post.
Recommendations for Teachers:
Ensure a Method for Communication is in Place
Create a Home Base for Information
Develop Learning Connections
Offer Purpose and an Authentic Audience
Personalize Experiences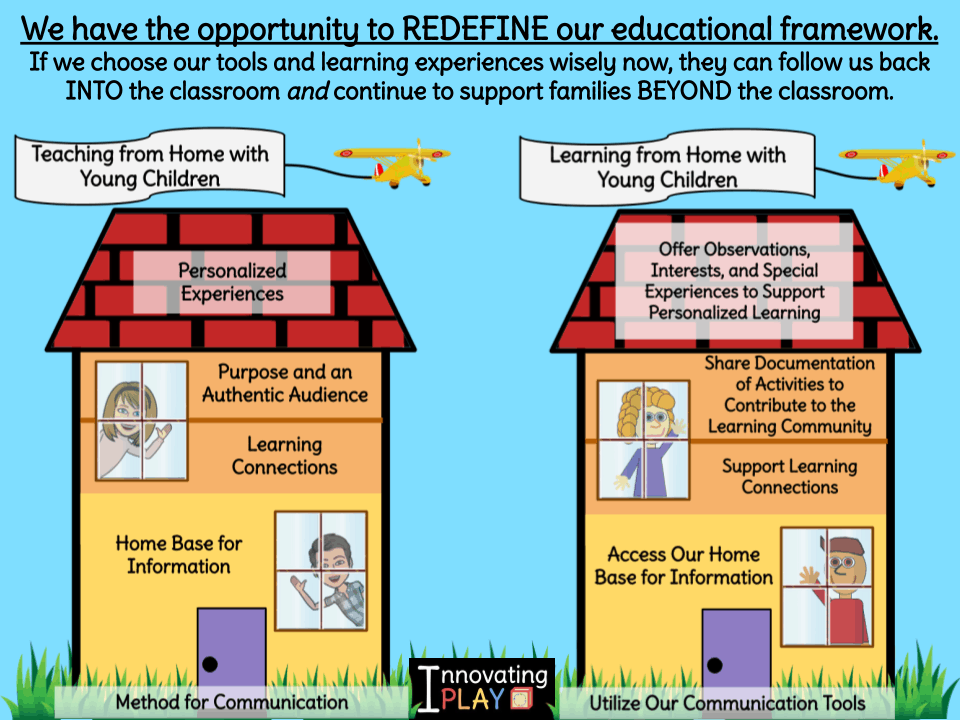 Learn More About Innovating Play 
Christine and Jessica have been working on creating resources for teachers to help them realize their strengths and how to build their communication systems. Think about the skills and goals that your kids have been working on and build out activities that help your students continue on those paths. 
Christine shares the process they've created through Innovating Play to help teachers understand how their skills translate to the digital learning space. She builds a house with the foundation, walls, interior, and roof and explains how your classroom curriculum translates.
Where is This Period Going to Take Us? 
Both Christine and Jessica hope that the tools and strategies we are using today continue once everything is back to normal. The involvement of parents during this time and the increased engagement with students in a more dynamic way are invaluable. 
They share how you can help support your students' parents by reducing the expectation. Help them redefine their norms and make this period relatable to other experiences they've had. What you need is for you and your child to be successful.
Christine and Jessica share information on their upcoming book! We are looking forward to this amazing resource.
About Christine Pinto and Jessica Twomey
Twitter: @PintoBeanz11   @jlabar2me
Website: innovatingplay.world
Title: Kindergarten Teachers
Bio: Christine Pinto and Jessica Twomey have been in the field of Early Childhood Education for over 18 years collectively. Their kindergarten classes have collaborated on a DAILY, yearlong, basis from their locations in California and New Jersey for a number of years. Christine and Jessica moderated the #InnovatingPlay/#GAfE4Littles Slow Flip Chat via Flipgrid for a year and a half, and are proud to be publishing a book with Dave Burgess Consulting, Inc. When opportunities arise, Christine and Jessica travel to present about Innovating Play and how they preserve, protect, and transform early childhood experiences in and beyond the classroom.
Podcast Question of the Week
---
© Shake Up Learning 2023. Unauthorized use and/or duplication of this material without express and written permission from this blog's author and/or owner is strictly prohibited. Excerpts and links may be used, provided that full and clear credit is given to Kasey Bell and Shake Up Learning with appropriate and specific direction to the original content on ShakeUpLearning.com. See: Copyright Policy.