Book studies are a great way to level up your professional learning! I get a lot of questions about different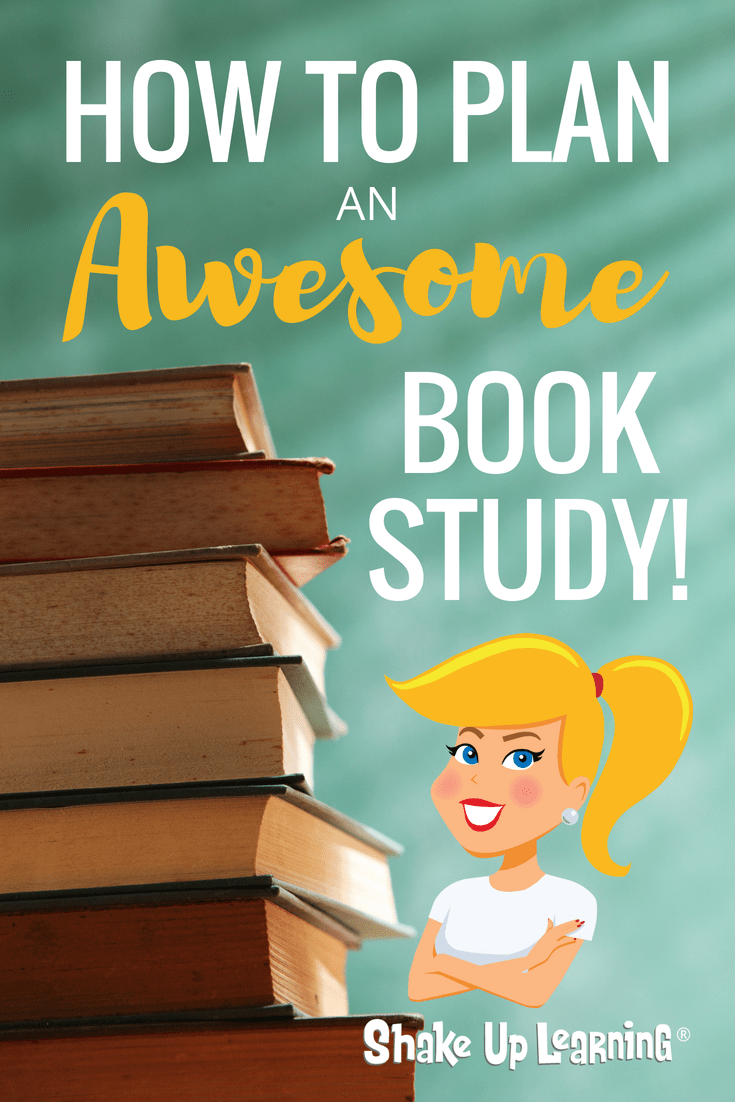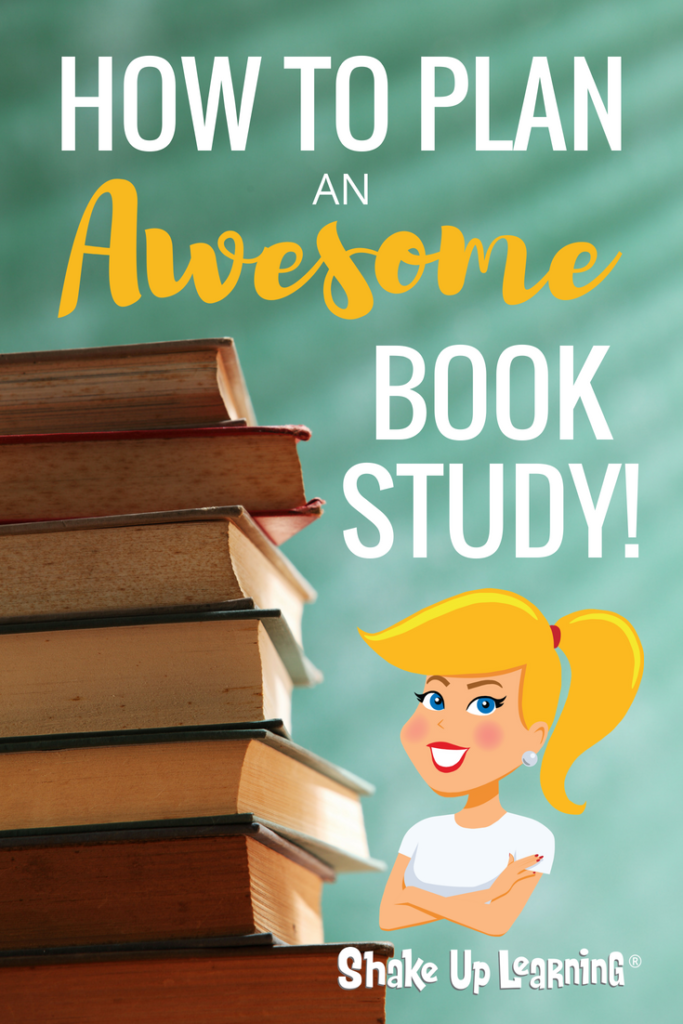 ways to run book studies for educators, how to choose a book, what tools to use, and how to keep your group engaged.
So I decided to put this post together, How to Plan an Awesome Book Study, to help guide you along the way.
I have been a part of what seems like hundreds of mandated book studies that simply fall flat.
Some books were great, some were not. Some conversations were great, others were BOR—ING.
Some studies changed my mindset and/or my practice, some were not worth the ink on the paper.
Let's break this down and think through some ways to improve your professional group book studies!
How to Plan an AWESOME Book Study!
Listen to this article.
STEP 1: Define Your Audience
Who will be reading this book? Is it open to educators at all levels and subject areas? Or is this a study for administrators? What type of administrators? Maybe this is a study for instructional coaches, a tech team, or even one that involves parents and the community.
Think through all of the possibilities for your audience and be sure you are forming a group with meaning. If not, consider forming multiple groups to better meet the needs of everyone. Trust me, nothing is worse than being forced to read a book about something that doesn't really pertain to your role as an educator.
If you are unsure who will be participating, send out a Google Form survey.
STEP 2: Select Book Study Leaders
You need to ensure that someone is taking the lead so this whole shebang doesn't fall apart. Is that person you? Maybe. Better yet, form a collaborative partnership or team to take the reigns and help the group navigate.
This doesn't have to be complicated, but in my experience, a book study without a leader can often lead to less participation and far less implementation.


STEP 3: Define Your Goals
Why are you doing this book study? Is it because your admin says you have to do two book studies per year? I hope not. A meaningful book study should always start with the why, just like the learning in our classrooms.
Is your goal to help teachers become more comfortable with technology? Is a book going to do that? Maybe.
Is your goal to get teachers to make the shift to facilitator?
Is your goal to help shift the mindset of your faculty?
Is your goal to help teachers learn how to develop better assessments?
Is your goal to focus on PBL?
Is your goal to introduce innovative ideas?
Think carefully about the vision for your organization, school, or group, and connect this book study to your mission and goals. Make sure every one of the leaders is on the same page and in agreement before you move to step four.
STEP 4: Choosing a Book for Your Book Study
Once you have defined your audience and selected your leaders, it is time to select a book. Give your participants a choice! If you want buy-in and to truly effect change in your organization, you must give the participants a say in what they read. There is no shortage of books out there.
My suggestion is to have the leaders of the book study pick three to five books that fit the needs of your specific audience. Then share the choices with your participants for a vote. (Looking for ideas? Check out my recommended book list.)
Voting on a book can be fun! This can be something you do as a group, face-to-face, where you offer a "tasting" of the book options. Or with larger groups, you can create a Google Form for voting. Facebook, Twitter, and other platforms also offer some easy-to-use polling options, depending on how you communicate with your group.
If your group is over 20, DO NOT send this out as a mass email and ask for replies! What a waste of time. Use a digital tool to do the work for you.
STEP 5: Leaders Read the Book and Plan the Study
Yes, you read that correctly, read and plan the study before you start. Novel idea, I know! If you wing it, or just stay a chapter ahead, you will fail to connect the dots to the bigger picture and your overall goal.
So read, take notes, and begin to picture all the ways this book study could be facilitated, and how you will divide up the chapters and material. Flag the sections that you expect could meet resistance or disagreement. Gather additional resources. This piece is critical before you move on to step six.
STEP 6: Decide How You Will Facilitate the Book Study
Facilitating a book study doesn't have to be complicated if you plan and organize.
Plan out your timeline and decide on due dates for each chapter.
Create discussion questions for each chapter.
You may also have activities associated with each chapter. If so, now is the time to plan those out. Consider having participants create something to represent their learning, share reflections, sketch notes, booksnaps, lesson ideas, or other content related to the book's topic.
When and where will you meet to discuss?
Choose an online platform to support the study. Even if you are meeting face-to-face, you will need something online that will help participants remember due dates and expectations.

Platform suggestions

Google Classroom – great for assignments, calendars, and discussions in one location!
Any type of website creator
Facebook group
Twitter with a unique hashtag
STEP 7: Facilitate with Finesse!
Facilitate your book study with some TLC and genuine support! Build relationships and go beyond the content of the book. Find ways to connect and learn with your group. Don't just ask and respond to questions, make this something special for participants.
Find ways to show positive support to those who struggle to keep up.
Make it fun and engaging! Give away some swag or door prizes.
Brag to administrators! Be sure you invite and tag your administrators if they are not participating so they can see the learning and support.
STEP 8: FOLLOW UP
One of the critical missing pieces to most professional learning experiences is follow-up.
Don't forget to set a few reminders, and schedule some tweets or posts to help your participants review important concepts and IMPLEMENT ideas from the book study.
Offer a way for participants to share what they have implemented with the group. Just don't let it all fade away.
You may also want to connect this back to a bigger project where participants are required to design and implement it by a certain date.
Ready. Set. Go!
I hope this helps you think through your book study projects and create a meaningful experience for your participants. Have more ideas to add to this list? Leave me a comment down below!
---
The Perfect Book Study Package!
The Shake Up Learning books were designed with book studies in mind! Not only are these books a great read for any educator, any grade level, any subject, any role, but these books have the entire package to help you facilitate a successful book study!
In Shake Up Learning and Blended Learning with Google, you will find tons of support for your professional book study!
Discussion questions after each chapter. You don't have to write your own! These are ready to go!
Dedicated reflection pages after each chapter, helping you to encourage participants to think and reflect on their reading.
Web resources and videos to support the books, including a dedicated webpage for each chapter!
Planning and Implementation Chapters, to help readers TAKE ACTION on the content they read by designing meaningful lesson plans.
Meet the author! Contact me about doing a video chat with your group!
FREE Stickers to support your book study!
Bulk discounts for 10 or more books.
Large group discounts on the online workshops.
© Shake Up Learning 2023. Unauthorized use and/or duplication of this material without express and written permission from this blog's author and/or owner is strictly prohibited. Excerpts and links may be used, provided that full and clear credit is given to Kasey Bell and Shake Up Learning with appropriate and specific direction to the original content on ShakeUpLearning.com. See: Copyright Policy.