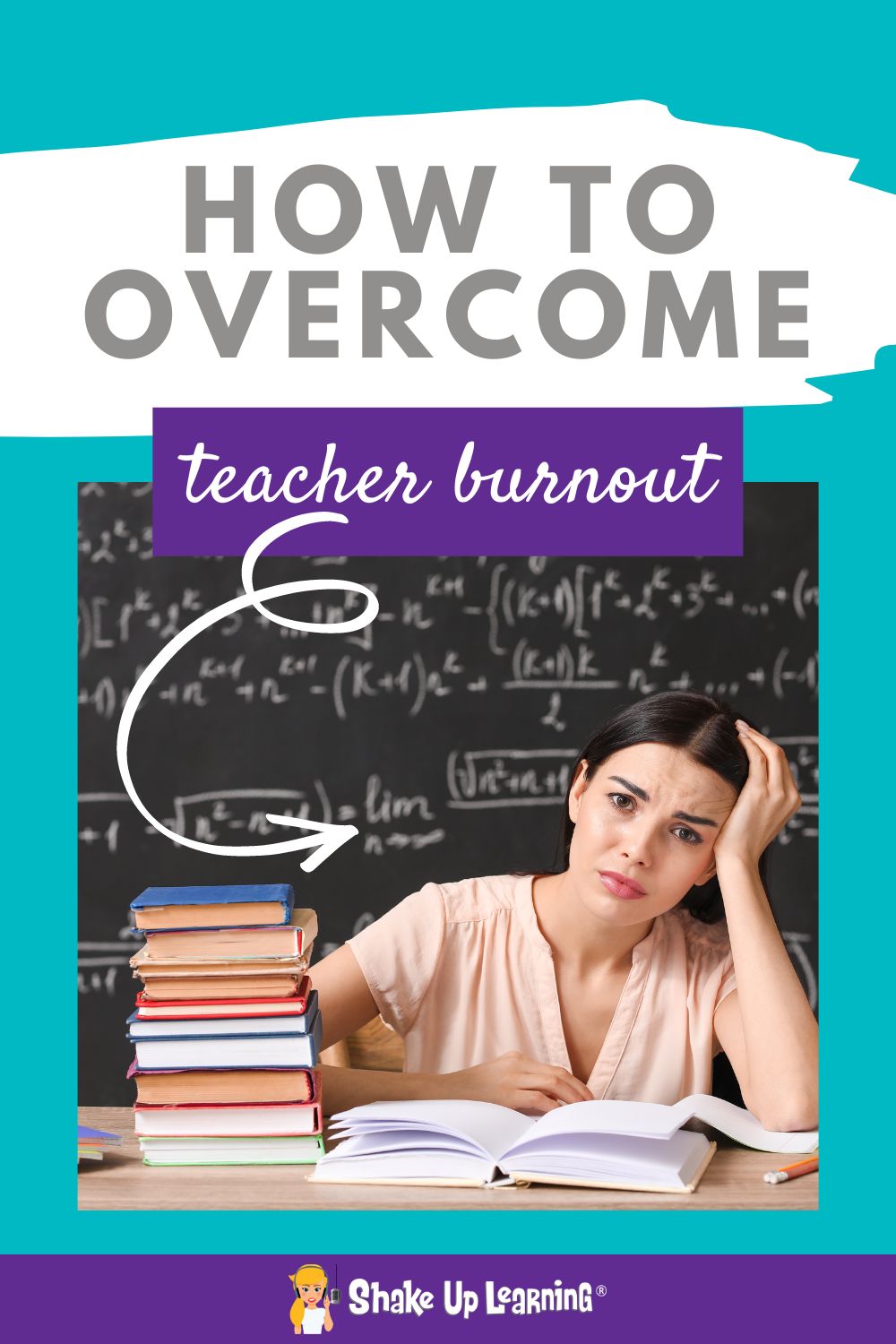 Feeling burnout? In this episode, Kasey chats with Amber Harper from the Burned-In Teacher podcast. Amber shares strategies to help teachers avoid toxic influences, improve their mindset, and take steps to overcome teacher burnout. This is more than a bubble bath and going for a walk, take radical steps to set boundaries and do what's best for you and your students.
Amber Harper lives in Northeast Indiana where she teaches Kindergarten. Amber's career in teaching has totaled 13 years. In 2018, Amber stepped away from the classroom for three years after becoming Google Certified. She had big dreams, inspired by Kasey, of working as a technology consultant. This is also when she began blogging and sharing on her podcast, The Burned-In Teacher. On these platforms, Amber shares her 8 steps for helping teachers use their burn-out to catapult them into growth and change.
Listen to this article.
This episode is sponsored by Lumio.
Lumio is a digital learning tool that will transform your lessons into active, collaborative learning experiences. Every day more schools and districts are switching to Lumio – it's truly a flexible, time-saving tool that makes it easy to turn your PDFs, Google Slides, PowerPoint, and Notebook files into engaging lessons with interactive activities, games, group workspaces, and formative assessment ALL built right in. Boost your student engagement on any devices wherever learning needs to happen. To get Lumio for FREE, head to Lum.io today.
How to Overcome Teacher Burnout
In 2021, Amber recognized that working from home without the energy of physical interaction with people she wasn't thriving. That's when she decided to return to the classroom to teach Kindergarten. Now she manages both the classroom and Burned-In Teacher. Coaching her students and other teachers is where Amber now thrives. 
Helping Teachers Stay the Course
This is the time of year when many teachers begin reflecting on their school year and whether or not they want to return to the classroom. After the massive changes that were brought on by the pandemic, frustration with leadership, the extra demands, and plain old burnout, a great number of teachers are walking away. 
Amber explains that her own journey as an educator has been messy. She's left the classroom twice and had that never-look-back feeling both times. Choosing to leave can be about leaving a toxic work environment or having bigger goals for yourself. Either way is about deciding that this is your season to take your next best step, and that is what Burned-In Teacher is all about. 


Teachers often have a singular mindset. Teachers tend to be rule followers and that can mean that they feel there is one right answer or one correct way of doing this teaching thing. Amber believes in showing teachers that there is no one right way to heal through or grow through your burnout. 
Within the Burned-In Teacher space, which includes a book, a course, a podcast, and a community, Amber is helping teachers through the process of viewing burnout as a catalyst for change. Not just changing the way teachers do things, but also the way teachers experience education as a whole. It's a choice! Teachers get to choose what to protect themselves from, what to focus on, and what not to focus on. It's all about taking small steps forward towards the next best choice for you in your season. 
The Burned-In process is for any educator who is "activated" as Amber says. That means they have a passion for teaching, however, now they have a lot of negative emotions around what they are doing each day as a teacher. Step one is to explore what you do as a teacher, what you want to do, and what you need to do moving forward. That means checking in with your mindset. Educators tend to have the personality of being their own worst critics. The cycle of thinking the same negative thoughts over and over again, but expecting things to change is one of the first shifts that need to happen.
Amber believes that taking this first step to change ourselves first will begin a ripple effect of changing our environment. This is because we only have absolute control over our own thoughts and actions. So although it's possible to move over to a new school or even make a complete career change, unless we address our mindset, those same negative thoughts and feelings will travel with us. 
Throughout this entire process, Amber wants to be very clear that there is no judgment about what that next best step is for any teacher. Some teachers may have the privilege of being able to walk away and begin a new career. However, some teachers may need what their teaching job provides for their families. This is why Amber is so passionate about helping teachers move past burnout. 
Dealing with Toxic Environments
The teacher lounge or teacher lunchroom has a negative connotation for a reason. Teachers everywhere have experienced that environment of constant complaining that spreads like wildfire burning down creativity and that love for teaching. Amber shares that when she experienced this she did not have the mental strength or knowledge to understand that she did not have to absorb that negativity. 
Now Amber makes the choice to leave a negative situation if leaving is an option. However, if it's not an option then she checks in with her mindset to recognize that the toxic person is fighting their own battle and she does not need to join them. 


Often a toxic person will choose to focus on the challenge rather than solutions to that challenge. This is where Amber suggests teachers place their focus. Be solution-focused! Identify the challenges, it's human nature to find the problems, but then seek out solutions. Amber explains that she discovered through her own process that her strength is to identify problems and then immediately start looking for solutions. 
Every problem that can be identified is not always going to be within our control. Amber shares that once we have identified a problem outside of our control we must make the conscious decision to let it go. However, when it is within our control the next step is to begin brainstorming possible solutions. Keep in mind that you are not working toward solving the entire system's problem, but solving the part of the problem that is creating friction within your own life. 
Amber makes the point that what we focus on is what we feel. So it may not be that a negative mindset is being fueled only by the people around us. Consider where we take in information; we might fuel negative thoughts through social media posts and news. Again, Kasey and Amber share that it's possible to choose the content we absorb. We choose who we follow. We choose who we engage in conversation with. The healthy way of dealing with problems and challenges is that second part: what can I do about it? 
Amber shares a story about a teacher who connected with her on social media and responded to her post about how unhealthy venting can be for teachers. Her remark to Amber was that if she had vented to Amber and been offered help or solutions she would not seek Amber out the next time. To which Amber responded by saying that means you are not my people. Venting can certainly be healthy for releasing strong emotions, but unless we follow that up by asking what's in my control to make changes venting is an unhealthy practice. 
Be the Change
The glorification of how difficult and hard teaching is right now has become the accepted narrative. While that holds true for educators, it's still an individual choice for how to step into the next day. Teachers are allowed to choose for themselves how they will process the trauma they experience and what their best next step will be. Everyone is different, there is not a one-size-fits-all approach to overcoming these challenges that are causing burnout. 
Kasey brings up another popular narrative for teachers and that's the idea that teachers need more self-care. But burnout is not something that "self-care" can fix. While conventional self-care is important, Amber suggests radical self-care. The kind of self-care that says, I am going to advocate for myself. This might look like a conversation with the principal to gain clarity on the number of responsibilities that seem too daunting and seek to discover solutions to make them less daunting. 
Define Boundaries
Amber describes how important it is to define boundaries. The teaching profession includes many who are self-proclaimed people-pleasing, type A, controlling perfectionists. This means these hard conversations are made even harder because teachers don't like to make others feel uncomfortable. When we interact with people we are expressing permission for how people can treat us and unfortunately that allows others to take advantage of us. 
Currently, the teaching profession is not structured for teachers to live a full, rich life outside the classroom. Living a rich life that makes you happy and fulfilled is the best kind of self-care for teachers, Amber shares. This is why dealing with burnout begins by taking responsibility for having teacher burnout. It's not possible to carry the responsibility for the lives of each student, but it is possible to be responsible for our own lives. 


Next Steps
Summer is the perfect time to begin the work on shifting mindset and creating boundaries. Amber has a Burnout Type quiz on her website that can help teachers begin this process. She believes that there is no one type of burnout and that with each type comes different solutions. 
Amber also offers a free workshop titled How to Heal Through Your Burnout. There you will find steps to take during the summer to help you heal from this school year and set yourself up for a better next school year. Amber equates the process to looking at a map and deciding where you are at currently, reflecting on how you got there and then deciding on those next best steps. 
Amber shares her personal journey and how it began with bringing in other positive teacher voices like the Shake Up Learning podcast. Positive teacher voices are out there! Find those voices, connect with those teachers sharing positivity on Instagram and feed your mindset so that it aligns with your why. One place to start connecting with those voices could be Amber's podcast community page on Facebook. 
About Amber Harper
Twitter: @burnedinteacher
Website: www.burnedinteacher.com
Amber Harper is a long-time educator, author, speaker, and podcaster. She's the founder of www.burnedinteacher.com and author of Hacking Teacher Burnout which gives struggling teachers a path to follow as they navigate their way out of burnout. Amber is a Teacher Burnout Coach working with educators to help them grow through their burnout and take their next, best steps toward what they want from their career in education and in life.
© Shake Up Learning 2023. Unauthorized use and/or duplication of this material without express and written permission from this blog's author and/or owner is strictly prohibited. Excerpts and links may be used, provided that full and clear credit is given to Kasey Bell and Shake Up Learning with appropriate and specific direction to the original content on ShakeUpLearning.com. See: Copyright Policy.