In this episode, Kasey chats with Jake Miller, host of the Educational Duct Tape podcast.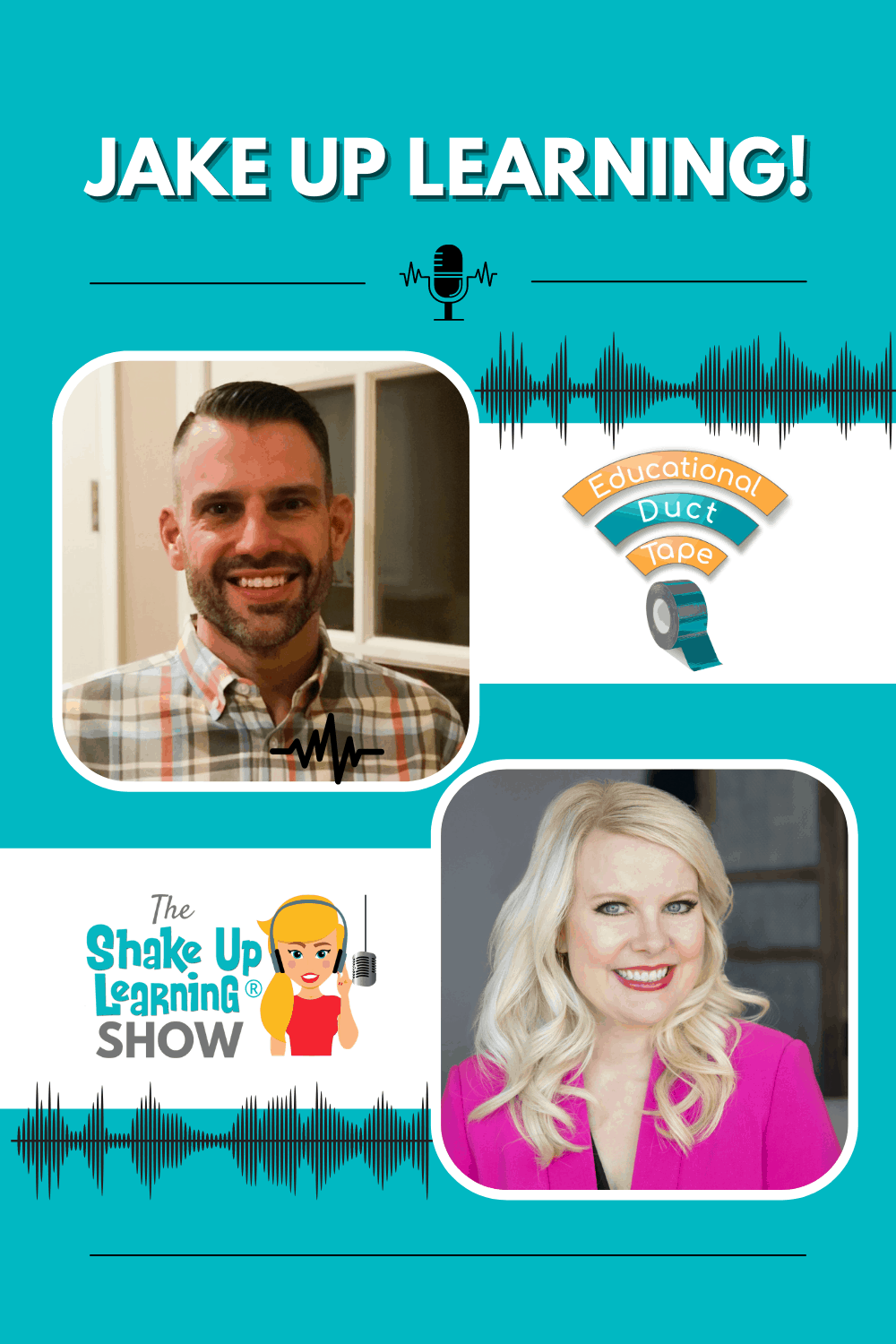 Jake shares his unique perspective on edtech and the meaning behind #EduDuctTape.
We also chat about the power of GIFs, podcasting, and Jakes's upcoming book!
As a veteran science teacher and Technology Integration Specialist of nearly 20 years,
Jake shares his passion for tech teaching tools with humor and practicality.
Oh! And don't miss Kasey's interview on Educational Duct Tape!
This episode is sponsored by Mote.
Shake Up Learning listeners can get an exclusive 3-month trial for Mote Unlimited by going to justmote.me/shakeuplearning. 
Shoutout
Thanks for sharing on Twitter, Brandilyn Stroup!
Just learned a trick to click P on a Google Drive file for a preview to automatically pop up! Thanks @ShakeUpLearning for this awesome tip!

— Brandilyn Stroup (@bstroup_edtech) April 14, 2021
Quick Tip of the Week (Organize "Shared with Me")
Please resist the urge to delete and clean up the shared with me section. These are not your files, but files that other accounts have shared with you. Think of this section like a filter. You can add shortcuts to these files inside your own folders to keep these files organized.
📺  Watch this quick video to learn how!
Subscribe to Shake Up Learning on YouTube
Educational Duct Tape with Jake Miller
The Jake Up Learning Show
Jake Miller is the voice and laughter behind the Educational Duct Tape podcast and now the soon-to-be book.
Jake understands the workload teachers have in a typical school year, let alone one that coincides with a global pandemic. When he started to discover technology as a tool for his own classroom, he wanted to find a way to share this with other educators. Jake discovered he gained a greater passion for teaching teachers how to integrate technology into their lessons. He lives for those lightbulb moments when teachers, apprehensive to use technology in the classroom, find their confidence with it.
After realizing YouTube videos were too time-consuming for teachers, Jake discovered the magic of GIF lesson videos. These soon became his signature help for educators.


What is Educational Duct Tape?
"Educational technology is at its best when it's not the goal of a lesson or the focus, but instead used as a tool to solve a problem, meet a goal, or address a learning standard." Duct tape is the same (and it's funny to reference). Generally, we don't set out to use duct tape, however, it's a flexible tool that can help us fix things and make things work the way we want them to.
Technology can work in the same manner within the classroom. Technology is the tool. Jake explains how teachers want to start with the learning then look for the tool to help make that learning dynamic. Establishing the mindset of using technology as a tool and making the right choices about which tool will get the job done is key to his educational duct tape metaphor.
Jake has been working to write a book that shares more of this concept for using technology as a means of teaching standards. He is passionate about helping teachers who are feeling overwhelmed or are not excited by using technology in their classrooms.


Whether you pronounce it with a hard G or a soft G, JIF, these short video lessons can really help teachers learn new skills quickly. Jake's collection of GIF lessons don't require the need to listen or a ton of time. Each GIF is clear, concise, and exactly what you need to solve your problem. A GIF will automatically loop, allowing you to see it over again or pause to follow the steps. You can find Jake's library of GIF tips and tricks on his website conveniently organized to watch and share in a Google folder.
Education Beyond COVID
Those teachers who had not yet embraced technology to support their teaching were feeling a greater overwhelm when the pandemic forced their hands to learn new skills. But teachers around the world showed their true colors as a profession and learned to find ways to hear from each of their students and post engaging digital content. Now, teachers who previously put a hand up to tech were becoming experts in Google Meet or Zoom, Flipgrid, Google Classroom, and other necessary tech tools. This type of digital avenue for teaching is likely the new normal in education.
As a parent, Jake is thankful for teachers. As a teacher, he's proud of each teacher.


About Jake Miller
Jake Miller is an edtech and learning enthusiast who hosts the Educational Duct Tape podcast and shares #EduGIFs at @JakeMillerTech and on JakeMiller.net.
He works as a science teacher for the Orange City School District in Ohio and previously spent 5 years as a technology integration specialist and an additional 12 years in the classroom teaching math, science & STEM at various grade levels. Jake's favorite job, however, is his full-time position as a husband and father.
© Shake Up Learning 2023. Unauthorized use and/or duplication of this material without express and written permission from this blog's author and/or owner is strictly prohibited. Excerpts and links may be used, provided that full and clear credit is given to Kasey Bell and Shake Up Learning with appropriate and specific direction to the original content on ShakeUpLearning.com. See: Copyright Policy.