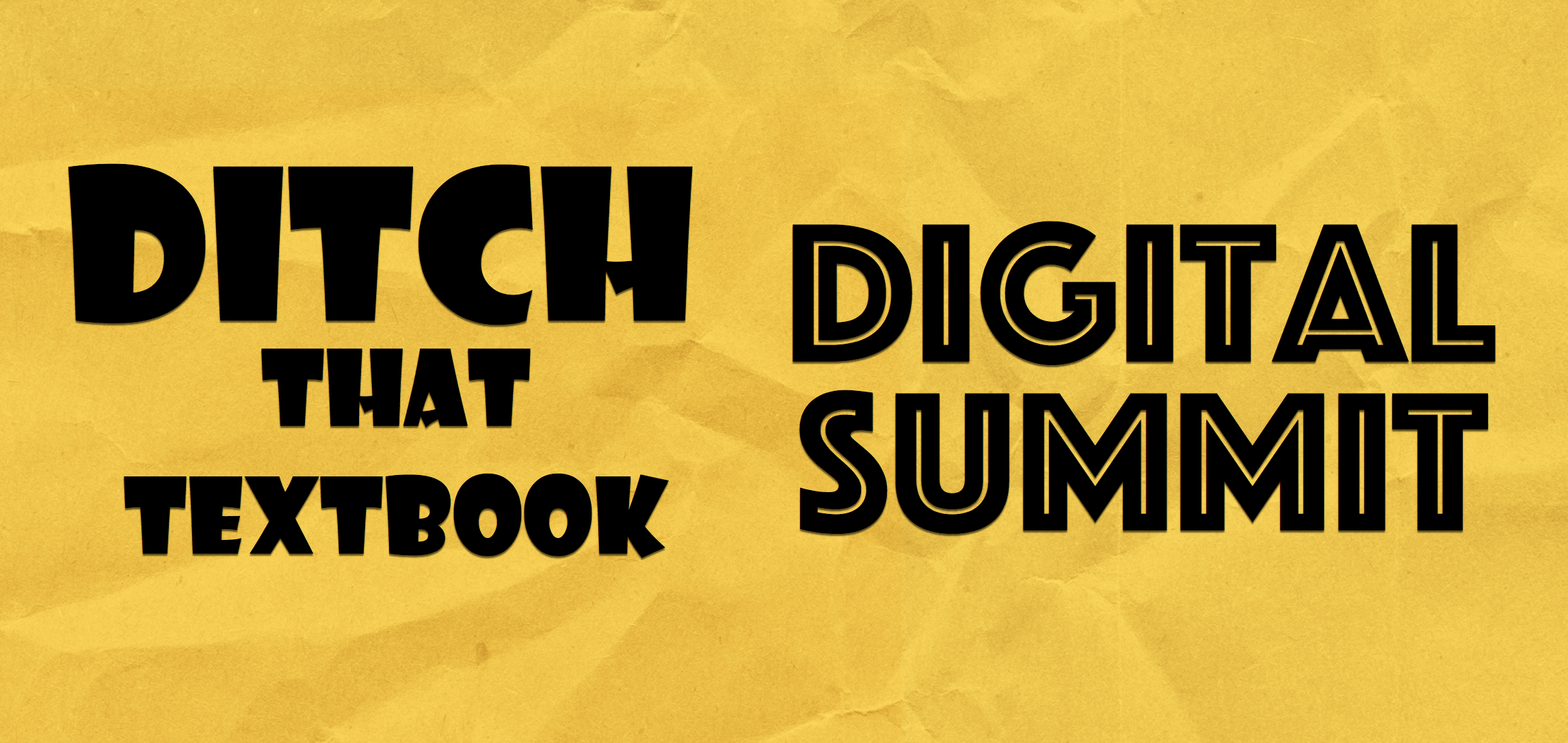 The Ditch That Textbook Digital Summit 2016
My dear friend and colleague, Matt Miller from DitchThatTextbook.com, is up to something awesome! Matt has created a free, online summit for teachers! (Ya, he's just that cool!) Matt has put together a great lineup of educational leaders and authors. I am honored to announce that I am one of the speakers. You don't want to miss this FREE opportunity! Mark your calendar now because these sessions will only be available for a limited time.
[Tweet "Don't miss the #DitchBook Digital Summit!!! FREE PD and amazing sessions! #edtech #edchat"]
What You Need to Know
The Ditch That Textbook Digital Summit is a nine-day, FREE virtual event. It brings together some of the brightest minds in education to discuss technology, pedagogy, inquiry and more.
You'll get one new inspiring, practical presentation each day. Take your own notes, or download a one-page "key takeaways sheet" from each video.
The summit runs from December 16 to December 24. During the winter holidays, schedules get a little hectic. But don't worry! The videos will be available for another week, until December 31.
The videos won't be available forever! Like any conference, this digital event has a beginning and an end. Once the summit comes to an end, the videos will disappear!
How to Participate
Go to: DitchSummit.com
For "tickets" (i.e. to get email reminders when videos go live): DitchSummit.com/ticket
The Schedule
[Tweet "Check out the amazing lineup of #DitchBook Summit Speakers! #edchat #k12 #googleedu"]
Dec. 16 (Fri) — Mike Soskil, 2015 Global Teacher Prize Top 10 Finalist
Dec. 17 (Sat) — Kasey Bell, Google Certified Innovator & Trainer and Creator of ShakeUpLearning.com
Dec. 18 (Sun) — Alice Keeler, Google Certified Innovator, Author of "50 Things You Can Do with Google Classroom"
Dec. 19 (Mon) — Dave Burgess, Author of New York Times Bestseller "Teach Like a PIRATE"
Dec. 20 (Tue) — The Hyperdocs Girls (Lisa Highfill, Kelly Hilton and Sarah Landis)
Dec. 21 (Wed) — John Spencer, Professor of Educational Technology, Co-Author of "Launch"
Dec. 22 (Thur) — Skype Master Teachers (Jed Dearybury, Gina Ruffcorn and Dyane Smokorowski)
Dec. 23 (Fri) — Paul Solarz, 2015 Global Teacher Prize Top 50 Finalist, Author of "Learn Like a PIRATE"
Dec. 24 (Sat) — Noah Geisel, 2013 ACTFL Teacher of the Year, Educational Consultant
---
© Shake Up Learning 2023. Unauthorized use and/or duplication of this material without express and written permission from this blog's author and/or owner is strictly prohibited. Excerpts and links may be used, provided that full and clear credit is given to Kasey Bell and Shake Up Learning with appropriate and specific direction to the original content on ShakeUpLearning.com. See: Copyright Policy.