Easy Shortcut to Share a Preview Copy of Google Docs
Super easy shortcut to share published versions Google Docs, Sheets and Slides!
This little secret was revealed in an Google Apps Show episode a couple weeks ago. This is soooooo simple! There is an even easier way to allow others to preview Google Docs, Sheets or Slides. Instead of going through the sharing settings, or grabbing the shareable link, simply change the word, "edit," in the url to "preview." No matter if there are characters after the word edit or not, this should work. (Note: This shortcut is still respective of the sharing settings of the document, so you have to enabled viewing rights in order for this to work. Also notice this gives you a preview version that looks different than the "published to the web," version.)
Share this super simple tip with your friends and fellow educators!
Note: If you cannot see the animated .GIF below, click here to view.
---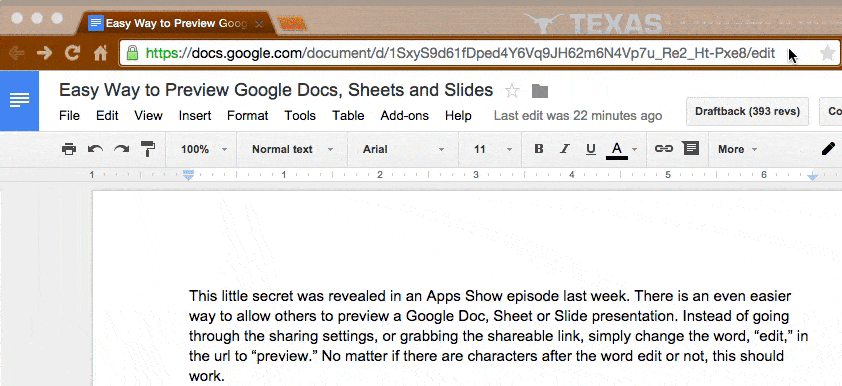 Here are a few ideas for using the published/preview version:
Flyers for events
Student/Faculty handbooks
AUP/RUP
Assignments/Make-Up Work
Presentations (both student, teacher and PD)
Easy way to share spreadsheet data (where appropriate)
Remember, your links and images will publish so you can make all of the above interactive!
For even more flexible ways to share and publish Google Docs, Sheets and Slides (including embed code) check out my other tip: Turn Your Google Doc into a Web Page.
***Check out all the Google Tricks and Tips here.
How do you use the published versions of Google Docs? Please share in the comments below.
Kasey Bell will be presenting at the following upcoming events:
Subscribe to this blog to get all the latest posts:
© Shake Up Learning 2023. Unauthorized use and/or duplication of this material without express and written permission from this blog's author and/or owner is strictly prohibited. Excerpts and links may be used, provided that full and clear credit is given to Kasey Bell and Shake Up Learning with appropriate and specific direction to the original content on ShakeUpLearning.com. See: Copyright Policy.