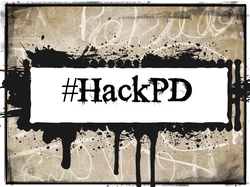 I am on a quest! A quest to redefine professional development as we know it. If we don't want teachers to be the sage on the stage, it has to be modeled in professional development. What I really want to do is HACK PD! Who's with me?
Today, I had my first experience in facilitating the EdCamp/Unconference idea on a much smaller scale. This EdCamp-style PD was an internal training with educational consultants. I think there was only one other participant besides myself who had ever attended an EdCamp, so they basically thought I was crazy. I wasn't sure it would work. I wasn't sure they would buy-in, but they did! I had to carry a few on my back, but they crossed the finish line.
We had about seventy participants–we actually had more attend, then were registered. That NEVER happens! And we only had three hours, but we made it work. Here's what I did.
Flip the Learning: With only three hours, I knew I couldn't spend much time explaining the concept, so I front loaded some basic information about the EdCamp/Unconference idea. I included information on what to expect, and some links to more information: EdCamp 101 Video, Why EdCamp (blog post on Edutopia by Kristen Swanson), and a link to What is EdCamp from EdCamp.org.
Start with the Stickys: Just like at EdCamp, I had them working on their topics and submitting the sticky notes as soon as they arrived. I encouraged everyone to facilitate a topic, and emphasized that they didn't have to be the expert, just be willing to facilitate a conversation.

How to Be Awesome at EdCamp:

 I think this poster originated with #EdCampOKC. (Please let me know whom to credit.) We wanted to use the idea for #EdCampAwesome, so I had my graphic designer friend, Tom Nielson, work his magic and create this digital version. It is a great way to explain the basic concepts of EdCamp.
---
Kristen Swanson's TEDx Talk PhiladephiaED:

Kristen Swanson, an EdCamp founder and a personal hero of mine, has an awesome, or should I say #eduawesome TEDx talk! This video is an excellent way to set the stage for newbies while you put the schedule together.
The Epic EdCamp Lip Dub:

For some added fun, educational value, and a little more time to finalize the schedule, I showed this video. The original song was created by

Flocabulary

, and several

EdCampers

 collaborated to make this a great and entertaining lip dub.
Reinforce Skills with Rewards:

I knew this audience didn't have a lot of avid Tweeters, so I created a hashtag and brought a goodie bag as a reward for the day's best tweet.
Share the Schedule and Let Them Go: I shared the schedule (a Google spreadsheet) with a QR code and shortened URL. It was time start the sessions, and (crossing my fingers) I let them go.
The experiment was a great success! Many participants were raving after the first session. Great ideas and discussions were happening among educators!
While I love EdCamp, and I'm a big believer in how this innovation is changing the landscape of professional learning, it is not a silver bullet. There is a time and place for all types of learning experiences. This is one way to #HackPD, but I want to research and develop new ways to approach professional development. We must find a way to make learning more personal, meaningful, and engaging for educators. We must also find a way to mirror the classroom strategies we want to see teachers facilitating with their students.
I really do try to model differentiated learning experiences and facilitation, but I am always looking for new ideas. Please share your #HackPD ideas in the comments below! I'd love to collaborate!
<![CDATA[ var nr_domain = "shakeuplearning.com"; ]]><![CDATA[ ]]>
© Shake Up Learning 2023. Unauthorized use and/or duplication of this material without express and written permission from this blog's author and/or owner is strictly prohibited. Excerpts and links may be used, provided that full and clear credit is given to Kasey Bell and Shake Up Learning with appropriate and specific direction to the original content on ShakeUpLearning.com. See: Copyright Policy.