Ditch That Textbook: Free Your Teaching and Revolutionize Your Classroom!
I am so excited to announce that my friend and colleague, Matt Miller, from www.DitchThatTextbook.com, has written an incredible book entitled, "Ditch That Textbook: Free Your Teaching and Revolutionize Your Classroom."  It was an honor to write an endorsement for this book, where I touted it as a MUST READ for teachers.
Today, I'd like to share with you Five Reasons Why You Must Read Ditch That Textbook!
---
5 Reasons You Must Read: Ditch That Textbook
1.  A Focus on Good Pedagogy, not just Technology
Matt does a fantastic job of breaking things down for teachers, and focusing on sound pedagogy and student learning throughout the book. With sections on mindset, and task over tool, Ditch That Textbook, helps explain the why and not just the how-to part of the process.
---
2. Building Relationships with Students
In Chapter 11, Win and Influence Students, Matt takes Carnegie's (How to Win and Influence People) principles to a new level by applying them to the classroom. These active strategies will help you build strong and trusting relationships with your students.
---
3. Ditch that Mindset
Mindset is, at least, half the battle of any worthwhile change. Ditch That Textbook has an entire section dedicated to changing mindsets and working toward positive change.
---
4. Practical Steps for Any Teachers
Matt offers practical guidance that any teacher can follow. This excellent book not only offers tips that the most novice teacher can follow but also advice that can take more experienced teachers to the next level in their classroom.
---
5. Classroom Transformation
If you are looking to make that shift to a more student-centered classroom that will help prepare your students for the future, look no further! Ditch That Textbook: Free Your Teaching and Revolutionize Your Classroom is just the guide that you need to take your classroom to the next level.
---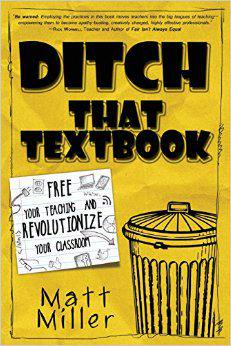 © Shake Up Learning 2023. Unauthorized use and/or duplication of this material without express and written permission from this blog's author and/or owner is strictly prohibited. Excerpts and links may be used, provided that full and clear credit is given to Kasey Bell and Shake Up Learning with appropriate and specific direction to the original content on ShakeUpLearning.com. See: Copyright Policy.