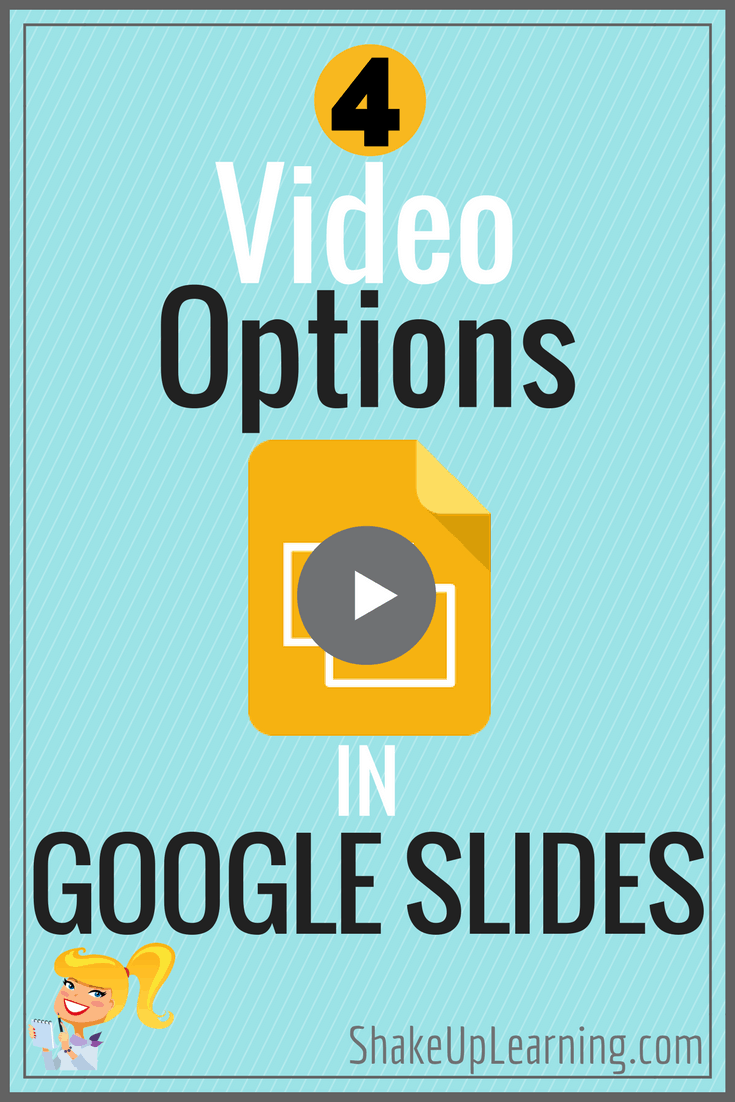 Video Just Got an Upgrade in Google Slides!
This is a super-sweet G Suite treat! Just a few days ago, Google released some new video options for Google Slides that teachers and students will love. This update is such a big deal that I had to make sure everyone knows about these four, new features in Google Slides.
---
4 Video Options in Google Slides
1. Embed Google Drive Videos in Slides! (Finally!)
You can now embed videos from Google Drive in Google Slides, not just YouTube videos! Rejoice! This is a long-awaited and long-requested update. YouTube is great, but not enough when it comes to using video in the classroom. There are many reasons why teachers and students need the ability to embed video from other sources. Some student-created videos don't belong on YouTube. Whether it has to do with permissions, FERPA, parents, or just protecting students, we sometimes need to use videos that aren't hosted on YouTube in our classrooms. So, at last, we can embed the videos that we have stored in Google Drive.
---
Note
:
Sharing rules still apply!
If a person viewing your presentation doesn't have permission to view a video embedded within it, they'll be prompted to request access. And while you can play Drive videos in Slides on the web and mobile, you can
only insert them from the web application
. For more details, visit the Google 
Help Center
.
[Tweet "Finally! Embed Google Drive Videos in Slides! #gttribe #SUL #gsuiteedu #googleedu"]
How to Insert Google Drive Videos in Slides
Similar to when you insert YouTube videos in Google Slides, go to Insert>Video. Then choose, "Google Drive," at the top: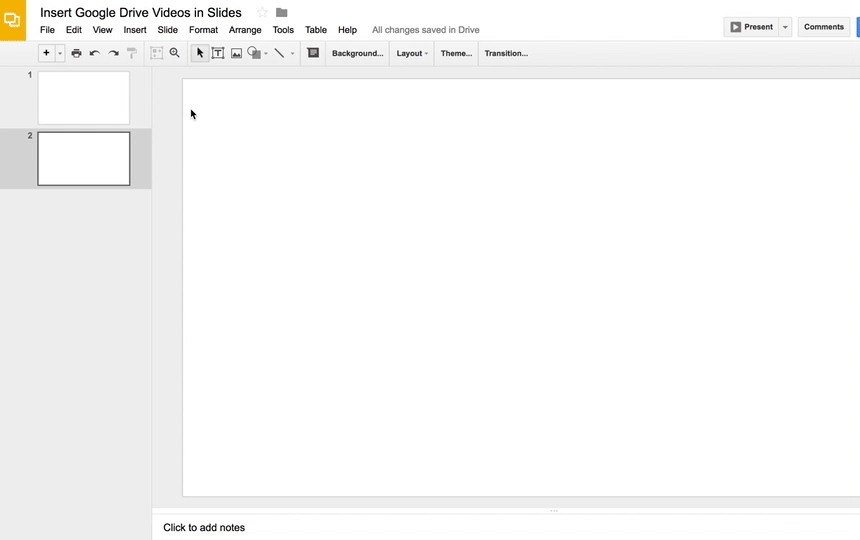 ---
But wait…THERE'S MORE!!!
Not only can you embed videos from Google Drive to play during your Slides presentation, but we also gained some new video options for both YouTube and Google Drive videos.
---
2. Choose When to Start and End a Video
Yes! Now you can insert that video from Google Drive or YouTube AND choose the exact point (minutes and seconds) in the video when you want it to start, and where you want it to end. This is great for just grabbing a clip out of a video that you want to use in your presentations. Remember, videos only play in presentation mode.
---
Simply right-click on the video and select Video Options.
---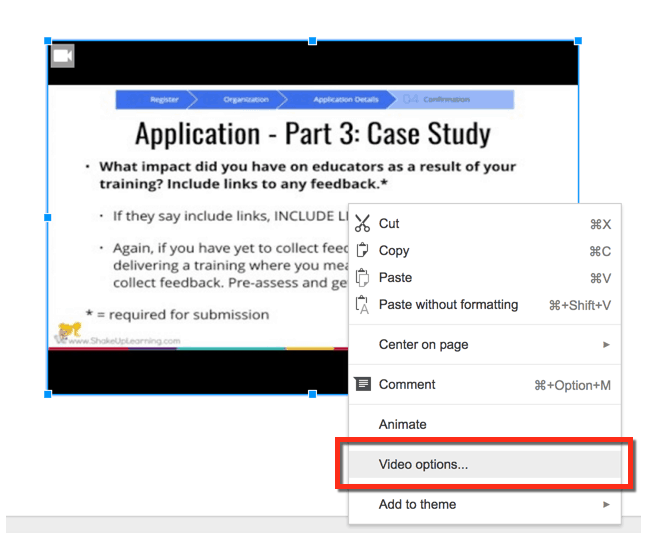 ---
A sidebar will open giving you the option to choose the start and end times for your video.
---
3. Autoplay a Video in Google Slides
Want the video to start immediately when you present that slide? No problem! You can now set the video to autoplay in video options. Autoplaying videos in Google Slides makes it easy to share a lesson or collaborative projects and reflections without the extra click to play the video. Simply right-click on the video and select Video Options.
4. Mute a Video
Sometimes, you need the ability to let the video speak for itself without the audio. Perhaps you want students to narrate and explain the steps shown in the video. Now, video and audio do not have to play together. You can choose to mute the video in Video Options. Simply right-click on the video and select Video Options.
---
Want more Google Slides Ideas?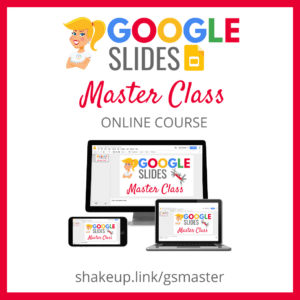 I frequently refer to Google Slides as the Swiss Army Knife of the G Suite tools because it is capable of being so much more than a presentation tool. In this course, you will learn how to use Slides in new and unexpected ways in your classroom that will engage your students and make learning more dynamic!
K-12 teachers are going to LOVE THIS COURSE!
This class is perfect for beginner to intermediate users to take their skills to the next level and become a Google Slides Master!
(Prerequisite: basic knowledge of slides, how to access and create new slides.)
Click here to learn more and to ENROLL TODAY!
---
Learn All About the Course
What's Included?
Self-paced
Video-based lessons
3 BONUS Lessons!!!

Bonus 1: Stop-Motion Animation
Bonus 2: How to Create Magnetic Poetry with Slides and Drawings
Bonus 3: 50 Google Slides Lesson and Project Ideas

Supporting Resources
Best Practices and Tips
6 hours of professional learning credit
Purchase orders are accepted (Just email Kasey[at]ShakeUpLearning.com (replace [at] with @.)
Bulk license discounts
Get your whole team, campus, or district on board
---
Click here to learn more and to ENROLL TODAY!
---
---
© Shake Up Learning 2023. Unauthorized use and/or duplication of this material without express and written permission from this blog's author and/or owner is strictly prohibited. Excerpts and links may be used, provided that full and clear credit is given to Kasey Bell and Shake Up Learning with appropriate and specific direction to the original content on ShakeUpLearning.com. See: Copyright Policy.