Google Chrome Extensions for School Administrators, Leaders, or Anyone!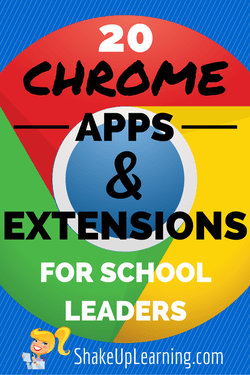 As I prepare to deliver some Google training for school administrators, I thought it would be useful to share my list of Chrome Apps and Extensions. Going Google isn't as simple as flipping a switch. It takes careful planning and meaningful implementation for everyone in the district. I am a firm believer that implementing Google Apps (or anything else) should be led by school administrators, not the so-called "techies," of the district. As leaders, it is important to model the tools and strategies you want to see in the classroom. So whether you are just jumping in or an avid Google user, I hope these lists can help you further your skills. This list is just a starting place, depending on your own needs and preferences, this list can vary. This list is a great starting place for just about anyone: teachers, students, staff or anyone who is using Google Apps. These will help you kick things off with Google Apps and be more productive.
For even more Chrome Apps and Extensions, please visit my Google Chrome App & Extension Database!
---
Chrome Apps for Google Drive: I'm going to focus on the basics first. The Chrome Apps for Drive, Docs, Sheets, and Slides will take you to the homepage for that app. The Chrome Apps for Forms and Drawings will create a new file with one click, as they do not have home pages at this time. Gmail and Calendar are shortcuts to each app as well.
DocHub: Securely view, edit and sign PDFs. Fill forms. Merge documents and reorder pages. Create templates. DocHub is 100% free. This is great for signing documents electronically! A must have app!
Since Chrome Apps are mostly just short-cuts this list could go on forever, but I just wanted to stick to the basics. Have another app suggestion? Please share in the comments below.
---
Chrome Extensions: Below are twelve Google Chrome Extensions to help you be a more productive and efficient school administrator.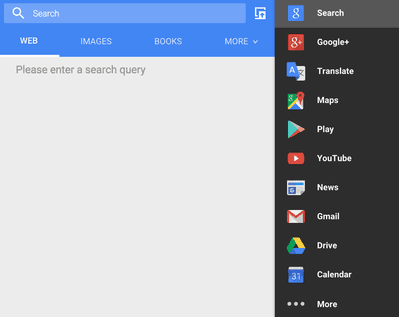 Black Menu for Google: This is a great extension that allows you access your Google Apps from the extension in Chrome, search Google, and more.
---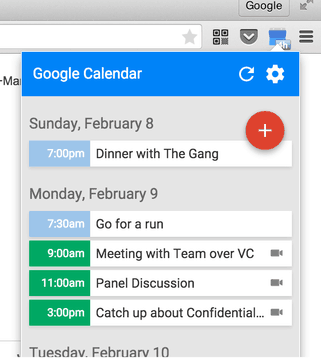 Google Calendar: Easily access a list of events in your calendar. This is great for getting a quick view of upcoming events in your calendar.
---
Office Editing for Docs, Sheets and Slides: If you need to view of edit any Microsoft Office files, this is your new best friend! Use this extension to view and edit Microsoft Word, Excel and PowerPoint files inside Google Drive.
goo.gl URL Shortener: This handy URL shortener will allow you to shorten your links right from the extension. Shortening URLs is great for sharing links on social media, newsletters, and email. Bonus: you also get a QR code without leaving the page or extension. All of your links are saved to your Google account and you can check the statistics to see how many clicks your links get.
Adblock Plus: This extension will block a lot of unwanted pop-up ads and malware. Used by over 50 million people.
This list is a great start for school leaders, administrators, or teachers and staff. Since Chrome can be completely customized, the possibilities are endless. If there is a feature you are looking for, explore the Chrome Web Store because there is a good chance someone else has already developed an app or extension for that!
What are your favorite Apps and Extensions? Please share in the comments below!
Kasey Bell will be presenting at the following upcoming events:
© Shake Up Learning 2023. Unauthorized use and/or duplication of this material without express and written permission from this blog's author and/or owner is strictly prohibited. Excerpts and links may be used, provided that full and clear credit is given to Kasey Bell and Shake Up Learning with appropriate and specific direction to the original content on ShakeUpLearning.com. See: Copyright Policy.