This post is loaded with some simple ways to integrate AI in the classroom. It's easier than you think, and it doesn't require expensive equipment or software. AI or Artifical Intelligence is ready for its closeup! Are you and your students ready to become "AI experimenters."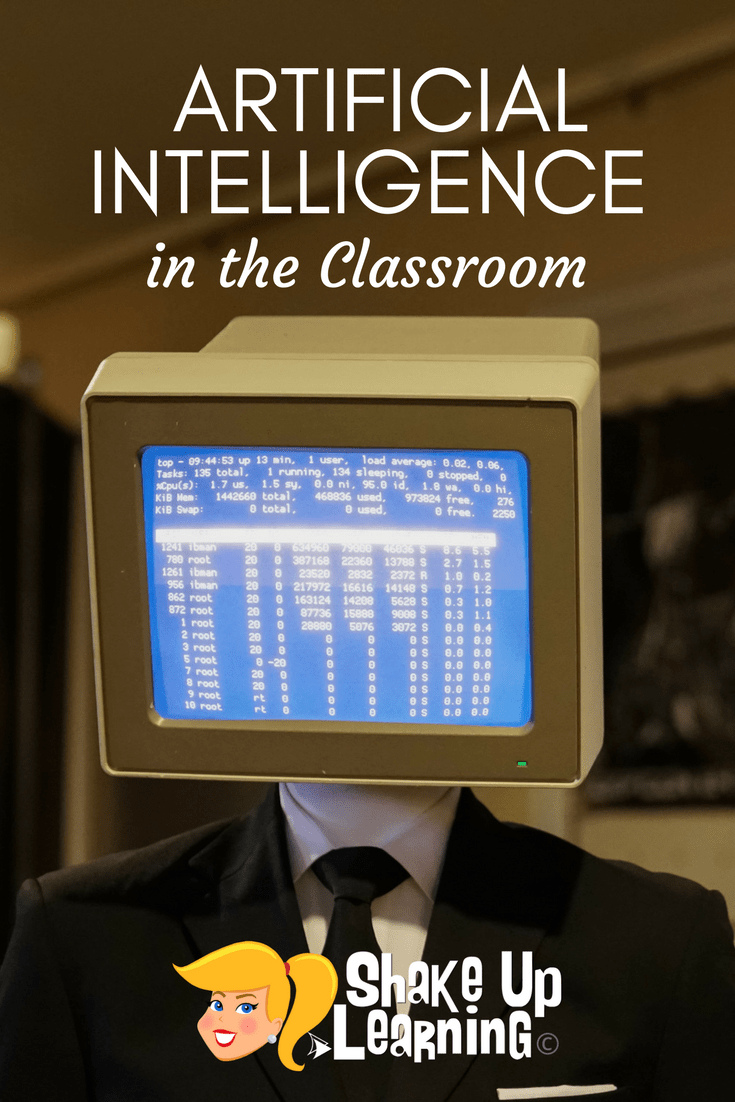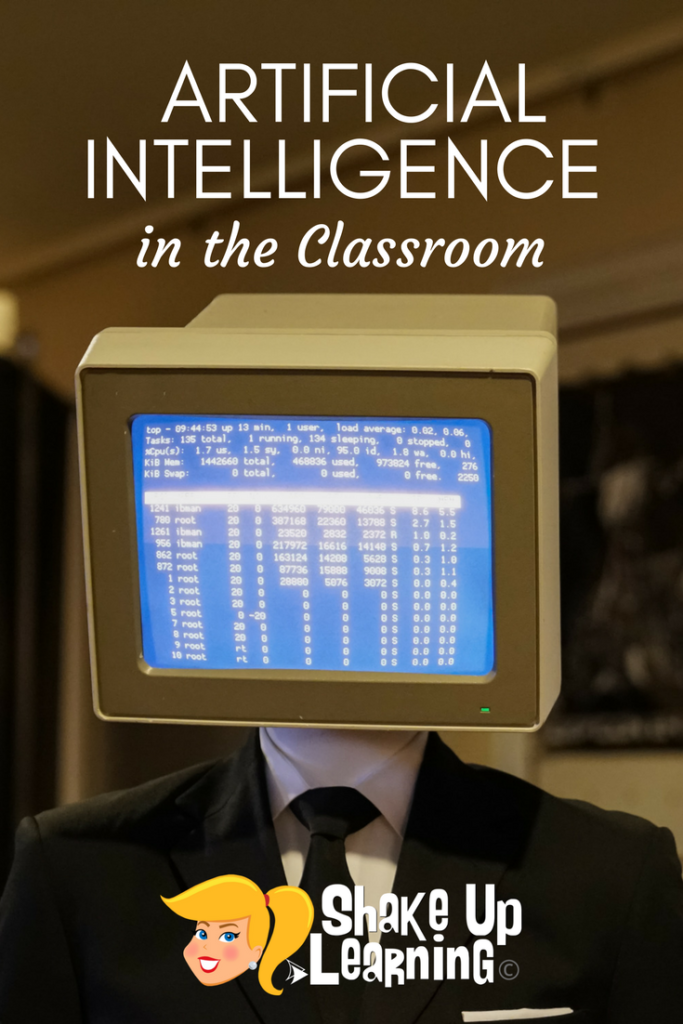 In my free ebook, 18 Challenges for Teacher in 2018, AI Experimenter is challenge number two. Have you tried to complete the challenges yet? You should! They are a super fun way to dabble in new ideas and tools. Download the FREE ebook here, or take it a step further and take the 18 Challenges online course.
The term artificial intelligence, or AI, dates back to the 1950's but has drastically accelerated in capabilities over the last few years. AI is "usually defined as the science of making computers do things that require intelligence when done by humans," (alanturning.net).
Along with AI, you will also hear the term machine learning, which basically means the ability to teach machines by giving it data that allows the machine to predict your needs and tasks.
[Tweet "Simple Ways to Integrate AI in the Classroom #shakeuplearning #edtech #edchat"]
Artificial intelligence continues to get better and better. We have to get used to talking to our stuff. Machine learning and artificial intelligence are becoming a part of everyday products, and it's really important to understand the technology that is coming our way, and how it will change education as we know it.
If you have never tried AI, now is the time. Or if you have only used it to ask Siri for directions, it's time to take it a step further. It's time to experiment with AI in the classroom, showing students how it works, and using some fun tools to create learning!
You can find AI in various forms and devices, and it's nothing new. AI has been around for decades, but the difference is that it has now become more accessible, easy to use, and super smart.
---
AI Voice Assistants
Most likely, the smartphone you have in your hand right now has some kind of voice-enabled assistant; whether that is Siri on the iPhone or the Google Assistant on Android, it is designed to help you complete simple tasks and automate your life. But it does go deeper than that. These voice assistants are getting smarter!
The stand along smart speakers are beginning to enter the classroom and show us the power that these little devices deliver. The two most popular stand alone, smart speakers are the Google Home/Google Home Mini and the Amazon Echo/Echo Dot (both very affordable). But you don't have to have one of these devices to experiment with AI. There are lots of web options as well.
Here a few ideas for using the AI voice assistants like the Google Assistant, Siri, Google Home, or Amazon Echo in your classroom:
Answering questions

What is the weather for tomorrow?

What is the capital of Alaska?

What is 37 times 414?

Tell me a riddle.

Tell me something interesting.

Set a ten-minute timer.

Adding notes

Setting reminders and timers

Automating tasks
[Tweet "How to Use AI Voice Assistants in Your Classroom #shakeuplearning #18challenges"]
---
Google AI Experiments
That's just the tip of the iceberg. We are now seeing many new ways to not only use AI but to teach it new skills. For instance, Google has a site of AI experiments that allow you to play with artificial intelligence and create. Explore this page to play piano duets with AI, try the teachable machine where you and your students can teach your computer new tricks with the camera, or play a game of Quick, Draw.
Here are few more ideas to try in the classroom:
[Tweet "Google AI Experiments are AWESOME!!! Try these with your students! #shakeuplearning #18challenges"]
---
Interactive Stories
Both the Google Home and Amazon Echo have some really fun,  choose your own adventure style stories. Here are a couple ideas to check out:
On the Echo, enable

Select a Story

. Then begin by saying, "Alexa, open select a story."

On the Google Home,

Story Speaker

: Create a choose your own adventure-style story in Google Docs. It's like you're coding/creating an AI game run by Google Assistant.
---
BONUS: Try a Chatbot!
Chatbots are computer programs that simulate human conversation using voice or text.
---
Build with AI
So not only can you develop with AI and machine learning, but you can get hands-on building actual devices. Google has released two kits:
---
AI Tips For the Classroom
Let them play and understand what it is capable of but set meaningful expectations on how it will be used for learning, not just telling jokes.

Rotate the use a job/role for the class — The AI Leader of the Day.
---
Get a Device
---
Additional Resources:
---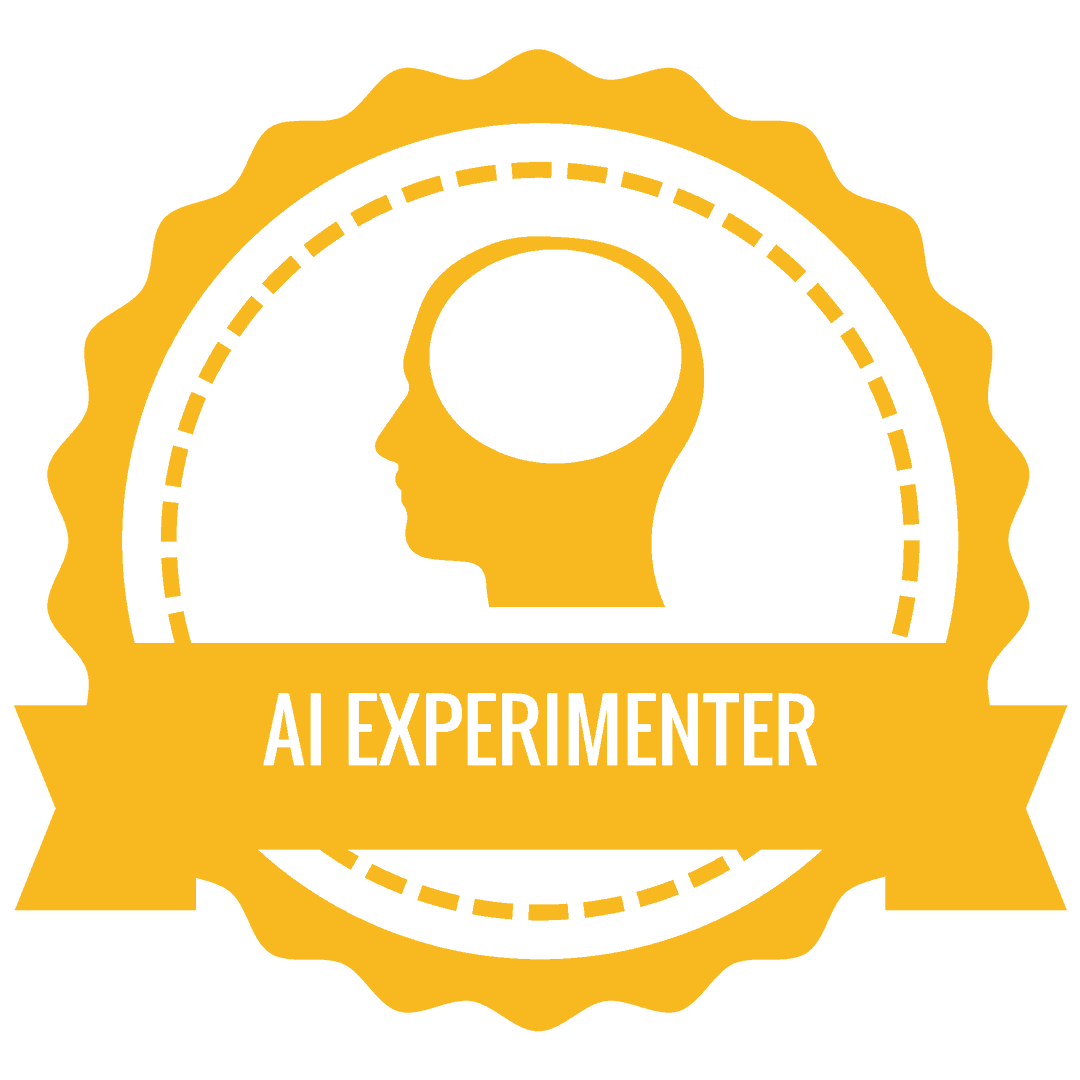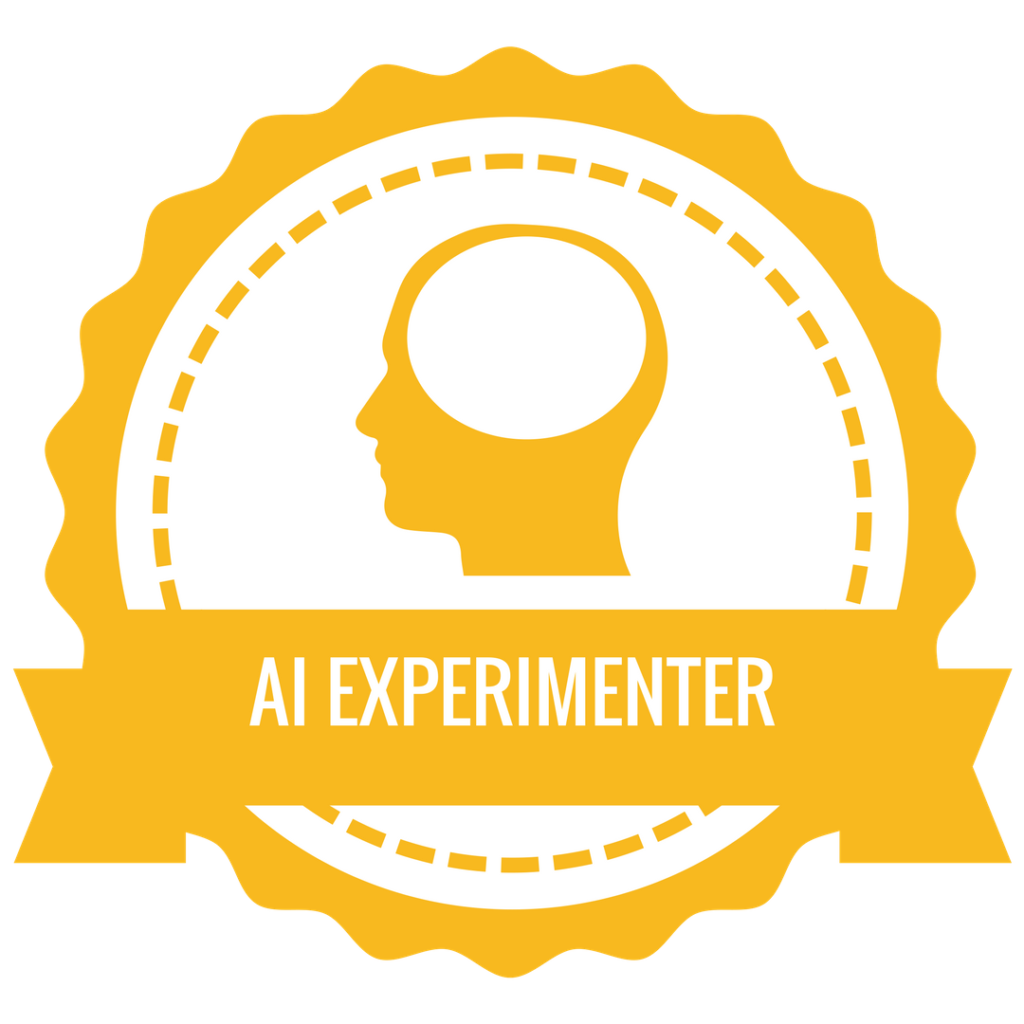 Take Challenge #2!
Are you up for the AI challenge? Try just one of these ideas in your classroom in 2018. Ready to dig into some of these AI ideas?
---
The 18 Challenges for Teachers in 2018 FREE eBook! (83 pages!)
What's in the ebook?
This ebook started out as a simple blog post that just kept growing and growing! I had so much to share that I had to get in a format for you to download.
In this ebook, are 18 specific challenges (outlined below) for educators. Some challenges are about technology integration, some are specific tools to try, things to read or listen to, some are strategies, and some are just tips and tricks. This is NOT about the tool! This is about transforming the learning in your classroom and trying new ideas in 2018! There is something in here for everyone!
Learn about new and emerging technology
Valuable and practical ideas for your classroom
Tips and tricks
Additional links, resources, templates, and more!
BONUS: coupon codes for PearDeck and InsertLearning!!!
Fill out the form below to download your FREE copy
---
© Shake Up Learning 2023. Unauthorized use and/or duplication of this material without express and written permission from this blog's author and/or owner is strictly prohibited. Excerpts and links may be used, provided that full and clear credit is given to Kasey Bell and Shake Up Learning with appropriate and specific direction to the original content on ShakeUpLearning.com. See: Copyright Policy.
18 Challenges for Teachers in 2018 FREE eBook!
Get the FREE eBook: 18 Challenges for Teachers in 2018! Simply fill out this form and we will send you the 83-page PDF ebook.