Here's an update on using badges in teacher professional development with new ideas and resources. Gamification with badges can be a great motivator for teachers and students! I posted in the fall on this concept, and it was one of the most popular posts ever! Thanks to my friends in Denton ISD for letting me share their awesome website. The team in Denton sparked a lot of interest in the idea of using badges and self-directed learning to help teachers learn new about using digital tools in the classroom. Then teachers receive a badge to represent their accomplishment and learning. These badges can be used digitally online, or printed out and posted on the door. See the original post for details on their website and program: Take PD to the Next Level with Badges.
[Tweet "Super Fun Ideas for Using Badges in PD!"]
I received a lot of questions and ideas from other digital learning coaches that were looking to do something similar in their district, and I wanted to highlight two specific school districts that are using badging in professional learning. I think we are just beginning to scratch the surface of where badges and gamification will lead us in education!
---
---
The AH-mazing Kyle Pace took this whole badging idea and ran with it! Kyle is an Instructional Technology Specialist for the Lee's Summit School District in Missouri. Kyle is also a Google Certified Innovator, and an amazing speaker and presenter. (If you get the chance to see Kyle present, DO NOT pass it up!) Kyle created a Google Site for their gamified PD with badges. He divided the content into five main categories: communication, digital literacy, Google, social media, and web tools. Underneath each badge is a description of the candidate deserving of the badge. If a teacher meets this standard, they can then submit their evidence via a Google Form, which looks like the screenshot below. The most important piece of this evidence is that the teacher used this new skill or digital tool in their classroom! This is not a one-and-done experience. This can transform what teachers do in the classroom!
---
---
Kyle created the badges in
Canva
. (I love me some Canva!) He is also modeling the use of Twitter and their hashtag #r7c2L on the site, even embedding the related tweets. Great idea! I also love that there is a connection to some student challenges. Check out the Chromebook Challenge badge created by Kyle's teammate Julie Jensen!
---
Kyle's Words of Advice
Always keep the end goal in mind; always thinking about what you want teachers to accomplish by earning the badge. Also, getting buy in from administrators helps a lot because they need to be earning badges too! – Kyle Pace

---
---

---
Michelle Phillips is an Instructional Technology Specialist for Prosper ISD. She is also a DEN Star Educator and SMART Exemplary Educator. I've had the privilege of working with Michelle locally, and she is one to watch. Michelle is leading some great initiatives in Prosper ISD, and the badging website is just one of them. Michelle has set up seven main categories of badges: Apple, assessment, blended learning, communication, Google, miscellaneous, and web tools. Depending on which badge teachers pursue, they are given different options to earn the badge. For instance, with Google badges, teachers can attend a face-to-face tutorial or watch an online video. Then teachers will complete a Google form to apply for their badge where teachers are required to describe how they used the tool with their students. Teachers may also request a training on the site, or suggest a badge.
---
Michelle created the badges in Google Drawings, modeling the Google tool for her teachers. But Michelle has added an extra level of competition to her site: a leaderboard! On the home page, there is a leaderboard showing which campuses in Prosper ISD have earned the most badges. I love this idea! What a fun and friendly way to make it more competitive.
---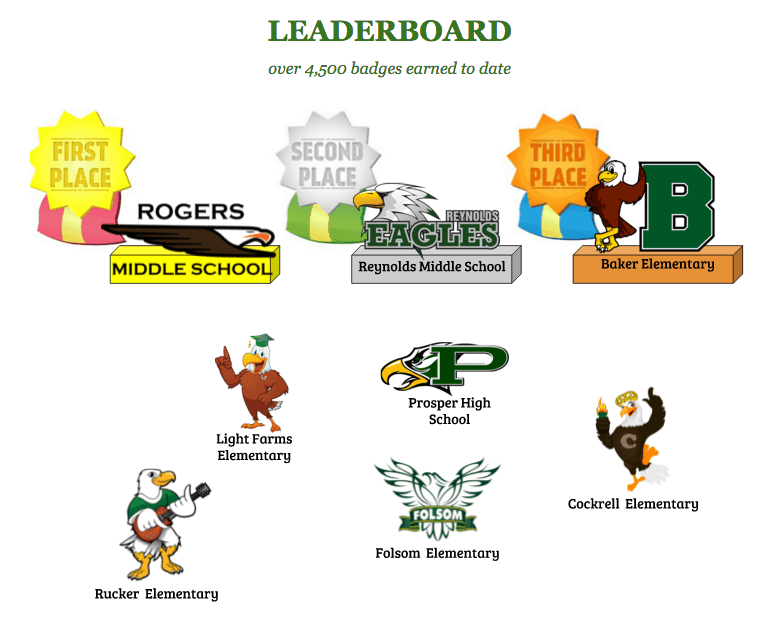 ---
Michelle's Words of Advice
Start with the badges you really want everyone to have experience with then add more as you go. Competitions are a great way to get teachers engaged in the program. Have lots of badges ready to hand out before you start. Teachers like to see their badges right away. Don't wait too long to hand them out.

---
---
Do you have a badging site you would like to share? Please share in the comments below. I'd love to see and share with others!
---
Want to Shake Things Up in Your School or District? Bring Kasey Bell and Shake Up Learning to You!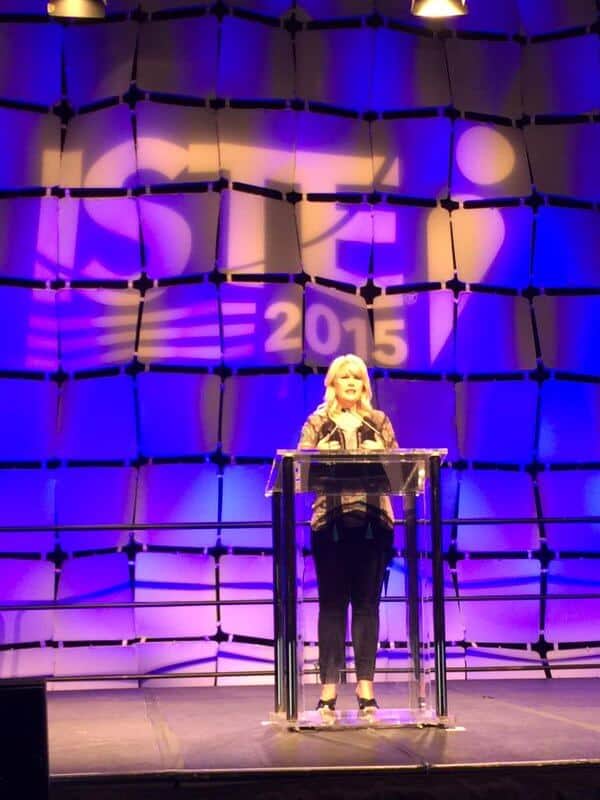 Ready to shake things up in your school or at your event? Email me at 
Kasey[at]ShakeUpLearning.com
, or submit this 
PD request form
 to bring Shake Up Learning to your 2016 event.
---
Below are just a few of the keynote presentations and workshops that I deliver across the country:
Change is the New Black: Embrace the Digital Learning Revolution(keynote)
The Teacher's Guide to Google Classroom (workshop or presentation)
Digital Differentiation with Google Apps (workshop or presentation)
The Golden Treasures of Google! The Fabulous Tools You Don't Know About! (presentation)
Blended Learning with Chromebooks (workshop or presentation)
The Social Media Secret Sauce (presentation)
---
Testimonials
Here is what others have said about Kasey Bell's presentations:
"Thank YOU for an outstanding presentation this morning. I received so many wonderful comments about your keynote at our conference. These attendees didn't just say they "liked" it; they each offered a specific point from your presentation to share with me that impacted their thinking about "change" or the integration of technology & instruction. Now that's an effective presentation!" – Jane McKinney
---
"Great session. Loved the 'treasures' theme throughout. Great, quick overview of tools and classroom applications for Google Apps." – Chad Kafka
---
"If you are attending a conference, follow these steps:
1. Search by presenter.
2. Find Kasey Bell.
3. Put all her sessions on your schedule!
You will learn so much and have a great time doing it!" – Stacy Menifee
---
"Best session I went to at FETC 2015…..So much wonderful information and every bit of it useful!" – Luanne Rowland
---
---
© Shake Up Learning 2023. Unauthorized use and/or duplication of this material without express and written permission from this blog's author and/or owner is strictly prohibited. Excerpts and links may be used, provided that full and clear credit is given to Kasey Bell and Shake Up Learning with appropriate and specific direction to the original content on ShakeUpLearning.com. See: Copyright Policy.