When it comes to your online presence, telling your story, and branding yourself or your school, social media can no longer be ignored! But just having an account is not enough. You need to make sure you have a profile that communicates your brand, shows you are a trustworthy educator, and that you can add value to the community. There are different types of social media platforms with lots of options for your profile, but they all share similar features.
Take a look at the image below, which will give you a few tips for optimizing your social media profile. The example is a Twitter profile, but the suggestions are applicable across platforms. I've chosen to use Guy Kawasaki as my example, the co-author of The Art of Social Media, where a lot of these suggestions can be found. Pick up a copy of this book if you really want to learn how to up your social media game. (He does have about 1.5 million followers!)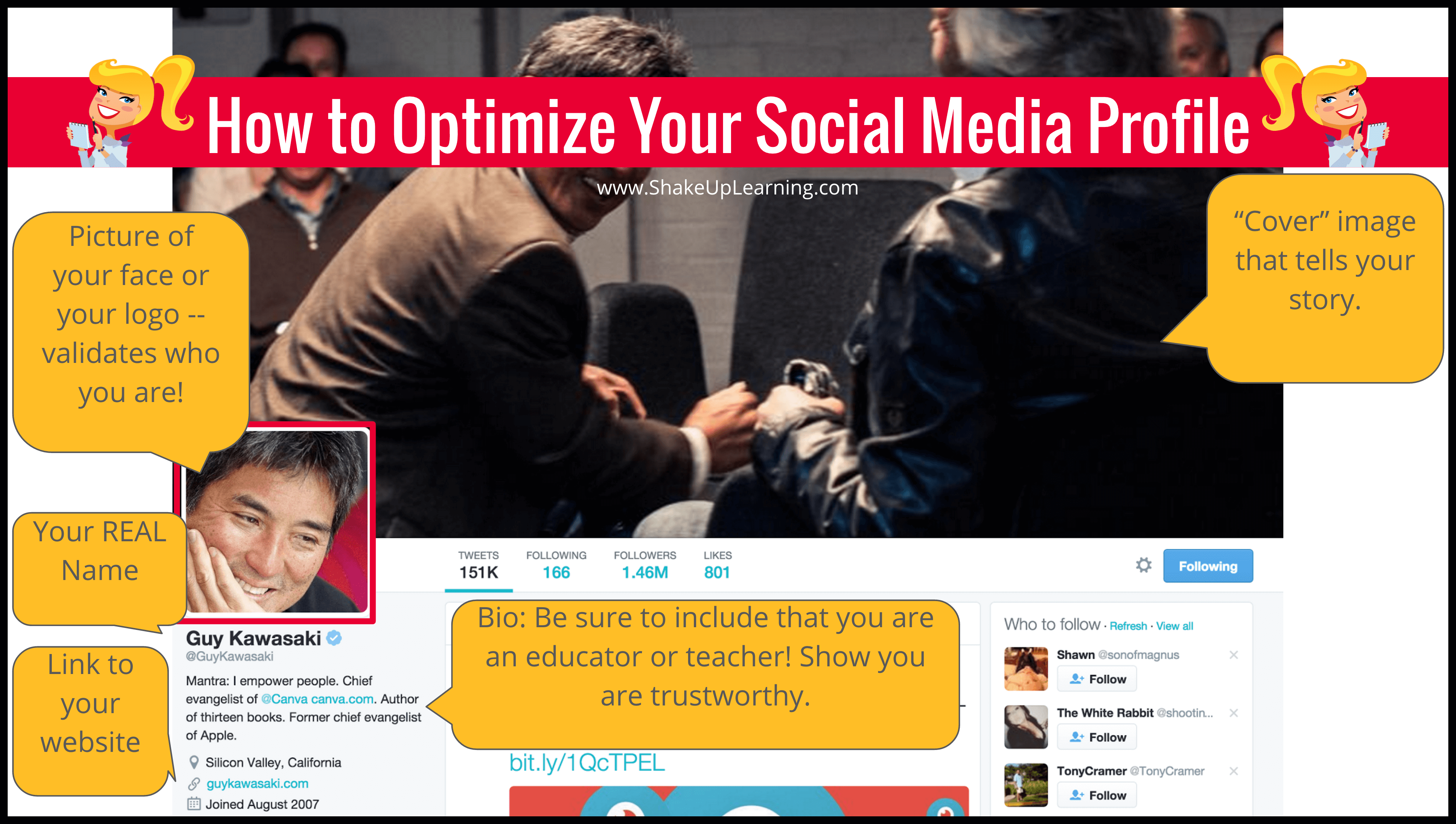 ---
How to Optimize Your Social Media Profile
Upload a picture of your face or logo: This validates who you are or what you represent. If you choose a photo, make it a tight shot where it is mostly your face. A wider shot is too hard to see in a social media feed.
Use your REAL name: Yes, I still see a lot of teachers that only use their "handle," and do not include a real name. Again, this validates who you are or what you represent. People will not follow you if they do not know who you are.
Link to your website: Link to you blog, website, you school or district website, an about.me page, whatever web presence you have that can help users get to know you and connect with you in other ways.
Include a bio: Most platforms limit the number of characters you can include here so keep it short and sweet and PLEASE include the fact that you are an educator!
Upload a cover image: Your cover is your chance to tell your story in a bigger way. Make this something represents what you are about and how you use social media. Hint: Canva makes this easy! They have ready made templates for all of the big social media platforms.
---
Take the time to evaluate all of your profiles and see where you can make improvements to your brand, your story, and show your value to the educational community. This will help other like-minded educators find and connect with you. Better yet, become a role model for positive social media use for your students!
---
---
Want to Shake Things Up in Your School or District? Bring Kasey Bell and Shake Up Learning to You!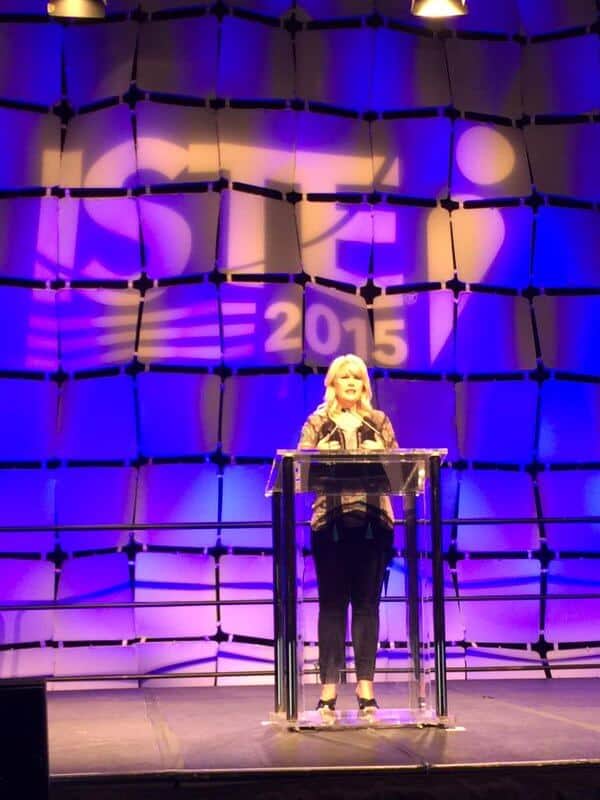 Ready to shake things up in your school or at your event? Email me at 
Kasey[at]ShakeUpLearning.com
, or submit this 
PD request form
 to bring Shake Up Learning to your 2016 event.
---
Below are just a few of the keynote presentations and workshops that I deliver across the country:
Change is the New Black: Embrace the Digital Learning Revolution(keynote)
The Teacher's Guide to Google Classroom (workshop or presentation)
Digital Differentiation with Google Apps (workshop or presentation)
The Golden Treasures of Google! The Fabulous Tools You Don't Know About! (presentation)
Blended Learning with Chromebooks (workshop or presentation)
The Social Media Secret Sauce (presentation)
---
Testimonials
Here is what others have said about Kasey Bell's presentations:
"Thank YOU for an outstanding presentation this morning. I received so many wonderful comments about your keynote at our conference. These attendees didn't just say they "liked" it; they each offered a specific point from your presentation to share with me that impacted their thinking about "change" or the integration of technology & instruction. Now that's an effective presentation!" – Jane McKinney
---
"Great session. Loved the 'treasures' theme throughout. Great, quick overview of tools and classroom applications for Google Apps." – Chad Kafka
---
"If you are attending a conference, follow these steps:
1. Search by presenter.
2. Find Kasey Bell.
3. Put all her sessions on your schedule!
You will learn so much and have a great time doing it!" – Stacy Menifee
---
"Best session I went to at FETC 2015…..So much wonderful information and every bit of it useful!" – Luanne Rowland
---
© Shake Up Learning 2021. Unauthorized use and/or duplication of this material without express and written permission from this blog's author and/or owner is strictly prohibited. Excerpts and links may be used, provided that full and clear credit is given to Kasey Bell and Shake Up Learning with appropriate and specific direction to the original content on ShakeUpLearning.com. See: Copyright Policy.