Becoming a Google Certified Trainer is no small feat, and everyone's journey is a little different. Today, I'd like to introduce you to Jacinta Keenan, a Google Certified Trainer from Tasmania–a Google Success Story!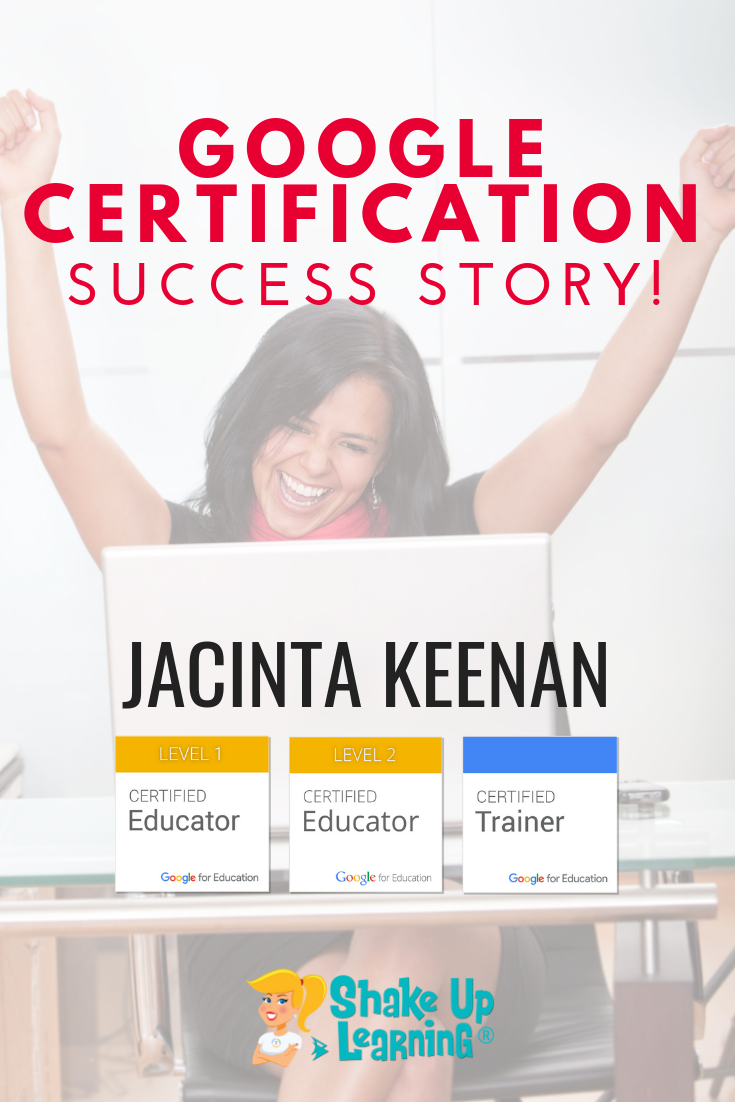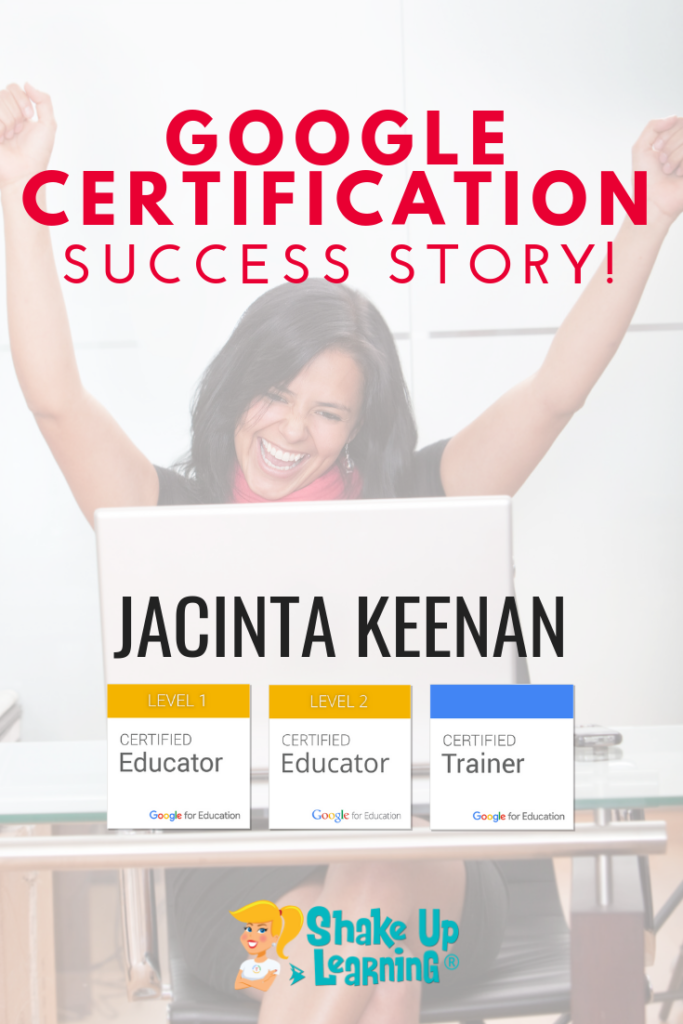 In this candid, video interview, I chat with Jacinta about becoming a Google Certified Educator, Level 1 and 2, as well as, how she became a Google Certified Trainer.
Jacinta shares her "Aha," moments, her experience with the exams, and gives some great recommendations for other educators who are considering getting Google Certified.
Jacinta attended a face-to-face boot camp to help prepare for Level 1. Then she joined my Level 2 Google Certified Educator Academy.
Actually, Jacinta won a seat in one of my live webinars! (Don't worry, I'll be announcing more live webinars soon!)
She loved the online course so much that she decided to keep going and purchased the Become a Google Trainer course as well.
Jacinta shares her experience with all three levels, and her involvement with the online courses, and how this helped her reach her goal of becoming a Google Certified Trainer.
I actually reveal a little secret about my own journey in this video! Something I've never told anyone before.
If you want the inside scoop on what it really takes to get any of the three certifications: Google Certified Educator Level 1, Google Certified Educator Level 2, or Google Certified Trainer, you don't want to miss this interview!
[Tweet "Google Success Story: @JacintaKeenan #googleET #gsuiteedu"]
Google Success Story: Jacinta Keenan, Google Certified Trainer
---
About Jacinta Keenan
Jacinta is an experienced teacher and she has a passion for integrating technology in the classroom to enhance learning opportunities for students.  She has been responsible for leading the implementation of a 1:1 iPad program and using GSuite across the school. As a Google for Education Certified Trainer, Jacinta supports teachers by providing weekly Tech Bytes sessions and by creating resources that are shared on her website keenonlearning.net.  She has also presented at EdTech Team Summits and on the Teach Tech Play Web show. Jacinta enjoys running code clubs for students, using a wide range of coding sites and applications including CS First, Scratch Tynker. She is also a coach for a First Lego League Team working with students.
Follow Jacinta on Twitter: @jacintakeenan
---
Want to Follow Jacinta's Path?
FREE Webinar: How to Get Google Certified

Do you want to learn more about the certifications and what it takes to achieve each one?
Getting Google Certified can be daunting and confusing, so I put together this free webinar on How to Get Google Certified!
In this webinar, I will give you an overview of Google Certification, Google Certified Educator Level 1, Google Certified Educator Level 2, and Google Certified Trainer.
---
Google Certification Academies
I also teach online boot camps to walk you through all the skills and help you prepare for the exams. I have helped thousands of educators through these online, self-paced courses!
What's Included in the Google Certification Courses?
Everything you need to know to pass the exam and become a Google Certified Educator Level 1!
---
Everything you need to know to pass the exam and become a Google Certified Educator Level 2!
---
All You Need to Know to Prepare for the Trainer Skills Assessment and Application!
Becoming a Google Certified Trainer was one of the best decisions I ever made, and it transformed my learning and my career! This self-paced, online course includes EVERYTHING you need to know to pass the Trainer Skills Assessment AND complete the application requirements, including:
---
Pricing & Bundles
Below are the prices for individual licenses for each course. (Payment plans available.)
Don't Pay Out of Pocket!
Teachers shouldn't have to pay out of their own pockets to get the professional learning and training they need.
On each of the course pages listed above you will find information about scholarships, as well as editable documents to "Make the Case" with your administrator to pay for your training.
SUPPORTING SMALL BUSINESSES: Purchasing these courses helps support the HUNDREDS of free resources that Shake Up Learning provides–free ebooks, cheat sheets, podcasts, blog posts, lesson plans, templates, tips, tutorials, and more. Thank you for supporting Shake Up Learning. We are a small, woman-owned business whose mission is to serve teachers.
---
G Suite Training for Schools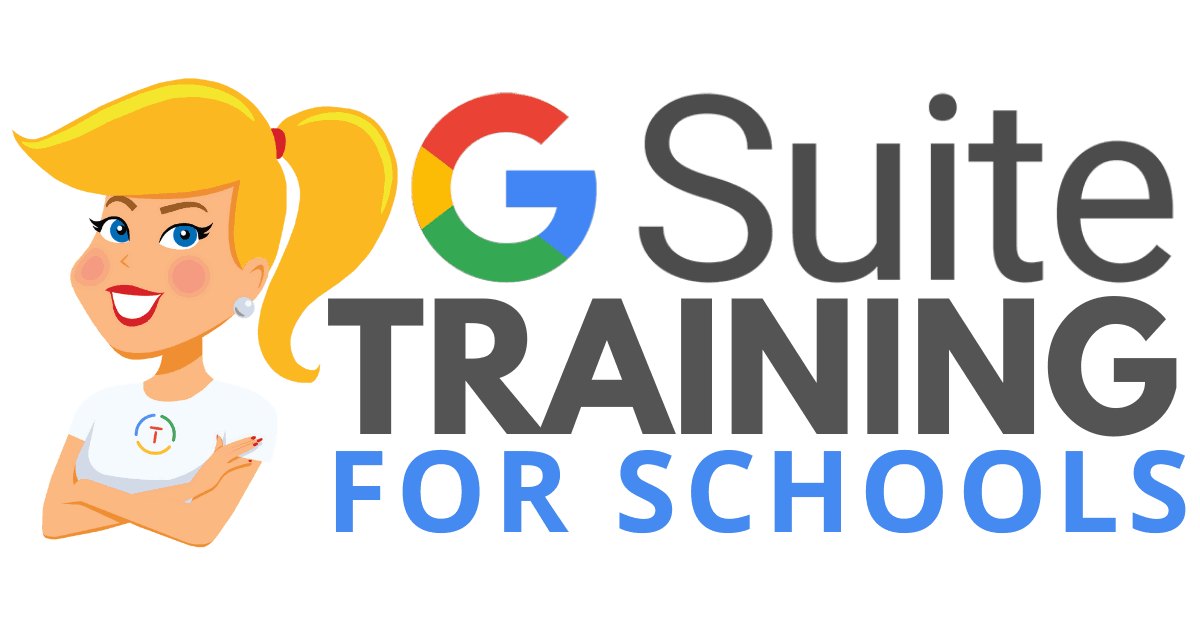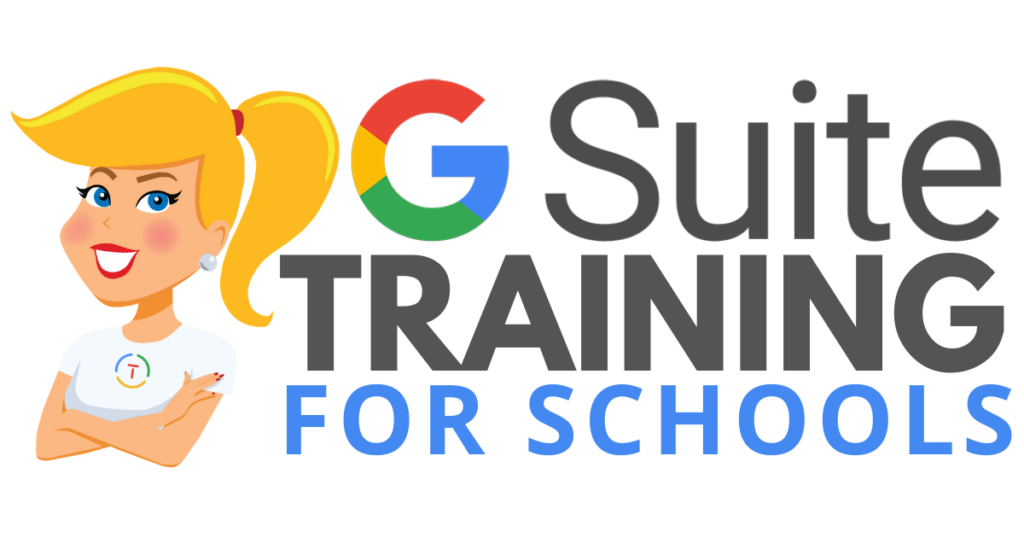 We have many programs to help your teachers learn how to meaningfully integrate Google tools and the entire G Suite in the classroom. From online courses to books, to face-to-face training, we got you covered!
COVID-19 forced many teachers and schools to scramble to find tools to deliver online assignments, design digital learning experiences, and G Suite was the number one suite of tools to help make this a reality.
Just in time resources and learning will help teachers, students, and parents survive the crisis. When we return to the new normal, G Suite skills will help set the foundation for more dynamic and meaningful learning in the classroom.
Get your entire campus or district on board with G Suite! Help your teachers learn more about G Suite tools, Google Classroom, and meaningful technology integration strategies. You can even help all your teachers become Google Certified Educators!
---
© Shake Up Learning 2023. Unauthorized use and/or duplication of this material without express and written permission from this blog's author and/or owner is strictly prohibited. Excerpts and links may be used, provided that full and clear credit is given to Kasey Bell and Shake Up Learning with appropriate and specific direction to the original content on ShakeUpLearning.com. See: Copyright Policy.