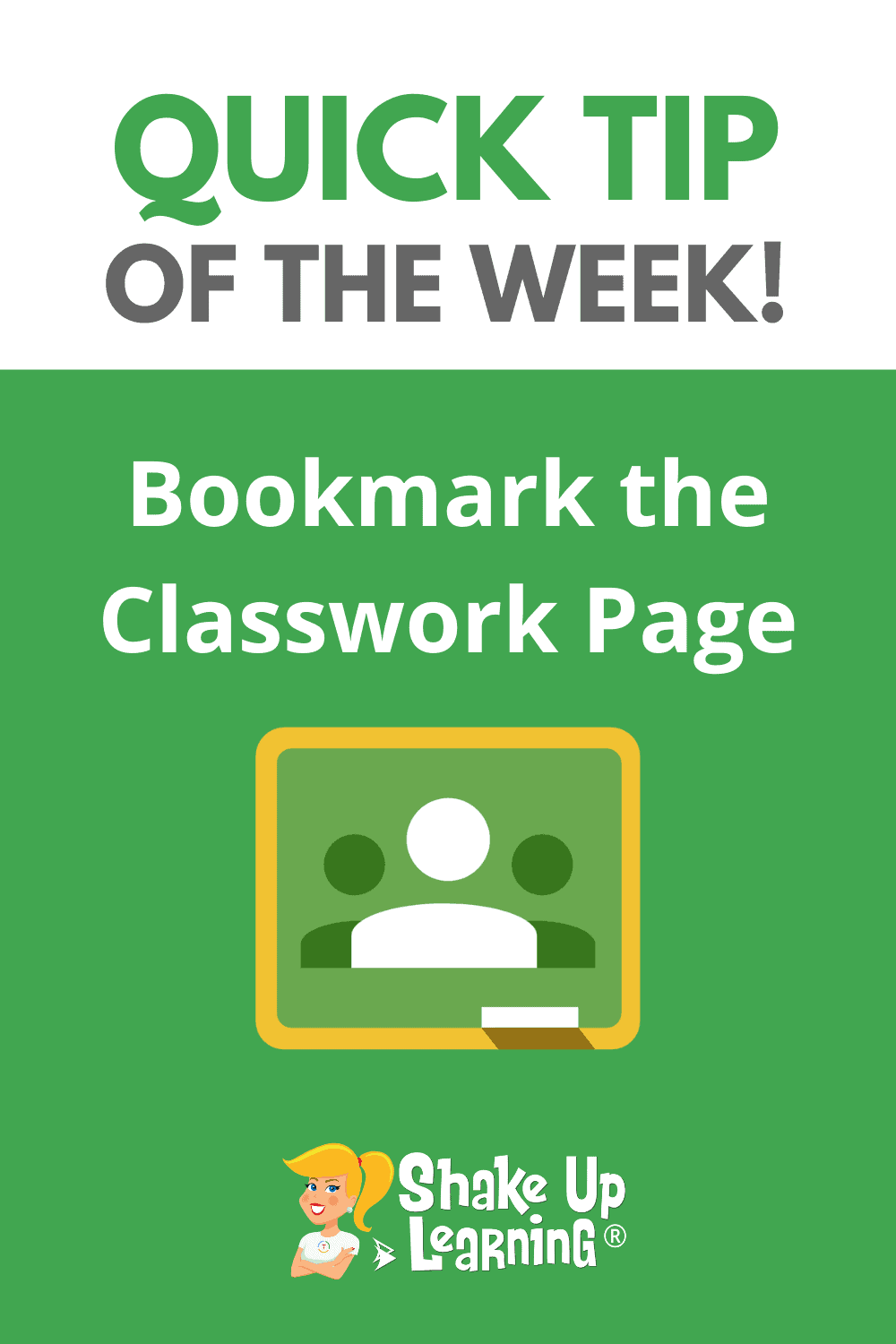 Sometimes, navigation in Google Classroom can be frustrating and take a few too many clicks to get where you want to go. Since the majority of your time will be spent on the Classwork page, I recommend bookmarking it.
In Google Chrome, you can add it to your bookmarks bar for quick access.
To enable the bookmarks bar, click the 3 dots near the top-right in Chrome, then select bookmarks, and make sure the bookmarks bar is enabled.
Go to the Classwork page for the class you wish to bookmark.
Then you can simply click-and-drag the lock next to the URL in the Omnibox to add the bookmark to your bar.
Right-click on the bookmark to edit the name or shorten it.
I like to bookmark the Classwork page for each of my classes in Google Classroom. It saves me tons of time!
Google Classroom Tip: Bookmark the Classwork Page
Get FREE Google Classroom Resources: https://shakeuplearning.com/blog/category/google/google-classroom/
Get the FREE Google Classroom Cheat Sheets for Teachers and Students: https://shakeuplearning.com/blog/the-google-classroom-cheat-sheets-for-teachers-and-students/
Join the Google Classroom Master Class: https://shakeuplearning.teachable.com/p/getting-started-with-google-classroom-course
Listen to the Shake Up Learning Show podcast for quick tips every week: https://shakeuplearning.com/shake-up-learning-show-podcast-with-kasey-bell/
Be sure to subscribe for more tips and awesomeness! https://www.youtube.com/shakeuplearning
© Shake Up Learning 2023. Unauthorized use and/or duplication of this material without express and written permission from this blog's author and/or owner is strictly prohibited. Excerpts and links may be used, provided that full and clear credit is given to Kasey Bell and Shake Up Learning with appropriate and specific direction to the original content on ShakeUpLearning.com. See: Copyright Policy.