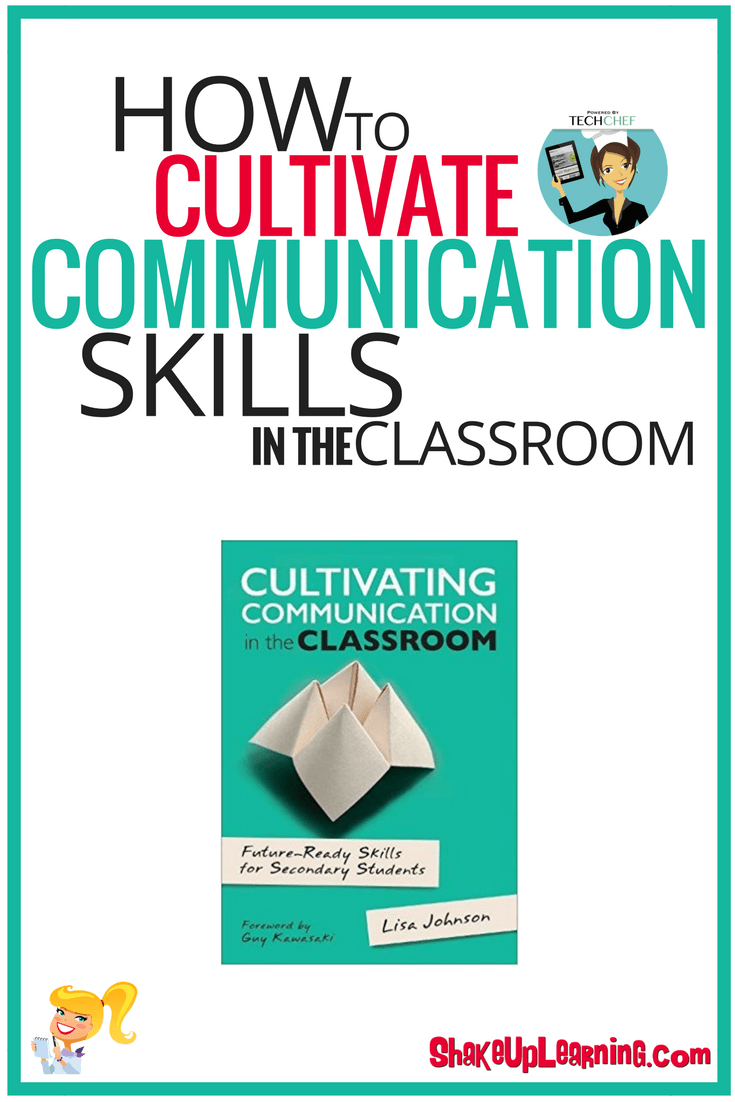 Communication Skills are a Building Block
Communication is one of the most essential twenty-first-century skills, but teaching these skills is not an easy task for teachers. Communication is a building block. Cultivating a culture of communication in the classroom creates a foundation for building the other, 'C's:' collaboration, creativity, and critical thinking. But what does this look like in the classroom? How do we cultivate these skills in our students?
A few weeks ago, I was given an advanced copy of Lisa Johnson's new book, Cultivating Communication in the Classroom: Future-Ready Skills for Secondary Students. You may know Lisa as TechChef4U, a blogger, speaker, and famously creative educational technologist. I have long admired her work, her blog, and the personal flair she brings to everything she does. First of all, if you don't follow Lisa, you should! Second, she has been a little quiet over the last year, but only because she was cooking up something awesome–this amazing book!
I hesitate to call this post a book review because that sounds mundane and boring, which doesn't describe this book at all! Lisa has put together a book with PRACTICAL ideas for teachers to truly help teachers cultivate communication in their classroom. This isn't the pie in the sky book full of lofty inspirations. This a book with practical inspiration! Lisa gets down into the nitty-gritty. She doesn't just say, "You should be teaching email communication." She shows you HOW.
Communication is not just words. It is how we paint a picture or craft meaning with visuals, empathy, perspective, relatable and genuine stories, metaphors, and clear purpose. This book not only delineates how communication can be taught through the lens of college and career readiness and put in the context of the secondary classroom but also models the art of communication through storytelling and form.

[Tweet "How to Cultivate Communication in the Classroom @TechChef4U #edchat #edtech #edtechchat"]
Inside the Book
This book gives thoughtful insight into not only communication styles but true forms of twenty-first-century communication and collaboration like social media and curation.
While students may feed their digital doppelganger with tweets, posts, and videos, they may not realize that immediacy of online communication and access to content can be permanent. Neither does their familiarity with mobile devices and technology preclude their knowledge of appropriate and purposeful use of these tools…Many times they also don't realize that the tools they use to communicate informally might be the very same tools that they will use to communicate formally.
To get a better idea of what is inside this book, I have given you the chapter titles below:
Chapter 1: Email Etiquette
Chapter 2: Collaboration and Positive Interdependence
Chapter 3: Visual Literacy and Presentation Skills
Chapter 4: Student Publishing and Projects
Chapter 5: Portfolios and Resumes
Chapter 6: Social Media
Chapter 7: Curation
Doesn't this sound like the perfect book for your next book study?
Let me tell you, it is! Lisa has created a book loaded with resources, classroom activities, printables, infographics, graphic organizers, and insights from the business world–all to help YOU give your students future-ready skills. Lisa also works in a district with a large iPad initiative, so she has included lots of tips and workflows for the iPads in her book.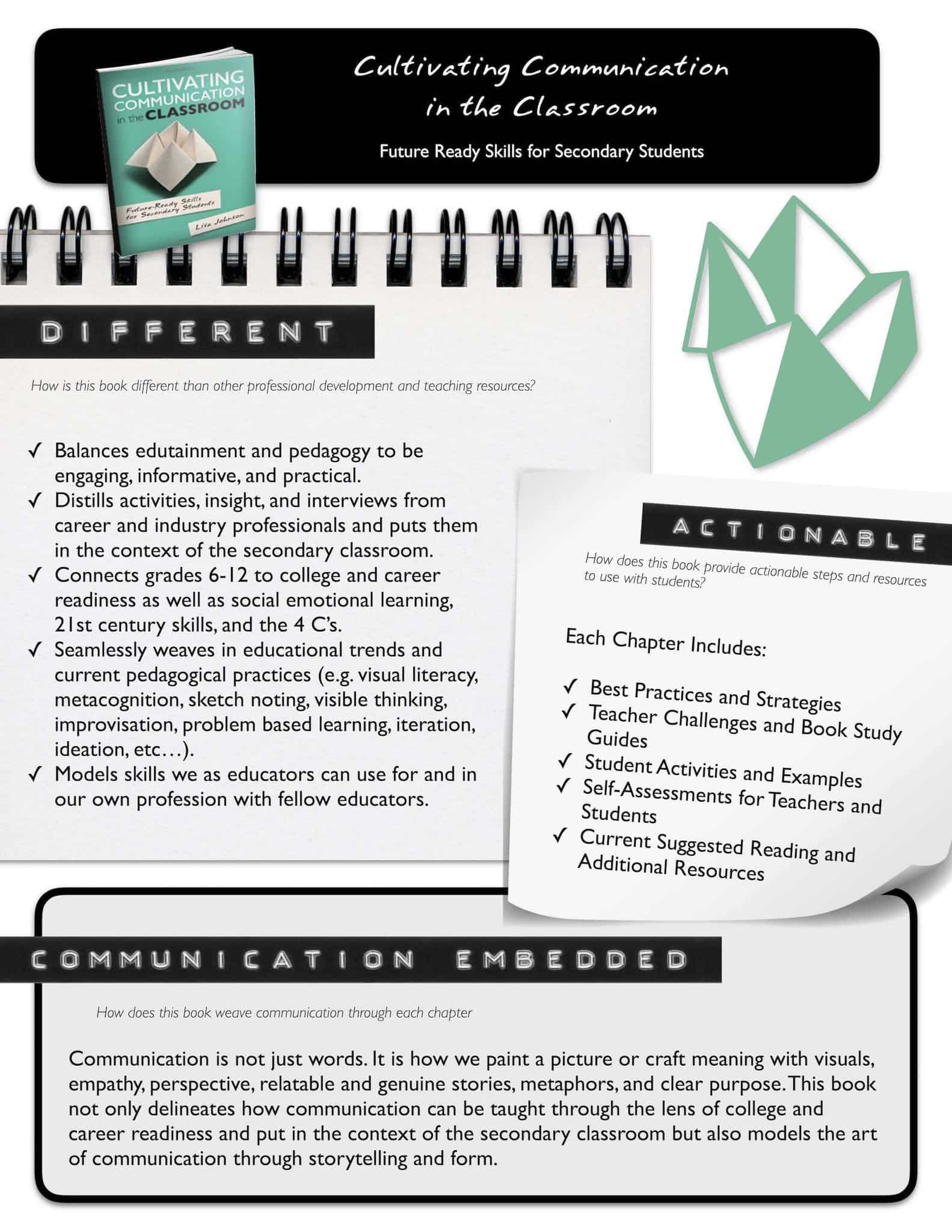 [Tweet "Check out @TechChef4U 's new book: "Cultivating Communication" for some fun classroom ideas! #edchat"]
But Wait…There's More!
I think my favorite part of the book is something very ingenious, and very TechChef. Each chapter also comes with what Lisa calls a Communication Catcher. You may recognize these better from your childhood, but Lisa has found an innovative way to bring these to the classroom.
Communication Catchers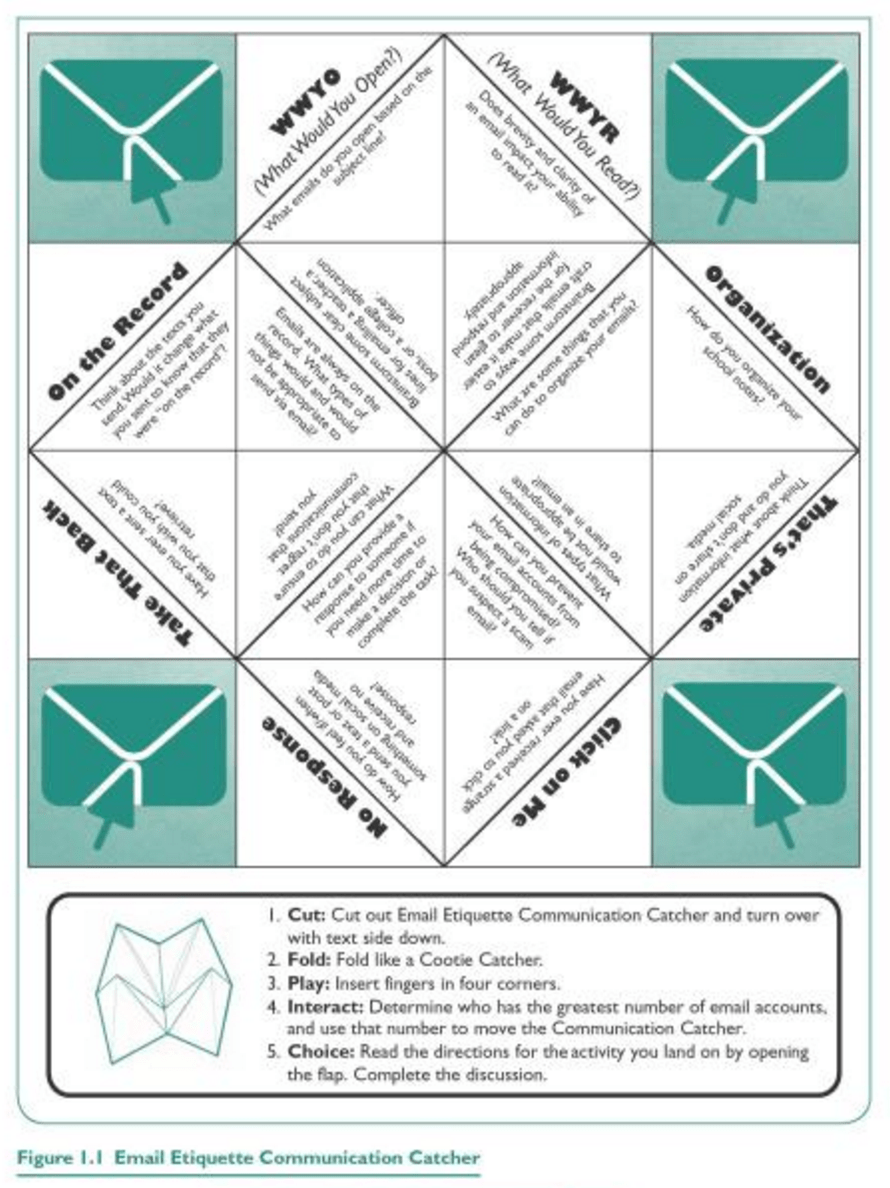 Pinterest Boards for Each Chapter
Oh! Lisa has also curated resources for each chapter onto special Pinterest boards. (Of course, she did!) Lisa is a wonderful curator on Pinterest and one you should follow. CLICK HERE to see Lisa's Pinterest boards. (She even made my list of 50 Educators to Follow on Pinterest.)
Get the Book
CLICK here to buy the book from Amazon.
Connect with Lisa Johnson
---
Ready to start planning your summer professional learning? This is the e-course you have been waiting for: the course to help you on your journey to becoming a Google for Education Certified Trainer! Becoming a Google Certified Trainer was one of the best decisions I ever made, and it transformed my learning and my career!
This self-paced, e-course includes EVERYTHING you need to know to pass the Trainer Skills Assessment AND complete the application requirements, including:
30+ Video Lessons (including the archive)
Private Google+ Community
Tips and Tricks
The Ultimate Google Certified Trainer Planner
VIP BONUSES!!!
and much more!
VIP Course Open for Limited Enrollment! Act Now before it closes!
© Shake Up Learning 2023. Unauthorized use and/or duplication of this material without express and written permission from this blog's author and/or owner is strictly prohibited. Excerpts and links may be used, provided that full and clear credit is given to Kasey Bell and Shake Up Learning with appropriate and specific direction to the original content on ShakeUpLearning.com. See: Copyright Policy.