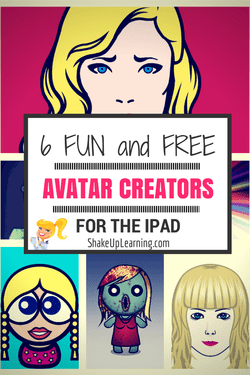 6 Fun and FREE Avatar Creators for the iPad!
In preparations for my session at iPadpalooza next week, "Gamifying the iClassroom," I have been researching avatar creators for the iPad. There are so many to choose from! Of course, some are purely creators, and some games allow you to create an avatar within the app. For the purposes of this post, these are purely avatar creators.
I couldn't fit all of my new avatars in the image to the left, but you can see I had a little bit of fun and so will you!
See below for links to the App Store and more information about all 6 Avatar Creators!
---

Avatar Creator
This app is an easy place to start. Easily create a cartoon image of yourself or create a new face.
Easily change the position, size and angle of each part of the avatar.
Get crazy with colored hair, bouffants, and hats and sunglasses.
---

iMadeFace
This app is also known as, Artoon (and that is the name that appears under the icon.)
iMadeFace has a very easy to use interface.
Swipe left to right to toggle through the options for your face.
The style of very much an ode to Archie comic-style faces.
There is also a celebrity face game where you guess the name of the star.
---

Make A Zombie 2
Given the zombie craze these days, this app proves to be extra fun and a little gross!
Visually-driven and super easy to create your own zombie avatar.
Blood splatter may be a bit too much for some age groups.
Be careful with the in-app purchases.
---

Freakatars Creature Creator
Get creative and let your freak flag fly! Freakatars will let you create your very own monster!
Easy-to-use interface, just tap and drag to begin building your Freakatar.
The parts of the Freakatar are so unique that it really opens the door to creativity, and a Freakatar would make an awesome writing prompt!
---

Cute Avatar Creator
This app features avatars of the googley-eyed variety with a Weeble Wobble like body.
Simple design makes this very easy to use.
The simplicity of the body also makes it easy to select a wardrobe.
Have fun with the hats, hair and accessory options!
---

3D Avatar Creator
Also known as, "Buddy Poke," this app lets you create three-dimensional avatars, and even send animated emoji to your friends.
Easy-to-use interface lets you create your avatar, and share or save to camera roll.
Send animated avatar emoji to friends on iMessage and email.
Create talking avatar videos and share online.
---
What are your favorite avatar creators? How do you use avatars with students? Please share in the comments below.
© Shake Up Learning 2023. Unauthorized use and/or duplication of this material without express and written permission from this blog's author and/or owner is strictly prohibited. Excerpts and links may be used, provided that full and clear credit is given to Kasey Bell and Shake Up Learning with appropriate and specific direction to the original content on ShakeUpLearning.com. See: Copyright Policy.