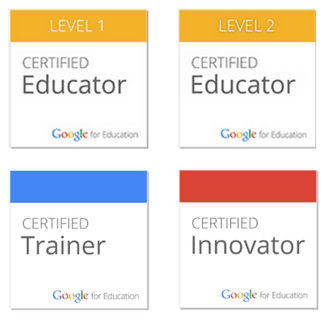 Google Certifications for Teachers!
---
I spend a lot of time helping other educators prepare for Google Certifications, and I am happy to share some new information today. In conjunction with the release of a brand new Google Education Training Center, Google has revealed its new certification to the masses. We have some new titles, badges, and wonderful ways to learn to implement Google Apps in the classroom.
---
The Google for Education Certification Programs
There are officially three different Google certification programs for educators (and yes, we can now officially use the word, "certification," in all three): Google Certified Educator (level 1 and level 2), Google for Education Certified Trainer, and Google for Education Certified Innovator. Each certification level gets a brand new badge as well.
Below are the details on the new Google Education Certifications, which is how it is stated on Google's new Training Center. The details below come directly from Google.
The Google for Education team manages three different certification programs to meet the professional development needs of our school community: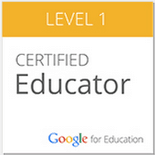 Designed for educators and classroom teachers who wish to demonstrate proficiency in using Google for Education tools. The Level 1 status indicates that an educator is able to successfully implement Google Apps for Education into their teaching practice in order to enhance teaching and learning.
---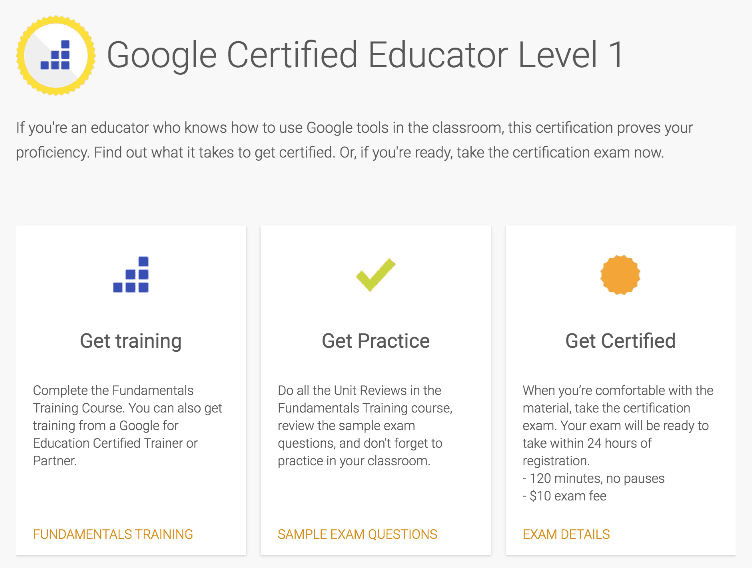 ---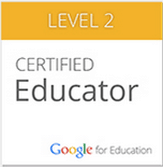 The Level 2 status indicates that an educator is able to successfully integrate a wider range of Google for Education tools and other technologies in order to transform their teaching practice.
---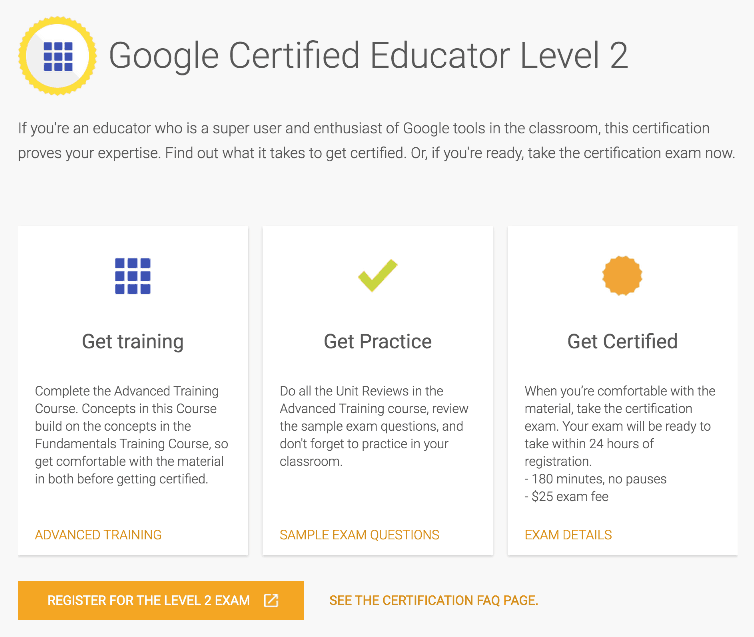 ---
Designed for individuals who deliver training or professional development to other educators. You may be a professional trainer at a partner organization; tech integrator or coach at a school or district; or maybe an independent consultant. This program requires you to have experience delivering training on Google for Education tools.
Gather Your Prerequisites:
Candidates for the Google for Education Certified Trainer program must demonstrate subject-matter expertise by achieving the Trainer Essentials certificate and delivering Google for Education training. All existing Google Educator certificates are also valid for application.
Trainer Essentials Certificate + experience delivering Google for Education training
Note: Google Certified Educator Level 1 and Level 2 certificates are not valid for application.
---
Apply:
Google accepts and reviews applications every quarter. The application allows you to show us your training experience, style, and strategy.
Training Experience
Provide a training resume highlighting relevant work experience, training and speaking sessions, and other awards or certifications. Please limit to 2 pages. See example.
Provide 3 references for trainings you've delivered in the past year – ideally from 3 different training sessions and/or organizations. Your references will receive a short survey to complete about their experience with your training.
Training Style
Submit a 2-minute video showcasing your training skills. The video should highlight one feature of Google Apps for Education, Chromebooks, Chrome, or Android Tablets with Play for Education in a classroom or school setting. Screencasts are preferred. See example.
Training Strategy
Create a case study (using this template) that will give us a good understanding of your training strategy, including planning, implementation, evaluation, and sample learning materials. See example.
---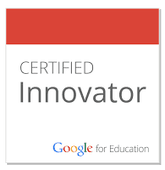 Designed for education thought-leaders who create new and innovative projects using Google for Education tools.
Gather Your Prerequisites
Candidates for the Google for Education Certified Innovator program are selected based on their professional experience, their passion for teaching and learning, their innovative use of technology in school settings and their potential impact on other educators.
---
Apply
You must attend a Google for Education Innovation Academy as the first step in becoming a Certified Innovator. Applications will open and close on a rolling basis and will be based on location. (Note: No dates have been released yet for the Innovation Academies).At the Google for Education Innovation Academy you will discover how to unlock creativity, translate insights into solutions, experiment rapidly, and build an effective innovation culture in your own schools and organizations. You'll come away with practical approaches, valuable tools and techniques, and the beginnings of an Innovation Project. The Innovation Academy is just the beginning of a journey with your peers – and Google – to impact education in your communities.
---
Design an Innovation Project
Innovation Projects are the tools through which Innovators implement and measure their impact. While the mission and outcomes of each Innovation Project will vary from person-to-person, here are some principles that will guide development:
Have a mission that matters: Your mission should be something you care about and has the potential to touch many lives
Think big but start small: No matter how ambitious the plan is, you have to start somewhere
Iterate and fail fast: We're not looking for perfection, we're looking for continual innovation
Share everything: Encourage discussion, collaboration, and the exchange of ideas
Spark with imagination, fuel with data: Use data to backup your insights or help you pivot directions
All projects should drive change in education, impact educators and students, and be documented for other educators to follow.
---
As we transition to this new system, there are many questions about your current certifications and where do we go from here. Here is a link to a document from Google explaining the transition to the new certifications. Hopefully, this will help answer a lot of your questions.
---
Not to be overshadowed by the news about the certifications, a new Google Training Center has been revealed. It was a great honor to be a part of this project and develop some of the lessons for educators.The new training center is designed to help teachers learn how to meaningfully integrate Google tools in the classroom with lesson ideas and facilitation tips. With both fundamentals and advanced levels, there is training to support all levels. You will also find resources and how-to training for all of the tools and devices. This is such a valuable resource for educators!
---
© Shake Up Learning 2020. Unauthorized use and/or duplication of this material without express and written permission from this blog's author and/or owner is strictly prohibited. Excerpts and links may be used, provided that full and clear credit is given to Kasey Bell and Shake Up Learning with appropriate and specific direction to the original content on ShakeUpLearning.com. See: Copyright Policy.