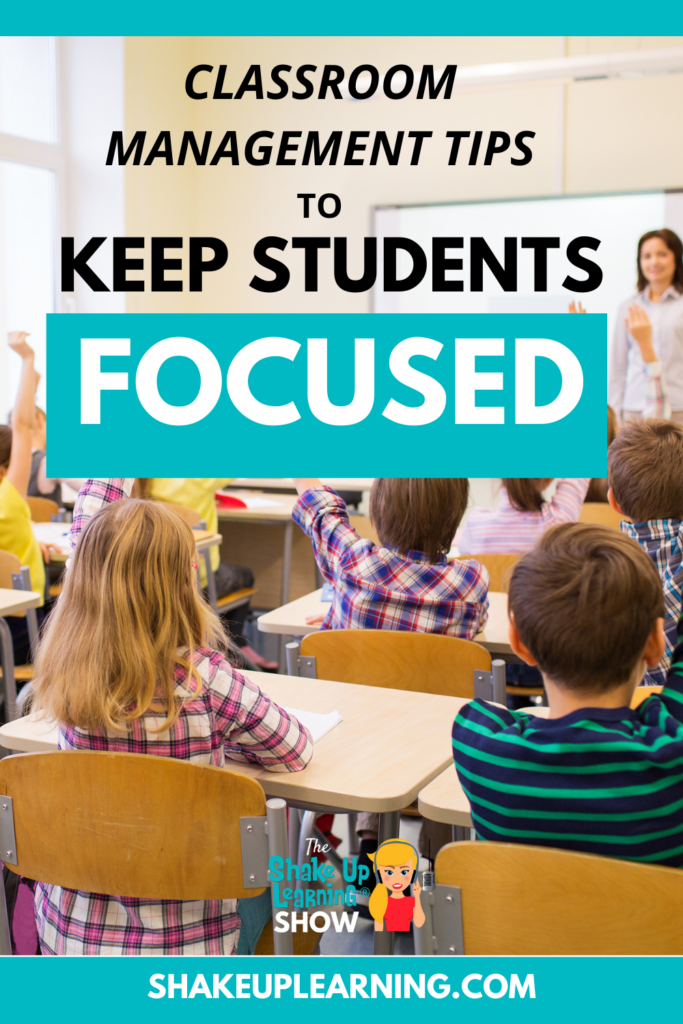 In this episode, Kasey chats with Classroom Management expert Linda Kardamis from Teach4theHeart.
Linda shares tips to help teachers manage the chaos of the end of the year, as well as develop a plan to start the school year off on the right foot.
Don't miss this episode and blog post!
Learn quick tips to reduce disruptions without yelling, begging, or bribing.
You can reduce the chaos, earn your students' respect, and create a classroom environment that you and your students enjoy together!
Listen to this article.
10+ Classroom Management Tips to Keep Kids Focused
Linda Kardamis is a former middle school math teacher and the owner of Teach for the Heart, a platform that offers practical advice and encouragement to support Christian teachers. Linda has always had a passion for teaching, and when she became a teacher, she quickly realized that classroom management was not the easiest thing to master. She had to learn strategies and figure out what would work, but she ultimately learned how to become an effective teacher. Linda's platform provides teachers with the tools and resources they need to succeed and make a difference in their classrooms. She has helped many teachers establish a strong classroom community and develop strong relationships with their students. Linda's platform is an invaluable resource for teachers who are looking for guidance and support.
How to Create a Plan for Success
Do you know what you will do when certain situations arise in the classroom? You should! You need a plan.
If you don't have a plan, you end up not doing anything or you are inconsistent and students don't know the boundaries.
When we get super clear and decide exactly what we will do, things work so much better!
Write it down! Take the time to jot down exactly what you will do when certain behaviors occur in your classroom.
There isn't a right or wrong way to do this, but Linda shares more tips below.
Establish a Warning System
This works particularly well for talking and disruptions. This gives students responsibility and an opportunity to self-correct.
The old-school way of giving a warning is to write a name on the board. But there are many ways to do this.
You could use a web app like Class Dojo, or issue "yellow cards" like in soccer, or create some kind of visual for the student. Usually, 3 warnings in one class period before you issue a consquence.
Ideally, you do issue the warning without interrupting the flow of the classroom. You can place the warning card on their desk while you continue teaching or facilitating without announcing it to the class.
I Statements
If students are blurting out answers in class, the teacher can change their language to "I statements." Instead of telling them they need to raise their hand, you ignore them and use an "I statement" like, "I only call on students who raise their hand." Repeat this as needed and be consistent.

Strategies for Starting the School Year on the Right Foot
The beginning of the school year is kind of magical for establishing rules and procedures. Generally, students are more receptive and well-behaved. This is an opportunity to put your plan into action and set clear expectations for students.
Establishing Procedures and Expectations for a Successful School Year
Establish a plan for the year!
Focus on procedures and insist that they are followed all year. If you don't consistently insist on following procedures, students see that you are inconsistent and will push boundaries on everything else.
Have a plan for how you will react to behaviors, and start using your plan from day one to demonstrate to students your expectations and that you will be consistent.
You may need to add procedures for things that you wouldn't necessarily think about.
Transitions
Transitions need expected procedures. Students tend to get off task very quickly during transitions. Teach them how you want them to transition, just like everything else.
Maintaining Respectful Interactions with Students
You don't have to choose between being a nice teacher or being a strict teacher. You can be kind and hold students accountable.
When you keep your emotions in check and speak corrections, warnings, and consequences with kindness, you can maintain a respectful relationship with students.
Linda says sometimes we yell because we don't know what else to do. This is because we didn't plan! Again, plan for how you will react.
Managing Student Collaboration and Volume Levels in the Classroom
We all know how the volume levels can rise when students are working together. Linda says to establish a procedure for how this will look in your classroom.
Teach them how you will regain their attention. You may want to use a call-and-response like the teacher says "Class," and the students respond, "Yes." Depending on the age you teach, you can find the right option for your class. Whatever you decide to use, PLAN and PRACTICE IT! This is a procedure like any other.
You can also try many online tools to monitor noise levels in your classroom.
Taming the Beast at the End of the School Year
Linda's biggest tip for the end of the year is DON'T let go of your procedures. Continue to insist that students follow your rules and procedures. Review or reteach procedures if they need reminders.
Linda's 4-Step Process for Teaching Procedures
Tell them what to do and model it
Practice it with your students
Correct anything that wasn't done correctly
Redo it
Ask yourself, what is causing the chaos in your classroom? And what can I do right now?
Ready to create a plan for the new school year? Linda can help!
How to Reduce Disruptions without Yelling, Begging, or Bribing (FREE Training)
In this free training with Linda Karadamis, you will learn:
3 mistakes that cause classroom chaos – and how to avoid them
How to get students to listen without being mean
Why students aren't following your procedures – and how to get them to start!
The system I used to drastically reduce chatter, blurting & other disruption
And much more!
Rise Up Summit
Where is God when teaching is hard?
He's right there with you, working in your classroom, working in your students, and working in YOU.
You see, God never said the Christian life would be easy. In fact, Scripture promises just the opposite – trials, challenges, griefs, and opposition will abound. Sound familiar?
But the amazing news is that God is at work IN the struggle and despite the opposition.
Join us to discover anew the encouragement & hope that is found in Christ as well as practical solutions to navigate specific challenges that occur when teaching in a confused world.
About Linda Kardamis
Linda Kardamis taught middle school math before being led to become the founder of Teach 4 the Heart – a website centered on providing practical advice, encouragement, and support for Christian teachers. As part of her calling to uplift educators everywhere, Linda has compiled three books: Create Your Dream Classroom, Take Heart & Teach, and Teach Uplifted.
She is also the creator of online courses such as Classroom Management 101 and Reclaim Your Time 101, and her Teach 4 the Heart podcast is enjoyed by a growing number of educators.
All of Linda's work and programs focus on her faith-based passion and calling to help teachers across the country and around the globe excel and thrive in their teaching adventures and careers. Linda is also a wife and mom of four littles, which, of course, keeps things interesting.
Teach 4 the Heart Podcast
Facebook Group
Free Training
Your Smooth-Running Class Online Course
© Shake Up Learning 2023. Unauthorized use and/or duplication of this material without express and written permission from this blog's author and/or owner is strictly prohibited. Excerpts and links may be used, provided that full and clear credit is given to Kasey Bell and Shake Up Learning with appropriate and specific direction to the original content on ShakeUpLearning.com. See: Copyright Policy.