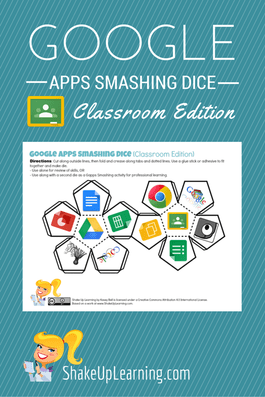 Go Google and Smash Some Apps with Gapps Smashing Dice!
This Google Apps Dice was sparked by a request from Lori Curtis on Google+ to make a version that included Google Classroom, Doctopus and Goobric.Google Apps Dice can be used in professional learning. These can be used alone to help review concepts, inspire integration ideas, and even quiz a partner to help prepare for the Google Educator exams. You can also use two or more to create an app smashing activity. For instance, how can you combine Google Sites and Google Search in a classroom activity?
---
Google Classroom
What is it?
"Classroom is available to anyone with Google Apps for Education, a free suite of productivity tools including Gmail, Drive and Docs.Classroom is designed to help teachers create and collect assignments paperlessly, including time-saving features like the ability to automatically make a copy of a Google Document for each student. It also creates Drive folders for each assignment and for each student to help keep everyone organized.Students can keep track of what's due on the Assignments page and begin working with just a click. Teachers can quickly see who has or hasn't completed the work, and provide direct, real-time feedback and grades right in Classroom." (from 
www.google.com/edu/classroom/
)
Google Classroom Resources
Google Apps Smashing Dice: Classroom Edition
---
 This version of the die includes the following apps:
New to Doctopus?
Doctopus is an Add-On for Google Sheets created by the fabulous
Andrew Stillman
at
New Visions for Public Schools
that gives teachers the ability to mass-copy (from a starter template), share, and manage grading and feedback for student projects in Google Drive.Here's a great video introduction by
Jay Atwood
 :
<![CDATA[ ]]>
New to Goobric?
Goobric allows for rubric-based grading of Google Drive resources (Documents, Presentations, Spreadsheets, Folders, etc.) It was created to work with the Doctopus Add-on mentioned above.

Here is another great video from Jay Atwood:

---
How do they all work together?
---
Ready for more #AppDice fun? Check out the amazing Ryan Read's collection of app dice on his blog: Classrooms Next Level.
How do you use App Dice? Please share in the comments below!
© Shake Up Learning 2023. Unauthorized use and/or duplication of this material without express and written permission from this blog's author and/or owner is strictly prohibited. Excerpts and links may be used, provided that full and clear credit is given to Kasey Bell and Shake Up Learning with appropriate and specific direction to the original content on ShakeUpLearning.com. See: Copyright Policy.