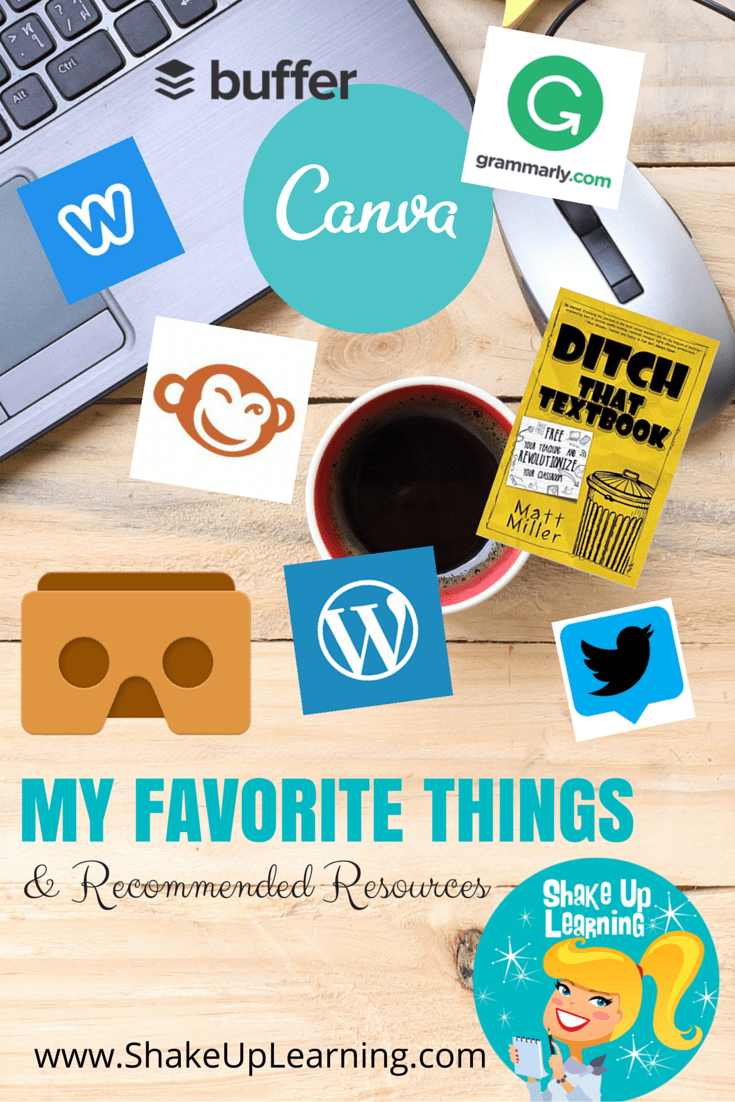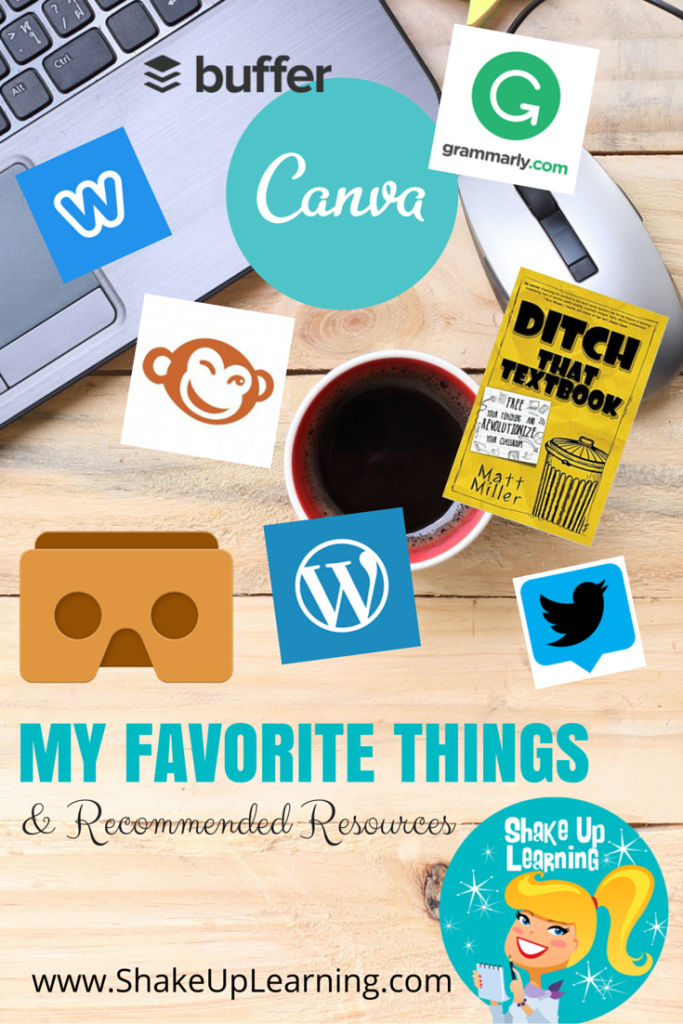 My Favorite Things and Recommended Resources!
I get a lot of questions about the resources I use, and recommendations for certain tasks. So I thought it would be helpful to create a recommended resource page for educators with all of my favorite things: my favorite web tools, gadgets, books and more.
* The links in this post are affiliate links, which means if you make a purchase after clicking on them, I get a small commission at no extra cost to you. Thanks for supporting the free resources on Shake Up Learning!
[Tweet "Shake Up Learning's favorite resources for blogging, branding and more!"]
---
BLOGGING
I often get asked what platforms I recommend for the beginning blogger. Shake Up Learning started on the Weebly platform. Weebly is freemium, and the free version offers plenty of features, and the Pro version is very reasonable (see pricing here). I really do love the ease and simplicity that Weebly provides. It is a great solution for beginning bloggers. CLICK HERE to sign-up for Weebly.
By far, the best choice for blogging is WordPress. You can customize WP to your hearts content! WordPress is offered in two forms: WordPress.com and WordPress.org. WordPress.com is freemium, and also offers a lot of fantastic features at a low cost (see pricing here).
Shake Up Learning is a self-hosted WordPress.org site. The .org sites give you more control, but also require that you take care of the technical side of things, maintenance, and hosting. Here's a comparison of WordPress.com and WordPress.org.
I have been using BlueHost for a while now, and their customer service is excellent! If you need to host a custom domain, BlueHost is a one-stop shop with support for both Weebly and WordPress. I HIGHLY RECOMMEND using Bluehost for your first website and beyond! CLICK HERE to sign-up for BlueHost.
Grammarly is a WONDERFUL tool for checking your spelling, grammar and more. It also will check for plagiarism, word choice and make suggestions. My writing is far from perfect and I need all the help I can get. Grammarly is a life-saver! CLICK HERE to sign-up for Grammarly. Then install the Grammarly Chrome Extension so it will check your writing across the web: email, social media, blogging, etc.
---
LOGOS/BRANDING
Canva is a free and fabulous web tool for creating images, posters, infographics, presentations, flyers and more! Almost all of the images I create for this site and for my social media posts are created with Canva. Canva makes design easy! Plus, it allows me to create original images with my logo and branding. Canva will help you and your students look like you majored in graphic design! CLICK HERE to sign up for Canva.
Picmonkey is a freemium image and photo editing web tool. I use Picmonkey for quick editing and access to cool themes and images. I often even app smash and create images in Picmonkey.
Picmonkey has lots of little Photoshop-esque editing tools, filters, shadows, borders, and really fun seasonal backgrounds and images. I used Picmonkey to create the background images for the magnetic poetry templates. Such a fun tool for teachers and students.CLICK HERE to sign up for Picmonkey.
Fiverr is a freelance marketplace, where you can get someone to complete a task for you for as little as five dollars. I've used Fiverr for advanced programming projects, WordPress troubleshooting, and to create the Shake Up Learning Chrome Extension.CLICK HERE to create a Fiverr account.
Unsplash Photos is a stock photography website where you can get high-quality, royalty-free images for your website, blog, or presentations. "Over 550,000 free (do-whatever-you-want) high-resolution photos brought to you by the world's most generous community of photographers."
I use Unsplash to get eye-catching photos for my keynotes and presentations, and for blog images as well. They also have a great add-on for Google Slides. CLICK HERE to join Unsplash.
I get a lot of questions about how to create a great looking blog logo. 99Designs offers a unique way to have talented graphic designers compete for your business! They can design logos, business cards, websites and more.
CLICK HERE to get started with 99Designs
.
---
SOCIAL MEDIA TOOLS
Hootsuite is a web-based tool that allows you to manage multiple social media accounts and networks in one place, including Twitter, Facebook, G+ Pages, Instagram, YouTube, FourSquare and LinkedIn. You can schedule messages at a specific time, or let Hootsuite choose the best time to post for maximum engagement with your audience. You can create columns for everything, every hashtag, every account you follow–even create several tabs of columns if you are so inclined. They offer a ton of features that include analytics and the ability to manage accounts as a team. I wish I could say there was one platform that offered everything I need. Hootsuite comes very close. It is a freemium app, so the free version does not offer full features.
CLICK HERE to sign-up for Hootsuite account
.
---
The Buffer app makes is super easy to schedule social media posts, share content across several social media platforms: including Facebook, Twitter, G+ Pages, LinkedIn and Pinterest. The individual plan is free and you can connect one profile from each of your social accounts with the exception of Pinterest. Pinterest is only available in the 
Awesome Plan
, which is only $10/month. I pay for this one and use Buffer to connect to RSS feeds so I can share posts from my favorite blogs easily. I also recommend the
Buffer Chrome extension
which will give the option to share using Buffer across the web.
CLICK HERE to sign-up for a Buffer account.
---
Tweetdeck is hugely popular and also offers a way to create as Twitter dashboard with columns for each item you would like to follow on Twitter, and it is completely FREE.
I really like Tweetdeck for a snapshot of what's happening with my PLN on Twitter, and it is my go-to for Twitter chats! Especially if I am moderating a Twitter chat, I set up Tweetdeck to follow all of the accounts and hashtags pertinent to that chat, AND I schedule my answers to be sent at the time of each question. This way, I can focus on interacting in the chat and not crafting my answers. Some chats are so incredibly fast, so scheduling can make moderation a much easier task.
---

Yes, this is a repeat! Canva is a very import tool in my social media toolbox and it deserves repeating! Canva is a free and fabulous web tool for creating images, posters, infographics, presentations, flyers and more!
Almost all of the images I create for this site and for my social media posts are created with Canva. Canva makes design easy! Plus, it allows me to create original images with my logo and branding. Canva will help you and your students look like you majored in graphic design! CLICK HERE to sign up for Canva.
---
GADGETS & ACCESSORIES
I have the iPhone 6, and this is by far the best case I have ever had. It will hold two cards and it is perfect for my drivers license and one credit card. LOVE IT! Even though I use Apple Pay when I can, it's still not convenient everywhere so this gives me easy access to my card.
I have the iPad Mini and this case has been the best iPad case ever. I need full coverage because I drop everything. My iPad is fully protected and I have the kickstand when I'm watching video. Plus, it is super slim and doesn't add a lot of weight to the iPad.
I'm still a newbie with the stylus, but I really like the feel of this stylus, especially when using the Paper by 53app for sketches and sketch notes.
Like I said, I drop everything, so even my MacBook has a case. This gives it protection and a little personality! My laptop is also covered in stickers, so the cover comes in handy for protecting the laptop from my sticker abuse.
Google Cardboard is the bomb! A simple cardboard-based invention can transform you smartphone into a virtual reality headset. There are so many versions out there, and you can even build your own if you are so inclined. I recommend you get version 2.0. Either will work, but version 2 is a much better design no matter the manufacturer.
I love my View-Master, and not just because of the retro look. The View-Master brings the power of virtual reality AND augmented reality into ONE device. So you can drop your phone inside and use the same VR compatible apps that work across many other devices, and you can use the special View-Master apps and trigger reels to explore space, National Geographic locations, and more!
When I present, I always have videos! And even though most places have built in sound systems these days, this little speaker comes in handy! It's super small and fits nicely in the mesh pocket in my Ogio backpack (mentioned below). AND even though it is small, it still produces a nice, loud sound that can easily be heard in a classroom. Oh, and it is Bluetooth but it also has a short audio cable that wraps around the body of the speaker, so it doesn't get lost. Blue Tooth is great when it works, and if it is your device, but the cable makes it nice to share as well. This speaker has saved me so many times!
Everyone needs a portable charger for their devices, and this one is super small and super handy–a must if you travel. This is the "lipstick" size, but it's a little bit bigger than any lipstick I've ever worn, but still small enough to throw in my bag.
This one goes hand-in-hand with the portable charger above. This short lightning cable is so much easier to use with the portable charger when I need to carry my phone and keep it charging in my hand.
I get so many compliments on this backpack! It's super sleek and great for travel and conferences. It's light-weight and slim but still has room for my laptop, iPad, adapters, and accessories.
I have seen several versions of these over the last couple of years but discovered this model at SXSWEdu. It was the first one that I found comfortable and decided to purchase one for my home office. It does contain an exercise ball so it will help you engage your core as well!
---
Looking for Book Recommendations?
Check out this post: 50 Awesome Books for Teachers!
© Shake Up Learning 2023. Unauthorized use and/or duplication of this material without express and written permission from this blog's author and/or owner is strictly prohibited. Excerpts and links may be used, provided that full and clear credit is given to Kasey Bell and Shake Up Learning with appropriate and specific direction to the original content on ShakeUpLearning.com. See: Copyright Policy.