The Shake Up Learning community is always chatting and sharing digital tools and lesson ideas for the K12 classroom. Recently, we discussed our favorite formative assessment tools for the classroom, and I wanted to share these here for you as a resource.
In this post, you will find 20 Formative Assessment Tools for Your Classroom!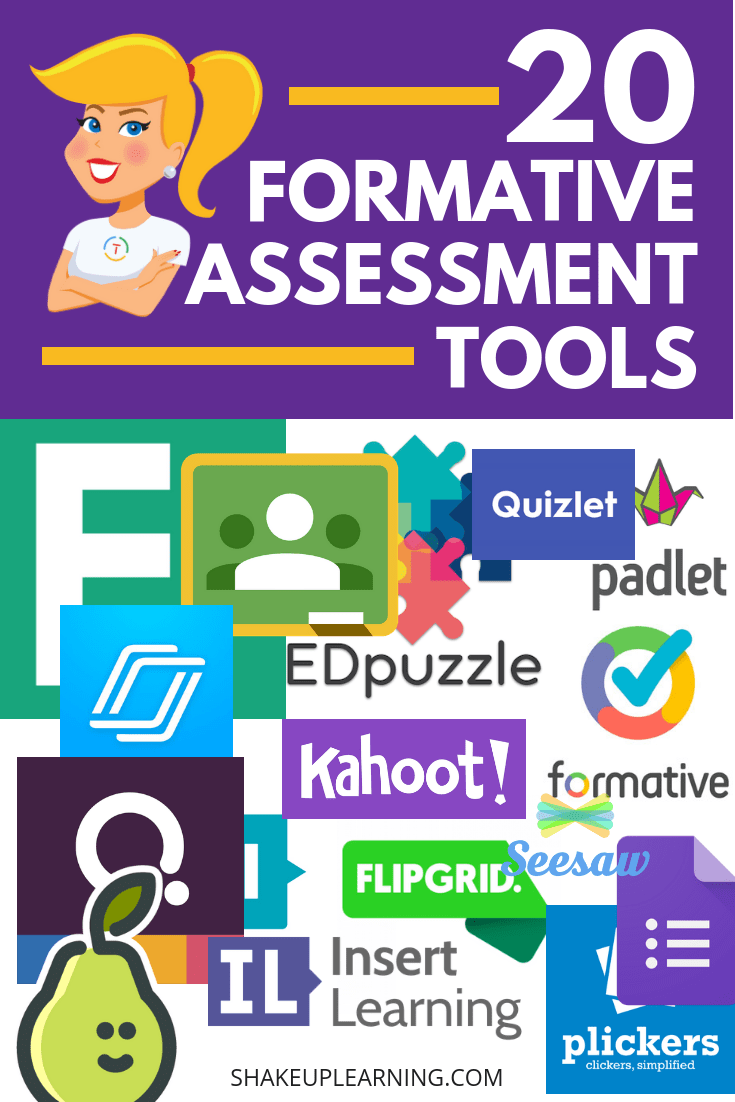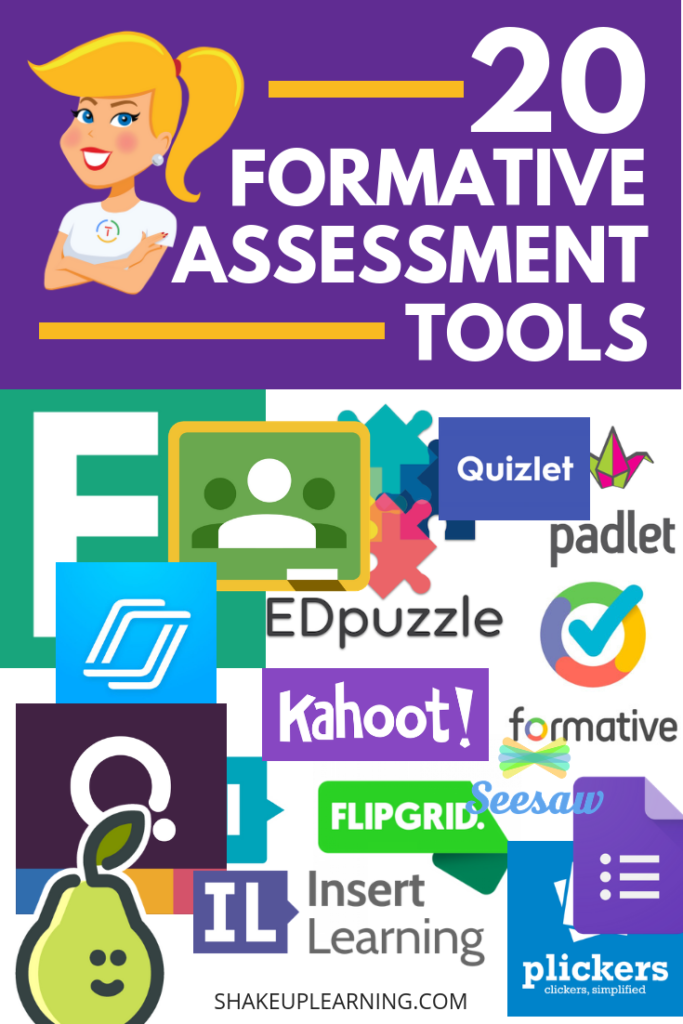 Let's make sure we are all on the same page when it comes to formative assessment, or what I like to refer to as, "Assessment FOR Learning," as a follower of Rick Stiggins' work over the years.
"Teachers who use, "Assessment FOR learning," involve their students in ongoing self-assessment in ways that reveal to those learners (a) where they are headed in their learning, (b) where they are now in relation to those expectations, and (c) how each student can close the gap between the two." – Rick Stiggins
Formative assessment is such an essential part of the learning process and student success, and many digital tools can help support this process.
This list has a wide variety of features and options to help you solidify your formative assessment strategies! Many of the tools below are great for both formative and summative assessments.
20 Formative Assessment Tools for Your Classroom
(in alphabetic order)
Edpuzzle allows you to turn videos into a quick assessment. Choose a video on YouTube, Khan Academy, Crash Course, or upload your own. Trim the video, insert a quiz anywhere and track your students progress. (Freemium, basic account is free, additional features available with paid accounts.)
Edulastic is a complete assessment dashboard. Teachers can create and track assessments, and even align with CCSS. They also offer a district wide-platform for sharing district-wide assessments. (Free for teachers, district-sharing requires a paid license.)
Flipgrid is a video discussion platform, that allows students to respond to questions, topics, and reflect using video. Students can also respond to each other, leave comments, and more. (Free!)
Some have said that Gimkit is Kahoot on steroids. Gimkit is another fast-paced quiz game, but with an extra element. Student earn in-game cash to spend on game upgrades. Check out Leslie Fisher's review and video to learn more.
Inside Google Classroom, you have the option to create a questions and share that with students. You can make this collaborative, or just have the answers viewable for you the teacher. This is not a robust threaded discussion tool like I wish it was, but it can be handy for formative assessments and to check for understanding.
Formative is a free online assessment tool that is very robust. Formative allows teachers to choose pre-made assessments and edit to fit your needs, create your own from scratch, or even upload a PDF or doc to create. They also offer some fantastic data that you can track and intervene when needed. (FREE and integrates with Google Classroom!)
Google forms is a survey and quiz tool that is very easy to use. You can feed your form or quiz data into a Google Sheet for analysis and evaluation. Both Google Forms and Sheets also have many "add-ons" that give users even more capabilities that can power your formative assessments. (FREE)
InsertLearning is a Chrome extension that lets you turn any webpage into an interactive lesson. InsertLearning has this fantastic toolbar that will allow you to highlight text, add sticky notes, insert questions, videos, or even a discussion all inside the webpage! Learn more about InsertLearning here: 4 Ways to Blend Learning with InsertLearning. (InsertLearning is a freemium application, but you get your first five lessons for free.)
Kahoot! is a game-based learning and trivia platform that allows you to create very engaging quizzes for your classroom. Kahoot! is super fun and addictive. You can create your own kahoots, or choose from their library of games. Play live kahoots, in groups, issue challenges, or assign as homework. (FREE)
Mentimeter is an interactive presentation tool that allows you to poll your students, check for understanding, or ask students to vote. There are several different types of questions you can create, image-based, multiple choice, scales, open-ended, questions from the audience and more. You can even generate word clouds out of responses! (Freemium, some features are free.)
Nearpod is an interactive classroom tool for teachers to engage students with interactive lessons. Nearpod allows you to create and share lessons that sync across devices and encourage student participation, and evaluate student responses through comprehensive reporting. (Freemium, some features are free.)
Padlet is a super easy to way to create an online bulletin board that allows teachers and students to share and collaborate. What's great about Padlet is that it offers so much flexibility! It works on any device, and you can share just about any type of information–text, links, upload files, photos, videos, just about any kind of response. There are also many different ways you can design your pages. Customize the background, organize information in new ways. (Free trial available)
Pear Deck is a web-based formative assessment tool that allows you to create interactive lessons using G Suite tools. The Google Slides add-on has quickly become a favorite of mine. (I even teach it in my Google Slides Master Class!) Pear Deck offers a library of free templates that you can use to created interactive assessments in your slides. Pear Deck is also a freemium tool, some features are free, but you can get a 3-month Premium Membership with this special link for Shake Up Learning readers!
This assessment tool allows teachers to collect on-the-spot formative assessment data without the need to have students use devices or paper and pencil. Teachers create and print specially coded cards that students hold up in class as their response. The teacher uses the Plickers app to scan the cards and collect the data. (Free)
Poll Everywhere is a live audience polling tool that integrates into your presentation. You can ask questions during your lessons, see live data, and reports. (Freemium, free accounts are limited to 25 responses per poll.)
Quizizz allows you to conduct student-paced formative assessments in a fun and engaging way for students of all ages. Quizizz works on just about any device and offers a library of public quizzes that teachers can use in their classrooms. They also provide detailed class and student reports. (FREE)
Quizlet is a study tool that uses flashcards, games, and other "study sets." to help students. Quizlet Live is a collaborative quiz game where students are placed into teams to work together to answer the questions and learn together. (FREE)
Seesaw is a digital portfolio and communication tool that many teachers love! Seesaw works on any device shared or 1:1. Free for teachers. Teachers create activities for students. Students draw, take pictures and video, and capture their learning in their portfolio. Parents can view their students work and leave comments. (Freemium, some features are free.)
Socrative is a web-based formative assessment tool that allows teachers to create quizzes, ask questions, collect exit tickets and feedback. You can also create a competitive quiz bowl game, called, "Space Race," where students compete to get the most answers correct. (Freemium with up to 50 students per session.)
Spiral.ac is an interactive learning platform with a suite of collaborative applications. Deliver quickfire formative assessments, discussion, teams of students can work together to create presentations, and turn any public video into a live chat with questions and quizzes. (Freemium, some features are free.)
---
Did your favorite assessment tool make the list? If not, let me know in the comments!
---
© Shake Up Learning 2021. Unauthorized use and/or duplication of this material without express and written permission from this blog's author and/or owner is strictly prohibited. Excerpts and links may be used, provided that full and clear credit is given to Kasey Bell and Shake Up Learning with appropriate and specific direction to the original content on ShakeUpLearning.com. See: Copyright Policy.
NO LONGER AVAILABLE
NO LONGER AVAILABLE